Stocks traded flat for much of the day on Monday, but sellers ended up carrying the afternoon, leaving the markets with moderate losses, led by the S&P 500's (NYSEARCA:SPY) .4% decline. At fault for the day, it would seem, were retail stocks, as the sector slumped following weak Black Friday results.
As I stated in yesterday's Briefing, I find this data point to be largely irrelevant, and the other economic data this week will be much more telling.
The markets were basically flat for the month, with the Nasdaq (NASDAQ:QQQ) up 1%, and the Dow Jones (NYSEARCA:DIA) and S&P 500 both up less than 1%. Other things, such as oil (NYSEARCA:USO) at -11% and emerging markets saw big losses on the month, but the main indexes were steady.
We head into December, the most bullish month of the year, with weak commodities, moderate-to-fairly good domestic economic data, and plunging international markets. It's quite a mix of elements, positive and negative, but given that Santa is in town, the bulls will probably win this month as well. New all-time highs for the S&P 500 aren't out of the question by year-end.
Shkreli Strikes Again
Moving on to individual stories of interest, the focus, yet again, is back on Martin Shkreli. Mr. Shkreli released a 12-hour video over the weekend, covering a wide range of subjects. If you want to see him browsing on OKCupid, fast-forward to the 9 hour and 25 minute mark. To give an example for color, at one point he asks viewers if a particular woman is more of a KBIO or an AEZS. Humor for stock nerds, I guess. If you'd prefer to watch him playing chess, fast-forward to 11 hours and 8 minutes in.
Anyway, at another moment during the marathon video, he had this up on his computer screen: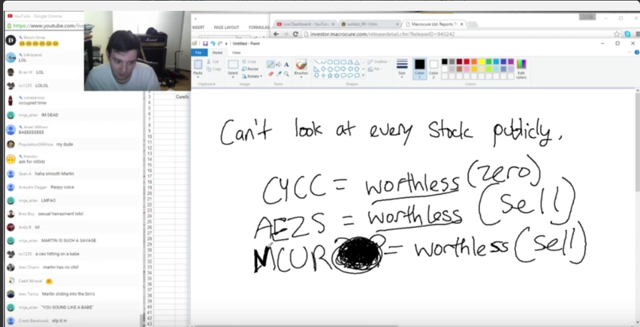 This during a part of the chat when he was taking calls and questions from different listeners about various pharma and biotech stocks. Given the recent move in KaloBios, along with Shkreli's recent success shorting Vital Therapies (NASDAQ:VTL), it seems that he has developed a market-moving presence.
His three stocks listed there as "worthless" all plunged Monday. AEterna Zentaris fell 12% on the day, and Macrocure (MCUR) dropped 17%, no doubt hurt by its CFO resigning. Cyclacel (NASDAQ:CYCC) had the worst of it, falling 30% on Monday following Shkreli's sell call. Admittedly Cyclacel is a penny stock, but still, the drop from a buck to 70 cents on a YouTube pan is pretty impressive. Shkreli talks and the market listens.
On the long side, KaloBios appeared to try and start short squeezing. At 2 pm, often when margin desks call in short sales, KaloBios started to spike, heading up from $32 to $38 almost instantaneously, but by the end of the day, the stock gave back its gains and closed red.
One thing is for certain, Martin Shkreli is a force, on both the long and short side, in biotech. How he can run two biotech companies, engage in various personal investments, and release 12-hour videos of himself working and teaching investing lectures simultaneously, I don't quite understand.
Vale/BHP: The Mine Failure Fallout Broadens
In an environmental catastrophe increasingly compared to Macondo, the Brazilian dam burst at the jointly owned iron mine continues to see its fallout broaden.
The Brazilian government called the dam failure Brazil's worst environmental tragedy. It also killed at least 13 people, with others still unacccounted for. The Brazilian government is now going after BHP Billiton (NYSE:BBL) and Vale (NYSE:VALE) for 20 billion reals ($5.2 billion).
Previous estimates had put the liability around the $1 billion range. BHP Billiton has dropped almost 10% over the past three trading sessions. One fellow SA author, a BHP long, now expects a 50% dividend cut soon.
And Vale has dropped over the past week from $3.90 to just $3.37, down another 6% on Monday.
Not helping their cause are iron prices, which continue to sink ever lower. Iron prices dropped below $40/metric ton on the Singapore exchange for the first time ever. And the prices appear likely to keep heading south, with a large new mine about to come online while Chinese demand continues to crumble.
As you'd expect, Brazil (NYSEARCA:EWZ), whose economy is heavily reliant on iron, continues to crumble. Vale is a major player in the economy, and its share price, now in the low $3s, is starting to raise alarms. The Brazilian ETF is down 10% over the past three sessions, including a 3.5% drop Monday.
If you only get one thing from reading my Briefings, make it this: Go short and stay short Brazil! This trainwreck is nowhere near over. Inflation is accelerating, the recession is deepening, the government is hated by the population, and key companies such as Petrobras (NYSE:PBR) and Vale slink closer to insolvency with every passing day.
If you want a long to pair it against, beleaguered Colombian banking giant Bancolombia (NYSE:CIB) put in a new 5-year low Monday. The stock now trades under a 10 P/E, at book value, and with a 3.5% yield. CIB is a far safer bet than anything you'll find listed in Brazil.
Disclosure: I am/we are short EWZ.
I wrote this article myself, and it expresses my own opinions. I am not receiving compensation for it (other than from Seeking Alpha). I have no business relationship with any company whose stock is mentioned in this article.
Additional disclosure: I am long CIB.
Editor's Note: This article covers one or more stocks trading at less than $1 per share and/or with less than a $100 million market cap. Please be aware of the risks associated with these stocks.