"Playing contrarian for the sake of playing contrarian is just plain stupid."
This was my quote several months ago on an article about Sirius XM (NASDAQ:SIRI). The odd thing is, as much as I hate contrarians, I've grown pretty good at it. Perhaps "hate" is too harsh of a word, but I find that (too often) some people wish to make a name for themselves by merely taking the other side of the coin - this is regardless of their own convictions. However, where they may or may not truly believe what they are saying (for the benefit of celebrity), there is often value in what is being said so it should not be immediately dismissed.
Case in point, the tech bubble of the late 90s is a perfect example of how contrarians turned out to be right because they stayed on the sidelines and decided that valuations were absurd while everyone was suggesting to "get on the train." I think some of these same people remain missing from the derailing as they watched their investments burn in the pile-up. You're probably wondering "Cameron, what's your point?" The point is that, I think we have reached a top in the market where we can legitimately become bearish.
When we start a discussion regarding the Dow, S&P 500 and Nasdaq with the words "record, new highs, all-time highs," and make decade-length comparisons, I think it just might be time for investors to consider their positions. I will agree that the view of one contrarian is not necessarily better than that of the collective wisdom of a crowd, but I think it is those that go against the grain (sometimes) do tend to offer a perspective that otherwise might have gone ignored. After all, I think both sides will agree, that the key to successful investing is extensive due diligence - including those that are not popular.
Click to enlarge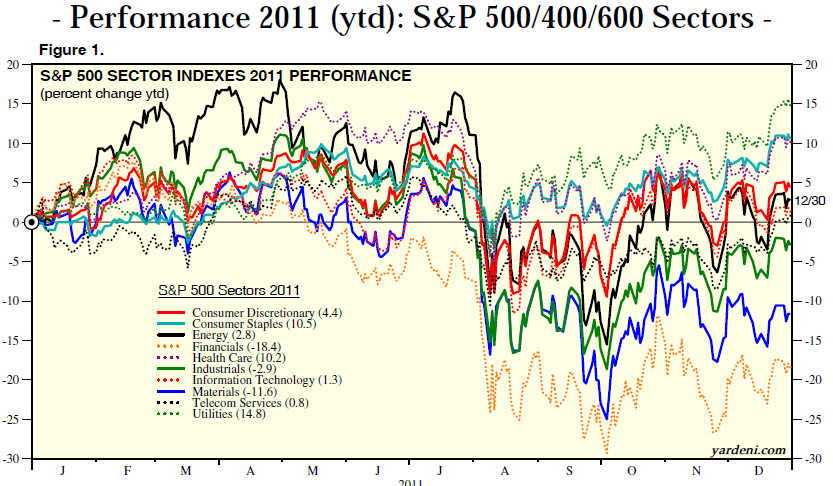 With that in mind here are some stocks that I think should be looked upon from the contrarian point of view. These have netted enough gains for the year that I feel investors should consider locking in for when (not if) the pullback occurs. In the first part of this article, we looked at several technology stocks, in this piece we are going to focus on some financials. As the chart above shows, though the sector was significantly down in 2011, so far this year it has far outperformed the others which only lend more fear that a pullback might be imminent.
JPMorgan Chase (NYSE:JPM)
The bank has always been considered "the moral standard" among the banks - primarily because of how it managed its credit exposure during the housing bubble. In other words, it hasn't been categorized as a predatory lender to the extent of its peers. Recently, the company reported fourth quarter earnings and without putting too much spin on it, the results were pretty weak. Its earnings were down 23% compared with the same period a year earlier. It said that it was hurt by a fourth quarter slump in investment banking as well as other Wall Street businesses, which suffered amid the sluggish economic recovery.
On the bright side, the bank showed tremendous growth in corporate loans. The commercial banking unit's profits rose to $643 million, a 21% increase from the previous year, as lending to corporations grew for the sixth consecutive quarter. For JPMorgan, the stock is up over 15% on the year in large part due to the overall sudden resurgence in financials. With the stock currently trading at $38.28, I sense that on any market pullback, it is reasonable to expect a retrace to its 50-day average of $34 or possibly lower although it will show some support at that $30 - $32 level.
Citigroup (NYSE:C)
Citigroup's stock is up 27% on the year so far and more than any of its peers, I think this is one where profits should be immediately locked in. The stock currently trades at $33 while its 50-day moving average is 20% lower at $26. As high flying as the stock is, the reason for concern has to do with the fact that (unlike its peers) it recently missed its earnings expectations.
Citi reported fourth-quarter earnings that did little to inspire confidence that the bank can indeed get back on the right track. The company reported profits that fell 11% and missed Wall Street estimates. It seems that the concerns regarding European debt have had a significant impact not only on its capital markets, but it has hurt the bank's trading revenue as well as discouraged clients out of some possible large deals. For Citigroup it's a case of the old cliche "one step forward and two steps back." As with several other banks within the sector Citi continues to struggle to prove to investors that it has any value. Today, it seems that the optimism, as quickly as it arrived, has all but faded away. The question is, is there more room on the downside?
Bank of America (NYSE:BAC)
One of the hottest stocks on the market so far this year cannot be ignored. Bank of America has netted a remarkable 35% gain, and many (including me) are expecting more. However, any sudden market pullback has the potential to send shares back toward the $6 level. For this reason, I think it is prudent for investors to take some money off the table.
For those who are in for the long haul, to truly consider the optimistic recovery for Bank of America, the best bullish case that I have read so far on the year comes from Fellow Seeking Alpha Contributor Spencer Knight, who offered from both a fundamental as well as a detailed technical perspective on why BofA has a bright 2012. Last week, during its fourth quarter earnings announcement, the bank gave investors many reasons to believe that a bright outlook for the year was indeed possible by reporting a profit of $2 billion for the quarter. It came after having posted a loss of $1.2 billion during the same period last year.
Its full year earnings arrived at $1.45 billion compared to a prior loss of $2.24 billion in 2010. For three months prior, the primary question surrounding the company was, can it execute its business effectively enough to make any money? Since that question has clearly been answered, the new question is, can it build on this momentum? I think that is what investors are waiting to see before pushing the shares higher. As great as the recent quarter was, it goes without saying that Wall Street always prefers trends.
Wells Fargo (NYSE:WFC)
Wells Fargo's stock is up 11% so far on the year. While it's not an outrageous climb, it will likely go lower on any market or sector pullback toward its 50-day average of $27. As with other banks within the sector it still has a lot of work to do to clean up its balance sheet. And one has to consider that its acquisition of Wachovia will take some time to fully integrate.
Though its recent earnings announcement was somewhat of a disappointment, the bank should have no problems producing decent returns on equity - I would project 10% to 15%. As with Citigroup, this potential makes it a compelling long-term buy at current prices - even at current levels. But the short term suggests that a pullback below $30 just might be imminent.
Disclosure: I am long BAC.