We are now in the seasonally strong time of year for small capitalization stocks. An early "January effect" already seems to be underway, but there is a developing market trend that makes me very uncomfortable.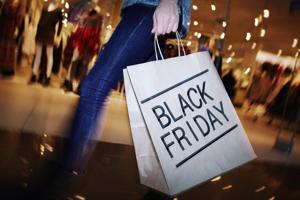 Mall traffic on Black Friday was noticeably lighter than in previous years, but Cyber Monday is shaping up to be more important. Bespoke Investment Group polled 1515 U.S. consumers last week and reported on Friday that 32.7% of U.S. consumers are planning to shop most often at Amazon.com (NASDAQ:AMZN), more than Wal-Mart (NYSE:WMT) (15.8%), Target (NYSE:TGT) (8.6%), Macy's (NYSE:M) (4.8%), and Costco (NASDAQ:COST) (0.9%) combined. The reason this concerns me is that Amazon's dominance in Consumer Discretionary ETFs has become excessive. On November 13, Bespoke reported that the Consumer Discretionary sector is up over 8% this year on a capitalization-weighted basis, but it is down 1.84% on an equally-weighted basis.
I must warn you that there are some bubbles out there that might be pricked. Bespoke Investment Group last Friday said that the top 1% (the 30 biggest-cap stocks) in the Russell 3000 at the start of 2015 are up 6.6% year-to-date, while the other 99% (2970 stocks) are down 3.2%. Another bubble that was recently "pricked" was Chipotle Mexican Grill (NYSE:CMG), which in the past several weeks plunged approximately 24% in three big downdrafts propelled by a 3-cent earnings miss ($4.59 per share vs. $4.62 estimates) and two separate E coli scares. We have already seen Priceline.com (PCLN) plunge over 15% in the past few weeks and it still trades at a P/E ratio of 26.
The problem is that fund managers keep piling into the very few big-cap stocks that keep rising – in part because of their buying pressure. I hate to be a party pooper, but I feel obligated to warn you that the leadership of the stock market is shockingly narrow. Instead of jumping on this trendy bandwagon, I urge you to seek out fundamentally superior stocks with strong sales, accelerating earnings, and reasonable price-to-earnings multiples of approximately 16 times their forecasted 2016 earnings.
The surprising news last week was that third-quarter GDP was revised up by the Commerce Department to a 2.1% annual pace, up from a previously estimated 1.5% annual pace. The primary reason for the upward revision is that the inventory of unsold goods rose to $90.2 billion vs. an initial estimate of $56.8 billion. Consumer spending was revised to a 3% annual pace, down from 3.2%, as initially estimated. Imports were revised up to 2.1% (from 1.8% previous estimated), while exports were revised down to 0.9% growth (down from 1.9%), so the trade deficit put downward pressure on GDP. Additionally, adjusted pre-tax profits declined 1.1% in the third quarter – the third decline in the past four quarters.
Overall, the consumer remains the primary driver of overall GDP growth. Speaking of the consumer, the Conference Board on Tuesday announced that its consumer confidence index plunged to 90.4 in November, down from a revised 99.1 in October. This was truly a shock, since economists were expecting consumer confidence to be 100 in November. Furthermore, this is the lowest level for consumer confidence since September 2014 and a major concern. The present situation component declined to 108.1 in November, down from 114.6 in October. Even worse, the future expectation component plunged to 78.6 in November, down from 88.7 in October, which is the lowest level in two years.
Lynn Franco, the director of economic indicators at the Conference Board said, "The decline was mainly due to a less favorable view of the job market." So if the Fed is looking for an excuse to not raise key interest rates in December, plunging consumer confidence could be a factor; but I suspect that the November payroll report and the October payroll revision next Friday will be much more influential.
On Wednesday, the Commerce Department announced that durable goods orders rose 3% in October, following a revised 0.8% decline in September and a 2.9% decline in August. In the first 10 months of 2015, durable goods orders have declined 4.2% vs. the same period in 2014, which is indicative of a strong U.S. dollar impeding durable goods orders. In October, orders for commercial planes surged 81% and helped to substantially boost transportation orders, even though automotive parts orders declined 2.9%. Excluding the volatile transportation sector, durable goods orders rose a more modest 0.5%.
In the first 10 months of 2015, durable goods orders, excluding transportation, have declined 2.7% from the same period in 2014. The best news was that orders for core capital goods, which is indicative of increasing business spending, rose 1.3% in October, even though core capital goods shipments declined 0.4%. Overall, the improvement in October durable goods orders came as a welcome relief.
European Confidence Rising – Despite Unrest
While confidence is fading in the U.S., Markit reported last Monday that its composite Purchasing Managers Index (PMI) for 5,000 companies in the euro-zone rose to 54.4 in November, up from 53.9 in October and reaching the highest level since May 2011. The new orders component on the Markit PMI is also at its highest level since mid-2011. Interestingly, France's composite PMI declined to 51.3 in November, down from 52.6 in October, and it appears that the horrific terrorist attacks have had some impact. Overall, despite a cautious Belgium and France, the euro-zone is still on track for improving economic growth.
Despite a resurging euro-zone, the euro continues to remain weak relative to the U.S. dollar on anticipation of the European Central Bank cutting key interest rates further on December 2nd. As the U.S. dollar continues to rally, commodity prices remain weak, so copper remains especially soft. Crude oil prices rose on Tuesday after it was announced that Turkey shot down a Russian jet fighter that crossed into Turkish airspace. Naturally, tensions in the region caused crude oil prices to rise; but I expect that crude oil will settle back down as supply and demand forces resume their long-term impact on oil prices.
Disclosure: *Navellier may hold securities in one or more investment strategies offered to its clients.
Disclaimer: Please click here for important disclosures located in the "About" section of the Navellier & Associates profile that accompany this article.