L Brands (NYSE:LB) is a specialty retailer that operates the Victoria Secret and Bath & Body Works chains. It also operates La Senza, a Canada-based intimate apparel retail concept, and Henri Bendel, a high-end accessory products brand. The stock has run from under $7 in March 2009 to its current (November 27) price of $96.68. In that time period, it has outperformed the S&P 500 by over 350%. But, in the context of rapidly slowing revenue growth, declining operating margins, increasing financial leverage and a likely pullback in consumer spending, LB's stock is extremely overvalued relative to its underlying fundamentals and relative to its peers. In my view, LB represents a compelling opportunity to short the highly overvalued stock of a company operating in a business sector facing significant economic headwinds.
Although LB's stock price has experienced an extraordinary run higher since March 2008, its revenue and income growth rates have slowed considerably and do not justify a P/E ratio which is more than double the specialty retail industry average: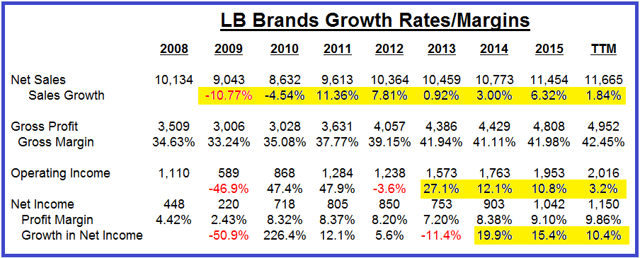 As you can see, on trailing twelve-month basis, LB's revenue growth has slowed to 1.8%. According to CSI Market, sales for the specialty retail industry as a whole are growing year over year at 1.7%. However, quarter over quarter, LB's revenues grew at just 3% vs. 9.3% for the specialty retail sector. In my view, LB's 24.3 P/E ratio is far too high for a stock with sales growth that appears to be flattening out.
To be sure, LB has achieved impressive margin growth - both gross and net income margins. Part of this improvement is the effect of economies of scale achieved through revenue growth and part of the margin improvement is attributable to the implementation of operating efficiencies (inventory management, merchandising, SG&A cost reductions). As you can see from the table above, revenue growth is flattening out, incremental margin improvement is diminishing, and operating/net income growth has slowed considerably.
In fact, SG&A costs have risen 50 basis points YTD and 74 basis points in the latest quarter. With the retail business in general facing the likelihood of a possible disposable income derived spending recession, and with a P/E ratio that is more than double the industry average, LB's stock price is pricing in sales and margin growth that will be difficult, if not impossible, to achieve.
One of the likely big drivers pushing LB's stock price higher is the company's aggressive share buyback program. The primary source of funds being used for this is debt issuance. Since the end of the company's fiscal 2011, the amount of debt outstanding has increased 88%, from $2.5 billion to $4.7 billion. During the same time, the company's book value has gone from $1.5 billion to negative. Management has thus substantially elevated the financial risk profile of the company to a degree that I believe is not reflected in its stock valuation. If revenues and margins stumble, the resulting financial stress placed on the company's ability to comfortably service its debt load will be reflected with a significant downward valuation in the stock price.
Even more troubling is the fact that management is selling its own shares into the debt-financed buyback: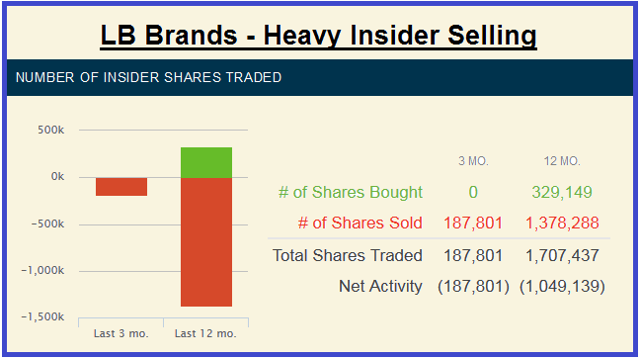 As you can see, insiders have been selling shares at rate of more than 4 times purchases. Based on the performance of the stock, the market is ignoring the massive leveraging of LB's balance sheet and the corresponding bearish signal being transmitted from heavy insider selling.
Finally, in the context of stock valuations in the specialty retailer segment of the market, LB's stock appears to be highly overvalued (note: data for the "Specialty Retailers" column is from CSIMarket.com):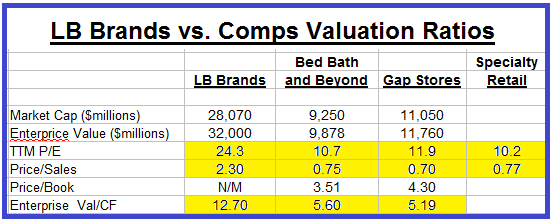 As you can see from the table above, the P/E of LB's stock valuation is more than double and its price/sales ratio is more than triple that of its peers. Same for the enterprise value/cash flow (EBITDA) ratio, which is also more than double that of its peers. For the reasons detailed above, LB's stock price appears to be priced for a level of growth and operating perfection that is most likely not attainable. This leaves LB's stock highly vulnerable to a significant downside re-pricing, especially if the company begins to miss earnings and revenue estimates due to factors out of the company's control (like a recession).
Based on the above analysis, I believe the high valuation of LB's stock offers an opportunity to achieve substantial returns from shorting the stock, especially on a risk-adjusted basis. The two graphs below illustrate the downside potential: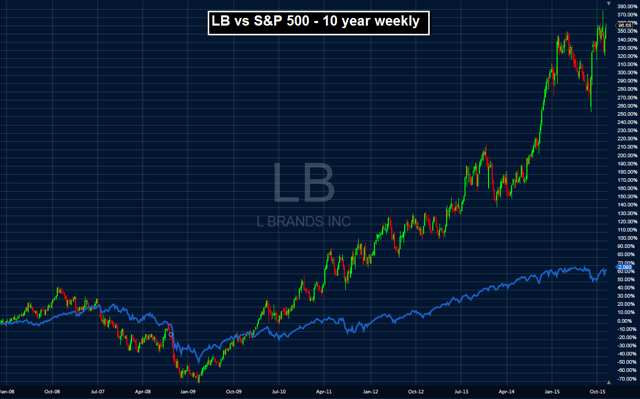 The first graph above shows the degree to which LB's stock has diverged from the S&P 500 since January 2009. In the event that LB stumbles on earnings vs. estimates, I believe there's a high probability that the stock will quickly converge down toward a re-correlation with the S&P 500.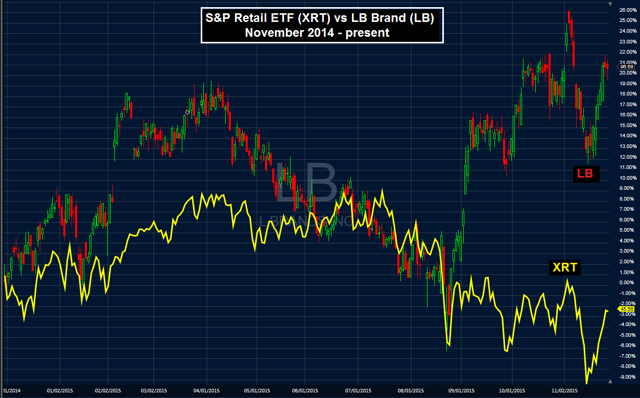 This second graph above shows the degree to which LB has diverged from its peers as represented by the SPDR S&P Retail ETF (NYSEARCA:XRT). XRT has been in a downtrend since early July. In the context of my analysis above, I believe that shorting LB's stock on the premise that it will eventually re-correlate with XRT offers a high degree of potential "risk-adjusted" profitability.
Ultimately, in the event that LB's stock "re-aligns" with the valuation levels of its peers and with the S&P 500/XRT, I believe LB's stock could potentially be cut in half from its November 27 close of $96.68.
One last idea to reduce the risk involved with outright shorting LB would be a pair trade in which the short in LB is paired with a corresponding long position in either XRT or the Market Vectors Retail ETF (NYSEARCA:RTH).