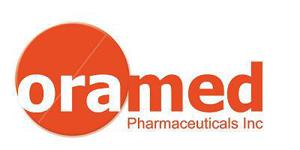 Oramed Pharmaceutics Inc. (NASDAQ:ORMP), developer of a revolutionary insulin capsule, ORMD-0801 directed to Type 1 and Type 2 diabetics, took a huge step toward world recognition by signing a lucrative deal with China-based Hefei Tianhui Incubator of Technologies Co., Ltd. Valued at up to $50 million, payments for licensing Oramed's technology include: 1) $3 million at execution of the arrangement; 2) $8 million paid in the near-term depending upon Oramed's compliance to certain agreements (as yet unknown); and 3) balance paid after achievement of milestones. At the agreement's signing, Oramed will issue to Hefei restricted shares of common stock at a price of $10.39 ($12 million in total).
Oramed is receiving an upfront payment of $15 million. Hefei, part owned by Chinese healthcare powerhouse Sinopharm Group Company Limited gives Hefei exclusive rights to market the diabetes drug upon commercialization with a generous 10% royalty to Oramed from sales in China, Hong Kong and Macau. An important milestone will be completion and results of Oramed's Phase IIb clinical trials in the US.
Established in 2012, Sinopharm Capital, a private equity firm focused on innovative healthcare in high-growth markets, operates three funds dedicated to better health for the Chinese population. More than a dispenser of money, Sinopharm Capital works with its portfolio companies to provide strategy and resources specific to needs. Through its 17 subsidiaries, including its asset management arm, Sinopharm boasts revenue of more than $39 million last year. Hefei runs an incubator for emerging healthcare and technology firms, in addition to high-end insulin production plants.
Oramed's foray into China began with a $5 million infusion of cash for stock last December from publicly traded Guangxi Wuzhou Pharmaceutical Co. in a private deal without discounts or warrants - thus reducing dilutive effects to shareholders.
China has a unique set of demographic, economic and genetic factors that make diabetes an epidemic there; the country is now considered to have the highest rates of this disease in the world, with half the population pre-diabetic. Over the last three decades, China gained economic strength, taking more than 500 million people from poverty and moving much of the country into middle class status but not without effects - more than 7% of the population of 1.4 billion developed diabetes due in part to a diet heavy in carbohydrates, salt, smoking, and inactivity. Worse, Chinese, with a tendency to store fat around the gut, are more susceptible to Type 2 diabetes and develop the disorder at a lower body mass index (BMI) than people of other ethnic origins. Coupled with this, pancreas beta cells, whose job is to store and release insulin, undergo more rapid deterioration with Chinese in early diabetes than those of different race backgrounds. So said, China has a highly vested interest in attacking the disease to uphold ongoing growth and stability.
In an effort to bolster healthcare delivery, Chinese regulatory officials earlier this year issued new drug approval guidelines in hopes to shrink application backlogs and get medicine to more people, sooner. Good for Oramed, clinical study results for ORMD-0801 done elsewhere in the world will count towards approval, a big step for them in China given its lengthy regulatory process. Expedited review will also become available, as will easing of study trial rules. Prior to these positive changes, only drugs approved in other countries could be imported and Chinese patient data only considered in the approval process. All this points to a country where better solutions for diabetes has become paramount.
In June 2015, Oramed enrolled its first patient in a Phase IIb for oral insulin, launching a 30-site trial across the US. Endpoints to the double-blind, randomized 28-day study, with a goal of 180 patients, are both safety and efficacy. At its three-month mark in gathering subjects, Oramed has already reached 54% of its goal. With so much of the US population inflicted with diabetes, rapid enrollment was expected, true to the words of CEO Nadav Kidron, who relayed this to me in a conversation last summer.
Oramed's solution to diabetes is elegant: an oral insulin capsule not intended to replace insulin, but to augment it, reducing the number of daily injections sufferers of this chronic disease endure. Oral insulin more closely mimics how our bodies regulate blood sugar - through the liver. Oramed's aim, with oral insulin, is early intervention and better patient compliance before damage can be done to bodily organs. Also, pill form insulin would appeal to diabetics who dislike the display of a medical device that announces to the world that they are sick.
As an adjunct to clinical data, with an eye toward partnering arrangements, Oramed will conduct glucose clamp studies meant to measure insulin absorption; enrollment is underway at the University of Texas. Any issue with insulin involves timing and adjusting of dosage to comply with eating and exercise, because bloodstream concentration varies from patient to patient. The FDA does not require glucose clamp data, but having results puts Oramed in good standing not only with the agency, but also with pharmaceutical companies evaluating their technology.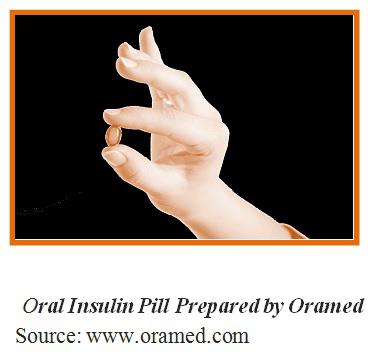 Ways to treat, even cure diabetes are on the upswing as the disorder rages in a $245 billion market in the US alone (including direct costs and reduced worker productivity). Swedish researchers, accepting the notion Type 1 diabetes is an autoimmune disease, use interleukin-35 on mice to reverse faulty immune responses. Gene therapy gets a crack at Type 1, quashing symptoms in mice on the assumption that by the time human groups of diabetics are diagnosed, most of their insulin-producing cells have been rendered useless via an autoimmune attack. PharmaCyte Biotech, Inc. (PMCB), former purveyor of natural products believes its Cell-in-a-Box, an encapsulation of living liver cells genetically modified and implanted into the body, can cause retreat of diabetes of both types. The former two are not yet out of animal models, and the latter, at least to me, sounds too fantastical. Oramed is clearly ahead of the race to new diabetic medicine.
Competition in the commercial world is faltering on several fronts. Sanofi's (SNY) best seller Lantus is off patent, with the French multinational under siege for kickbacks to prescribe and sell their diabetic medications. Approximately $34 million is cited in illegal payment, much towards federal agencies Medicare and Medicaid. This does not bode well for Sanofi's highly-touted, inhaled insulin Afrezza, brainchild of Mannkind Corp. (MNKD) whose presence in the detail rep bag is not as exciting as a multi-billion dollar anti-diabetic; a taint on any drug company could cloud sales for its other products. Could this be evident in Afrezza revenue, seen as soft by most analysts? Hard to tell, although doctors are hesitant to prescribe it and pulmonary worries abound. Peer-reviewed scientific journals have long warned that insulin is not intended to go into lungs.
Sanofi, whose Chinese sales have been spotty, seeks to form a joint venture with China-based Zhejiang Hisun Pharmaceuticals Co. Ltd. to make and sell insulin and its analogues, hopefully boosting company presence in this vast market. Novo Nordisk A/S (NVO), another diabetes giant, has witnessed lower product sales this year, citing Chinese cost-containment efforts and competition.
On the subject of Novo Nordisk, goals to create an insulin pill seem to have stalled. News of development is practically non-existent, the last from March of 2013, comprising a completed Phase I trial for Type 2 diabetes. This puts Oramed far ahead of the Danish firm, and I questioned if the company continues pursuit of oral insulin, but my source within Novo Nordisk believes the product is still under investigation, although moving slowly.
Another similarity between Oramed and Novo Nordisk should not escape investor attention: Novo has been exploring an oral glucagon-like peptide ((GLP-1)) agonist, a potent hormonal agent known for its value in preventing hyperglycemia and achieving glucose balance in Type 2 diabetic patients. So has Oramed, in the form of ORMD-0901, in early trials. GLP-1 has another effect, a feeling of fullness that causes users to lose weight. On the back of this finding, Novo Nordisk launched Saxenda, higher-dose version of its Victoza used for Type 2 diabetes, now directed toward weight loss. However, there is no mention of any difference in side effects from Victoza, a drug with nasty adverse events such as bladder pain, bloody urine, diarrhea, vomiting, changes in heart rate and, ironically, rapid weight gain. The drug is expensive at $1,068 per month.
Oramed's cash at its fiscal year end in August 31, 2015 stood at $17.2 million. In June of this year, the company raised $5.36 million with institutional investors, lending at that time about three and one-half years of runway to fund trials and keep the lights on. Cash infusion from the Sinopharm/Hefei deal will significantly shore up the balance sheet and delay the need to return to capital markets for a long while, assuming milestones are met.
Risks to investing in Oramed are similar to any of a small biotechnology company - proof of results, regulatory burden, and need for cash to fund working capital and clinical trials. Often, drugs require reformulation, costing time and money. Oramed's mixture of ORMD-0801 in a previous study influenced data results and although the issue has been resolved, it could happen again. News flow can be sparse, depending on phased trial information that may or may not be allowed (according to FDA guidelines) to reach the public. Expatriation of information from China can be uncertain. In the diabetic market, competition is fierce with Sanofi, Novo Nordisk, and Eli Lilly & Co. (LLY) vying for sales. Oramed's market capitalization is small at approximately $100 million but daily average 3-month trading volume is a respectable 115,176 shares.
With this news, Oramed makes notable progress toward oral insulin, giving patients the chance for less needle sticks and supplies to cart around, with insulin potentially delivered by mouth that mimics the body's normal function and improves quality of life. An investment in Oramed is, I believe, an enormous opportunity at current prices to participate in a new area of diabetes treatment with ongoing large clinical trials, and strong international backers.
Editor's Note: This article covers one or more microcap stocks. Please be aware of the risks associated with these stocks.