I took an awful lot of heat for an article I wrote last June, suggesting that Apple (NASDAQ:AAPL), trading at $325 at the time, wouldn't trade below $290 because of the cash on its balance sheet.
Why? Because since the market bottomed in the spring of 2009, the company rarely traded below 4 times the value of its cash per share. Here is the chart I posted back in June: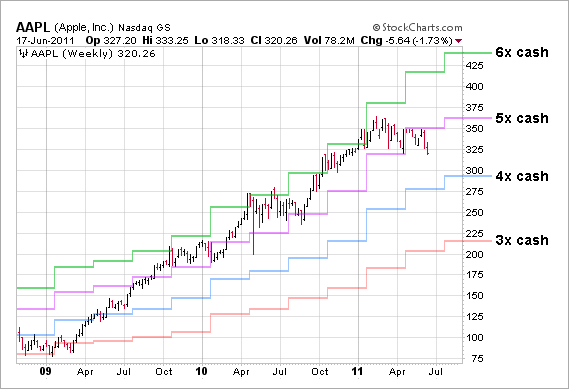 I updated the chart, but before I show it lower on this page, please exercise caution. One commenter on my previous article called it "the most moronic analysis I have ever seen on Seeking Alpha."
I'm honored. I'm humbled. I'm flattered. After all, if you're going to write a moronic article, you definitely want it to be the most moronic ever.
But seriously...
Anyway, some of the commenters (quoted below) raised some points that are interesting, but sort of missed the whole point. Here are some of them.
Using this author's analysis the more cash Apple accumulates on their balance sheet then the higher their valuation should be. When in reality the accumulation of balance sheet cash is usually considered a negative sign for a growth company as it indicates they are running out of profitable growth opportunities and have nothing to do with the money e.g. Microsoft.
Yes, it would be wonderful if the company could generate $100 billion in revenues on $10,000 in capital. That would be efficient. That would be one really tight supply chain. And that would make the cash balance largely irrelevant.
But the thing is, the company now has about $20 billion more in cash than back in June, but the company is now $100+ billion bigger in market cap. So far, this does not appear to be a "negative sign."
This "analysis" is completely bogus. And it's not just that it's based on a single variable, which is moronic enough; it's also the fact that the amount of cash is meaningless. For example, suppose that Apple announces tomorrow that it is buying HPQ (NYSE:HPQ) (silly idea, but just for example) in an all-cash deal. AAPL's cash position goes to zero. Now how do you compute the value of the stock?
Yes, it's one variable, which is plenty moronic, thank you very much. But that's the thing with one variable. You can just bag it in "silly" cases like AAPL finally coming to its senses and buying HPQ.
How would I compute the value of the stock then? I wouldn't bother. I'd sell it. I'm not that moronic. Really, I'm not.
By your rationale you must also like Google (NASDAQ:GOOG)- they are currently trading at just over 3x their "cash multiple" as you have defined it.
I'm using my rationale for this one stock, Apple. If you're required to evaluate every stock on the exchange using the same yardstick, then I'd say, yes, you should look elsewhere.
But I don't limit myself that way. This specific company at this specific time in this specific environment is a bargain at below 4 times its cash. It does not have anything to do with Google.
What happens if Apple acquires RIMM (RIMM)? since the cash has fallen by 15 billion (assuming for the sake of argument that RIMM sells for 15 billion), Apple would have approximately 15 billion left + 25 billion in long term investments i.e. $43-44 a share. So, does that mean the stock can now fall to 180?
Apple acquires RIMM!? Is this before or after the HPQ acquisition referenced above? My brain hurts just thinking about it.
But yeah, if that happened (sigh) I would certainly bow my head in shame and reevaluate my view on Apple's price relative to its cash position and factor in the balance sheet of a combined RIMM/AAPL.
Or I might skip the whole valiant effort and sell the stock instead. I'm allowed to change my mind when the facts change, right?
Most stupid analysis I ever heard of. Apple has all sorts of growth prospects but maybe not 50% a year forever. So go buy a cash rich bank for 4 times its cash balance.
I say Apple for 4 times its cash balance is a way better deal than a bank at 4 times its cash balance.
Look at this way. People wait in long lines at Apple stores to buy their products. That's really bullish. If people line up in long lines to get in the bank? Well, let's just say that's not usually bullish.
So does that make long lines a poor way to evaluate a company just because it's great for evaluating retail, but implies impending financial doom when it happens at a "rich bank"?
Moronic analysis alert! Stupid chart appears below!
The reason I wrote my original article back in June was because a friend who doesn't know much about investing asked me about Apple. Certainly I pointed out the tremendous growth potential, but I also noted that about 20% of its value was in cash - explaining that this makes simple earnings per share calculations more complex. He asked me whether that was unusual, so I decided to see what the relationship was between the company's cash balance and the stock price -- post financial crisis/iPhone -- and published it here. And now you can see my new updated version, showing the price of the stock vs. cash per share based on last quarter's report. Just to clarify, I used the total of cash, short-term assets, and long-term marketable securities (which are highly liquid) for my "cash per share" values.
If you don't want to see an incredibly moronic chart, stop reading now.
Really, I mean it. I will not take responsibility if I ruin your day. You're doing that on your own if you read on.
Final notice. This is your last chance to click on another article. Do it now. I won't blame you if you bail.
Remember, I wrote "the most moronic analysis" one commenter had ever seen on Seeking Alpha -- and this is way more moronic I can assure you.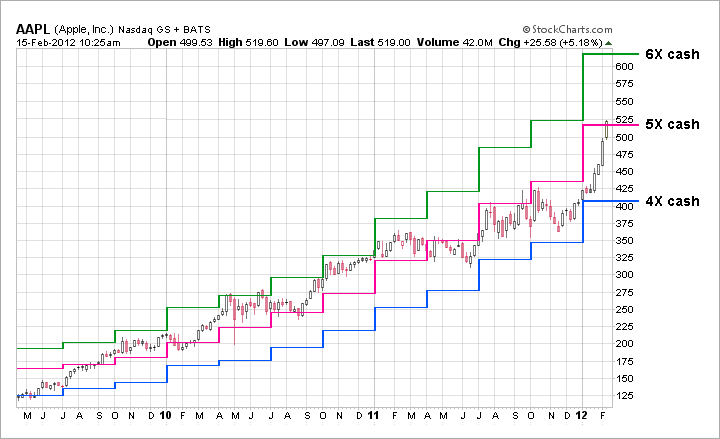 Okay, there's the chart in all its moronic glory. It's slightly different than the one I posted in June, because this chart shows the cash as of the end of each quarter, which is a few weeks prior to the earnings announcements.
If you're still with me, I do understand the points people raised. To evaluate any random company using this specific metric would indeed be moronic. But here's what I see. Sometimes the market takes a dive and Apple takes a dive along with it. Sometimes Apple shoots itself in the foot not being more forthcoming about financial matters or managing expectations, but that comes with the territory of owning AAPL.
So until further notice (like Apple acquiring RIMM or HPQ!), if this stock trades with a market cap of around $384 billion when it has $97+ billion in liquid capital and no debt, you buy it. Right now that's around $412.
Last June I projected that would total $290 after the July earnings announcement. But the level ended up being around $325 because the company added way more cash than I expected.
The only thing that was truly moronic was suggesting you could actually buy the stock for around $290.
Now that was moronic. And I plead guilty.
Disclosure: I am long AAPL.