There has been a lot of fantastic analysis on Achillion Pharma (NASDAQ: ACHN) in the past few months, both from a clinical and financial perspective. My purpose with this short article to provide some extra scientific commentary on the pipeline of Achillion in a manner that I hope can be digested by all.
I am not making a buy or sell recommendation. I do not have a position in Achillion Pharmaceuticals. I am simply interested in science and helping people make informed decisions about their investments.
Odalasvir
Achillion has quite a few drugs in the pipeline targeting Hepatitis infections, but for sure its flagship product is odalasvir. This agent is an orally delivered, small molecule inhibitor of NS5A, a protein that helps the Hepatitis C virus (HCV) replicate inside host cells.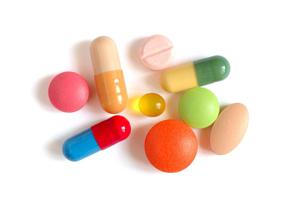 These antiviral agents have made a profound impact on the management of HCV infection. Only 5 years ago, patients would be given a pretty rough treatment regimen using interferon and ribavarin, resulting in toxicity. Now, patients can undergo 12 to 24 weeks of therapy that results in few toxic events. Many companies have jumped on the bandwagon of antiviral therapy, with the approval on no fewer than 3 NS5A antagonists in the past 2 years.
So where might Achillion's entry fit into this scheme? Odalasvir has the distinction of being a structure-guided design, which means that researchers used computer models to carefully design the most promising lead compound that targets NS5A. This approach has gained a lot of ground over the past decade as crystallography and computational methods have improved.
Odalasvir is the subject of several clinical trials. The most up-to-date results come from a phase 2 study combining odalasvir with Gilead's sofobusvir. In this trial, the researchers expanded on the ability for this drug to work in patients with resistant mutations following first-line standard therapy.
The study population consisted of 2 groups. In the first, 12 patients were given 8 weeks of odalasvir and Sovaldi, and 6 were just observed. This cohort was followed for 4 weeks after initial treatment, and then 12 more patients were enrolled and randomized to observation or 6 weeks of treatment.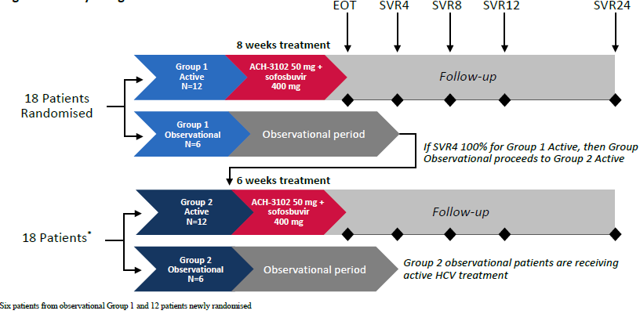 All 30 patients were followed for plasma concentration of drug, tolerability, and the rate of sustained virologic response (SVR), which means the viral load was reduced past a certain threshold. Tolerability was favorable, as is normal with the antiviral agents. However, the real interest was in the rate of SVR. Every patient treated with the drug cocktail achieved response a 4 weeks and 12 weeks post-treatment. This included patients with symptomatic cirrhosis, a population that is noted for having lower response to antiviral agents.
Recently, Achillion updated these results via press release. 100% of treated patients were able to achieve sustained remission for 24 weeks post treatment, regardless of whether patients received 6 or 8 weeks of therapy. This represents a substantially shorter treatment period than what is recommended for the current standard of care.
Why does it matter how long patients are receiving treatment? For starters, less drug for patients means less of a financial burden, which can induce doctors to consider that therapy. Moreover, treatment adherence on antiviral agents starts to decline after 6 weeks. With shorter treatment periods needed, you provide greater likelihood that patients will complete the regimen, helping to ensure a favorable outcome.
Future Direction and Conclusion
The Achillion Pharmaceuticals antiviral platform looks to be built on a solid foundation of scientific discovery and clinical exploration. If the phase 2 data bear out in larger studies, it could represent an improvement both in terms of treatment efficacy and patient burden, which could help it gain a market share in an increasingly crowded space. As Achillion conducts trials exploring other drug cocktails, it's going to be increasingly important to watch carefully and see how they develop. They have 2 years worth of cash on hand and a big partnership in pocket, so they might have enough money to see this product through to market.
Disclosure: I/we have no positions in any stocks mentioned, and no plans to initiate any positions within the next 72 hours.
I wrote this article myself, and it expresses my own opinions. I am not receiving compensation for it (other than from Seeking Alpha). I have no business relationship with any company whose stock is mentioned in this article.