Nintendo (OTCPK:NTDOY) and Disney (NYSE:DIS) are two very familiar brands. Their products, from cartoons to fictional characters, have influenced the life of many children (and their parents) all across the world.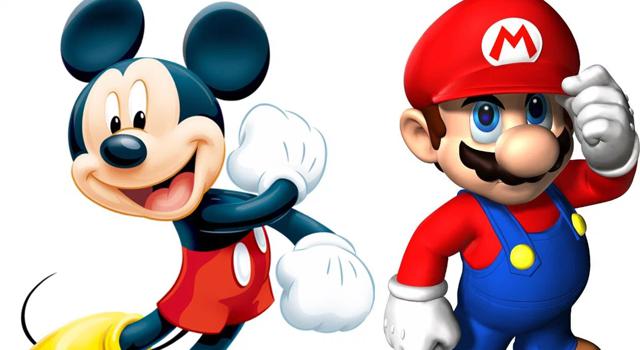 Unfortunately, the story for their investors and stakeholders is a little different. Even though both Mickey and Mario have been pulling their weight, shareholders of Disney have been rewarded with significant returns while shareholders of Nintendo have been waiting for years and are still left with nothing. This is perfectly captured in the line chart underneath: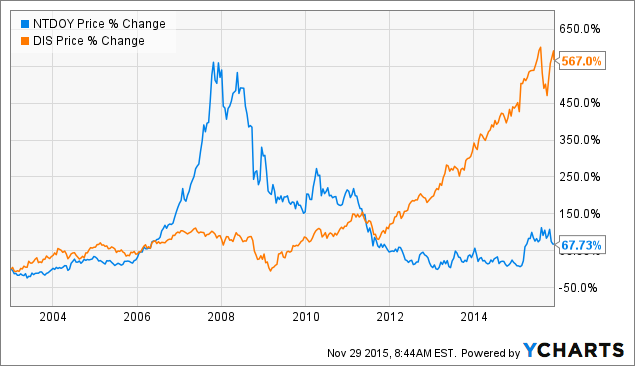 As content is king, add to that the diminishing subscribers for ESPN and an impressive five-year climb on the stock market, it's clear why investors might be afraid that Disney will not be able to continue its impressive run on the markets.
As the state of the economy is dubious at best, it's realistic to check whether or not Disney will be able to continue its total return on the stock market. The last 5 years the stock rose 300% while Nintendo dropped almost 40%. This article will cover an analysis of both firms.
Nintendo - Japanese Turnaround Story
Nintendo recently replaced its CEO with Tatsumi Kimishima, the former CEO of Nintendo in America. He became CEO of Nintendo after the tragic death of Saturo Iwata.
In order to correct the problems Nintendo was facing the last few years, Kimishima decided to merge a variety of divisions together. The Entertainment Analysis & Development team and the Software Planning & Development team merged into the Entertainment Planning & Development team. For anyone unaware of the Entertainment Analysis & Development team, they were responsible for the Mario and Zelda games led by current creative fellow Shigeru Miyamoto.
As everyone knows, overall sales have been on halt due to the significant flop of the Wii-U. One of the reasons was the lack of content at its release.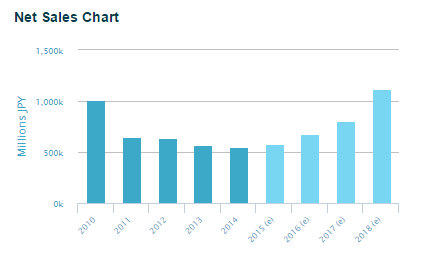 Source: InFinancials
The reason why revenue diminished was obvious and with a new CEO for Nintendo, (which previously held a position as head of Pokemon USA), analysts are expecting that the firm will not make the same mistakes twice. I share this vision.
The Japanese software and hardware manufacturer has significant gems in their midst with the Nintendo DS being an incredible success. Furthermore, the firm will focus on more penetration in the smartphone market which I consider an excellent move. As former head of Pokemon USA, the current CEO is knows the importance of content. I believe Nintendo made an important move by making him CEO.
In order for Nintendo to grow its revenue, it's worth having a look where Nintendo obtains most of its revenue from currently. The Japanese software and hardware developer relies heavily on its sales of software/hardware within North-America as shown below: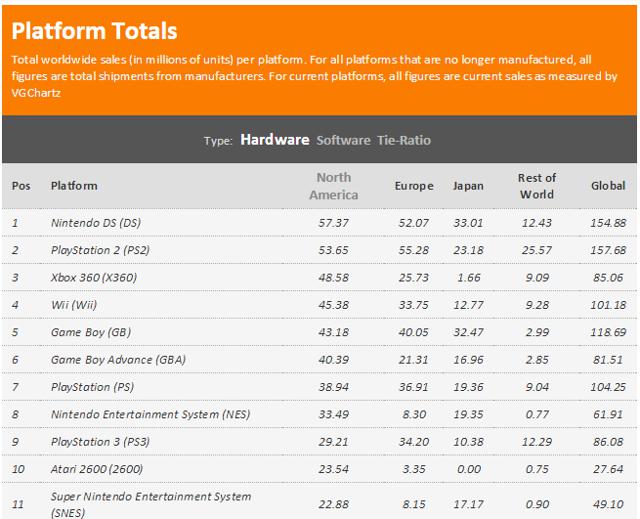 Source: VGCharts
This while popular names such Mario and Zelda are still top-sellers within the Nintendo Space: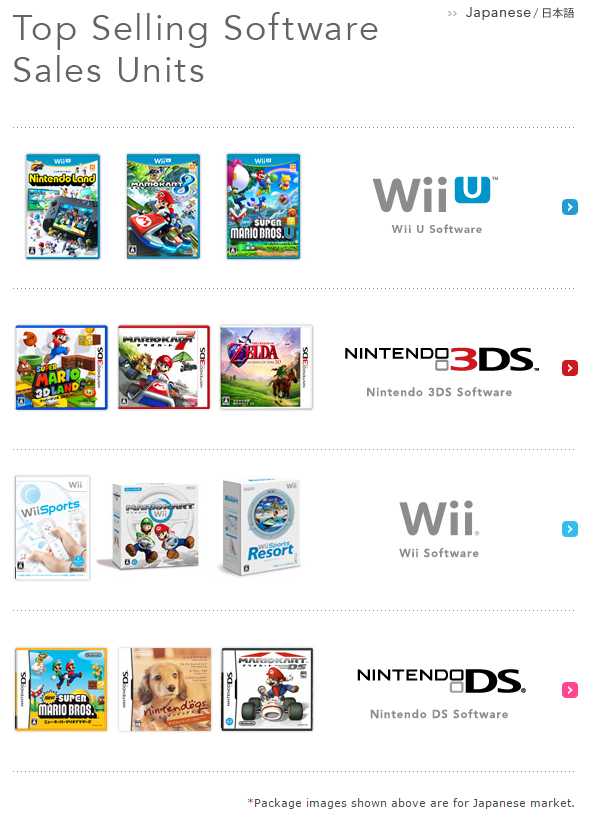 Source: Nintendo
Disney
In contrast to Nintendo, Disney has had a few incredible years. With hits such as Frozen and the Avengers (Marvel Universe) and the upcoming Star Wars movie, Disney seems to be tapping money out of all the right jars. It's therefore good news that Disney increased their royalty fee (20%) on Star Wars.
Their revenue has been steadily growing every year as is shown underneath: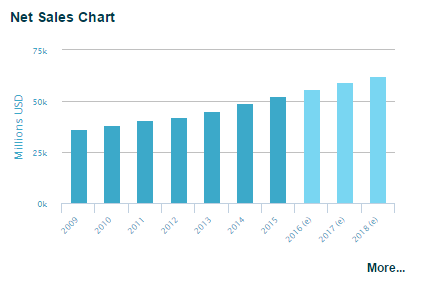 Source: InFinancials
Unfortunately, Disney also has some issues. Investors currently fear Disney's continued stock progress due to the fact that ESPN suffered a loss of 3 million subscribers over the last fiscal year and 7 million over the last two years.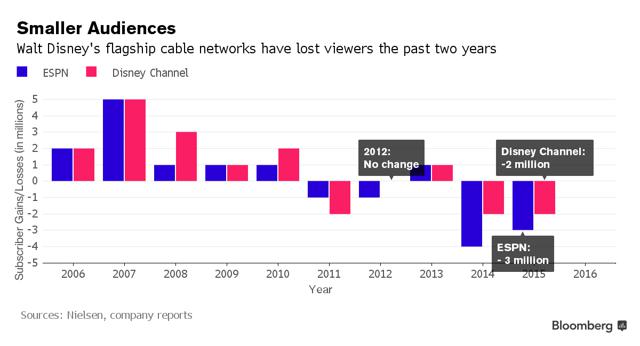 The current decline is not rare among other cable providers, and in my view is in line with Gary Gordon's earlier article on the state of US economy. There might be more where this is coming from.
ESPN dominates Disney's cable networks division. It currently accounts for 46 percent of the company's operating profit and 32 percent of revenue. The loss in subscribers relates to an almost loss of 700 million in revenue fees. That's an incredible chunk and I'm not sure that will halt any day soon.
ESPN has a long way down in case Disney cannot stop its fall: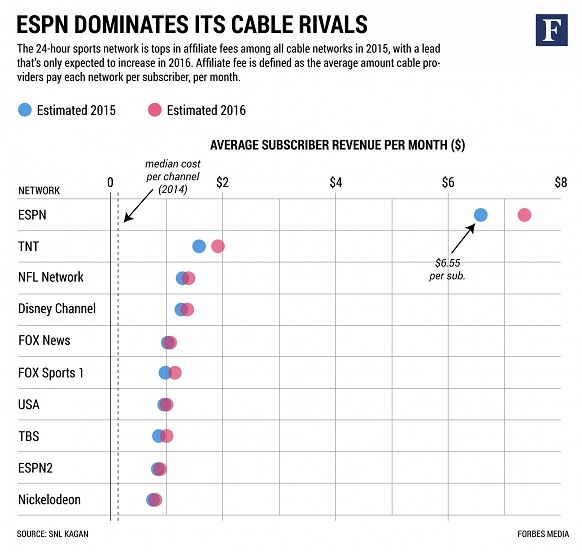 Disney and Nintendo: Let's talk valuation
Let's look at a valuation perspective: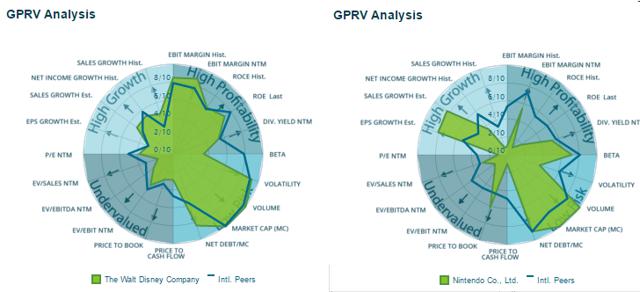 Source: InFinancial (Disney on the Left; Nintendo on the right).
As shown above, Disney has been a clear cash cow while Nintendo struggled from a profitability perspective. Yet, Nintendo is expecting large growth in contrast to Disney. Both are relatively "low risk" based on volatility, volume and market cap.
Nintendo has over $4bn in cash, similar to Disney. Nevertheless, Nintendo has barely any debt at all in contrast to Disney. Add to that the current P/E of over 50 and Nintendo does not come cheap.

Source: InFinancials
Disney looking into opportunities with Nintendo is not a wild speculated guess. On the last E3 2015, Disney's vice president of interactive production John Vignocchi said a few months back:
"Hopefully, the day Mario meets Mickey Mouse is not that far away,"
Amir Anvarzadeh of BGC Securities also opted the idea of Disney looking into Nintendo as the Wii U is a massive disappointment. Nintendo needs to sell more Pokemon and Mario and partnering up with Disney which is excellent in their merchandising might just be the perfect partner. He believes Disney would be the perfect media partner for Nintendo. Something I agree with.
There are straight away a few issues on the table. Nintendo has cash, and it's political regime always has been resistant toward change (this is significant contrast to Disney).
M&A analysis can be done several ways. There is no correct way of doing it, as all analysis comes back to a qualitative discussion. I realize this, as I've worked as an investment banker.
Let's say Joe's Restaurant in Los Angeles gets sold for exactly $2 million. We know that the firm generated an EBITDA of $100K in the 12 months before it's acquisition which is an EV/EBITDA multiple of 20. We know that our Peter Restaurant generates an EBITDA of $200K, it would be potentially valued on 4 million dollars.
Nintendo has an EBITDA of around $275 million. The acquisition multiple for 2015 is around 15. In that line, one could potentially value Nintendo at $4 billion which is roughly what Disney has in cash and cash equivalents. Financially this deal might not be unrealistic. The potential synergy is out there. The biggest clash would be cultural differences, and even that has a counter argument as Lixil Group (a large Japanese conglomerate) succesfully acquired a German sanitary manufacturer Grohe.
Let's have a look at the potential intrinsic value: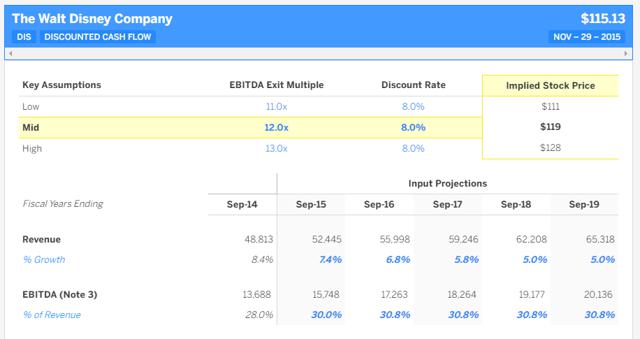 Source: Leveredreturns.com
I based the multiple on the EV/EBITDA expected multiple of 2015. As terminal growth rate I use 5% which is still on the skeptical side. Disney definitely comes in relatively fairly priced with potential upside as well as downside.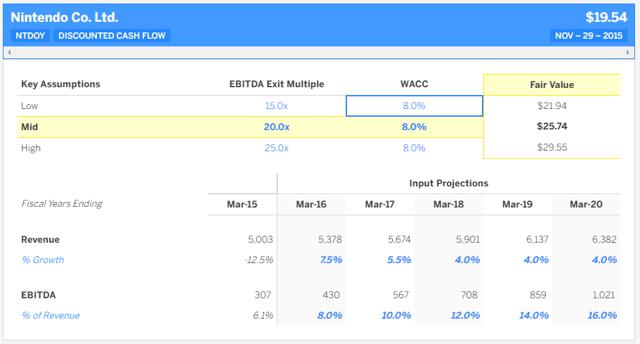 Source: Leveredreturns.com
I base the multiple on 20, which is a 10% margin of error on the expected EV/EBITDA multiple for 2015. As WACC, I use 8. As terminal growth, I use 4% which is a little lower than Disney as a hardware/software developer is much more cyclical from a business perspective. I believe Nintendo in the short term might have a little bit more potential than Disney.
Nevertheless, both firms should be on everyone's watch list as they are relatively easy to understand.
Conclusion
Disney is in trouble due to diminishing subscribers at ESPN. Even though many will try to let you believe otherwise, losing 7 million subscribers is a hit, one way or the other. A potential look at broadening their portfolio with Nintendo is not unlikely. The question of why is easy to answer. Yet as both companies differ significantly in culture an ultimate move is unlikely.
I believe Disney could benefit from Nintendo's large library of fictional characters. Nintendo will be able to benefit from Disney's incredible distribution network. I believe Nintendo will climb back up in coming years and believe that current management will put Nintendo in the right direction.
Looking at it separately, both firms are highly susceptible to the state of the economy. And as Gary Gordon mentioned in his article, I'm dubious about how the economy will continue to develop in the coming years. This will affect both Disney and Nintendo.
I currently don't hold positions in either Disney or Nintendo nevertheless I have Nintendo on my current watch list as I believe that the current CEO has the right skill set to exploit Nintendo's world-class characters. Content is king, and Disney as well as Nintendo are absolute world leaders when it comes to content. As Disney acquired a stream of firms over the last few years, I would not be surprised that Disney will look at the prospect of joining hands with Nintendo. This doesn't have to be through an acquisition, but can be achieved by simply working together in a smaller venture, as suggested by Amir Anvarzadeh for example.
Disclaimer: This article provides opinions and information, but does not contain recommendations or personal investment advice to any specific person for any particular purpose. Do your own research or obtain suitable personal advice. You are responsible for your own investment decisions. This information is not a recommendation or solicitation to buy or sell securities, nor am I a registered investment advisor.
Disclosure: I/we have no positions in any stocks mentioned, and no plans to initiate any positions within the next 72 hours.
I wrote this article myself, and it expresses my own opinions. I am not receiving compensation for it (other than from Seeking Alpha). I have no business relationship with any company whose stock is mentioned in this article.
Editor's Note: This article discusses one or more securities that do not trade on a major U.S. exchange. Please be aware of the risks associated with these stocks.