Husky reports in CAD; unless otherwise indicated, prices are in that currency.
Husky Makes Some Major Moves
In the current low price environment, Husky Energy (OTCPK:HUSKF) is not unscathed, but it is showing considerable resilience. In its Q3 earnings report, it announced that as a cash saving measure, its dividend would be maintained, while it would be no longer paid in cash but in common shares. Shortly afterwards, the company announced approval of a new heavy thermal oil project in Saskatchewan. In addition, as a major oil sands producer, it has had some good news from the recent Alberta government announcement on new policies regarding carbon emissions.
Husky is a senior integrated Canadian energy company, third in size by market cap to Suncor (NYSE:SU) and Imperial Oil (NYSEMKT:IMO). It is 70% controlled by Li Ka-Shing through L. F. Investments and Hutchison Whampoa. Its greatest difference from other Canadian majors lies in the fact that it offers an unusual degree of diversification. Its production ranges not only from the western Canadian oil sands to its east coast offshore plays, but extends into Asia with offshore gas production, and to ongoing exploration and development as far afield as Indonesia, Greenland, China and Taiwan. Its downstream operations include refineries in Ohio and in British Columbia, an upgrader and asphalt refinery in Saskatchewan and ethanol plants there and in Manitoba.
Husky has shown considerable fiscal discipline. It has twice recently chopped capital spending. It has paid off some obligations to joint venture partners, reduced its workforce, issued new debt and equity, improved its reserves, brought on Sunrise oil sands production and new thermal projects. It concluded an agreement to sell its Liwan natural gas at fixed prices. While Husky is sometimes overlooked, it appears to have long-term potential that compares favorably with its large Canadian peers, and its diversity, particularly its Asian exposure, could be attractive.
Q3 Earnings Report
On October 30, Husky issued its Q3 earnings report, which it accompanied by a conference call to provide an update on its activities. While the overall results were understandably poor given the low crude prices during the quarter, with an adjusted net loss of $101 million, they did provide some real indication of the company's continued buoyancy, even in that environment.
Part of the loss was attributable to production factors. Production fell from 337,000 boe/d in Q2 to 333,000 boe/d in Q3. Some of this was due to an unplanned eight-week shutdown at the Lloydminister upgrader, and some to outages in refineries that process heavy oil. This in turn led to a major decline in price differentials for WCS. Planned turnarounds on the East Coast further curtailed production. Unscheduled maintenance at the Lima refinery also reduced downstream results.
On the positive side during Q3, the Sunrise oil sands project was ramping up on target, the Rush Lake thermal project began to produce and the Liwan gas project maintained healthy results.
Although this did not affect the company's balance sheet, it is of note also that Husky recorded an after tax impairment of $3.8 billion with regard to its assets (reserves), reflecting lower futures pricing. This, of course, could be reversed in a higher price environment. It also took a write down of $167 million on its legacy oil and gas assets for the same reason.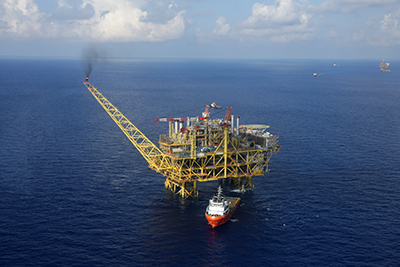 Liwan central gas platform (Company photo)
Husky's Operations
Husky's projected production for 2015 is about two-thirds liquids and one-third natural gas. Its liquids production is a diverse mix ranging from light oil to bitumen, somewhat weighted toward the heavy, and coming from various sources. The percentage of gas should decline slightly as more liquids production comes on stream, but gas remains a major Asian component.
The single largest source of Husky's liquids output is heavy oil from the Lloydminister region of Alberta and Saskatchewan, where the company owns and operates over 4,500 wells. Much of that is extracted by thermal processes, in which Husky has been heavily involved, including the Sandall development and Rush Lake Phase 1 development, which came on stream during Q2, and has ramped up to 13,000 boe/d. Three new thermal projects are still slated to go into production during the second half of 2016: Edam East, Vawn and Eden West, with an eventual production of some 24,500 boe/d. Husky's latest MD&A information indicated that work on these is well underway.
The eventual completion of Rush Lake Phase 2, for which approval was announced subsequent to the third quarter, should produce another 10,000 boe/d. By the end of 2016, Husky should have heavy oil thermal production of about 80,000 boe/d. To accommodate this, the company is also engaged in a project at its Lima OH refinery to allow for the processing of an additional 40,000 boe/d of western Canadian heavy oil, but with the flexibility to process light product as well.
Husky's involvement with heavy oil thermal dates back as far as 1981, but it started in earnest in 2010. Its rationale for transitioning to thermal heavy oil was the low sustaining capital that is involved. Its first set of new projects, basically smaller SAGD operations, was completed in 2014. The company then embarked on the set of projects now underway, whose first production will take place in 2016.
Rush Lake 2 represents the first in a third phase of four projects, during which completions are likely to stretch from 2018 to 2021 (the others in its Lloyd play), and from which there is the possibility of some 40,000 new boe/d. But even this latest phase may be only the beginning. There are estimates that Husky may have a total of over 1 billion barrels of recoverable oil in its various thermal plays. The costs are low, and being reduced; the only negative is the somewhat high decline rate.
A major development was completed in Q1, when production began at the Sunrise oil sands project (also SAGD), a joint venture of Husky and British Petroleum (NYSE:BP) with an expected ̴170 year shelf life. Sunrise is currently on target, with Q3 volumes in the range of 13,000-14,000 boe/d (gross). When Sunrise reaches full capacity about mid-2016, Sunrise should produce about 30,000 boe/d (15,000 net to Husky). Production from Sunrise is being processed at the Husky/BP refinery in Toledo. Husky and BP have delayed the development of future phases of Sunrise (which have a potential of at least 220,000 boe/d), until the next decade and no further oil sands projects are on Husky's immediate horizon.
On Canada's east coast, Husky is the majority owner (72.5%) and operator of the White Rose oil field, in a joint venture with Suncor . White Rose is a huge oil pool, estimated at 440 million barrels, where production began in 2005. During Q3, two South White Rose Extension wells were in production, and were producing about 15,000 boe/d (net). Husky has also stated its hopes for drilling in the North Amethyst field in 2016-2017.
One of Husky's most interesting operations is its Liwan/Liuhua gas project off the southern Chinese coast, where a joint venture (49%) with CNOOC involves a 261 km. undersea pipeline to the Chinese mainland. There, contract prices are firm and production is steady. Negotiations for the sale of gas from a third field, Lihua 29-1 (largely using existing infrastructure), are in process.
Husky is further involved with CNOOC and an Indonesian company, Samudra Energy, in the development of a natural gas field in the Madura Strait near east Java. There it holds a 40% interest. The platform is now in place and drilling is expected to begin before long. Construction of a floating production vessel is about 30% complete. Husky now anticipates first production from the liquids rich BD field (now 45% complete) in 2017. This could net Husky ̴ 40mmcf/d gas and ̴2,400 boe/d liquids. Other offshore Indonesian plays are also in the development pipeline with the same JV arrangement.
Carbon Emissions Policy
On November 22 the Alberta government brought forth concrete proposals for future penalties on carbon gas emissions, which was of particular concern to companies with major oil sands exposure. The policy sets as benchmarks the lowest quartile of emitters, and penalties for those in higher brackets. It calls for increases to $20 per tonne of emissions in 2017 (this had already been announced) and to $30/tonne in 2018. (A previous Conservative government had proposed $40/tonne.) Producers were encouraged by the fact that the new carbon penalties would be imposed on all sectors, instead of being directed at producers alone; this was a policy producers had advocated.
A second prong in the new policy would be to impose an absolute cap of 100 mega-tonnes of carbon emissions from the oil sands. It is estimated that right now the oil sands are generating about 70 mega-tonnes, so the room for growth is limited for projects that are not yet licensed. Here, companies like Husky that have holdings, but no immediate plans for further projects, will have to consider their options. At the same time, Husky could well be a low emitter.
Husky is likely pleased by the new policy. Indeed, with views that seem to echo those of other major producers, Husky CEO Asim Ghosh said in the Q3 conference call before the announcement,
As far as carbon taxes are concerned, frankly, if the political will exists to impose a carbon tax, we would be supportive of it… We've taken a very principled approach with respect to that, but it has to be across the board.
Financing
Husky appears to be adhering to its announced targets for capital spending cuts, and now appears to be exiting the year at $3.1 billion capex, the lower end of its guidance. As it heads into the future, the company is concentrating on "low sustaining capital" projects, where large capex is not required to maintain production. It estimates that about 40% of its production now meets this criterion. It has suggested that the bulk of its 2016 capex, which will be announced in December, will be for this purpose, some $2.4-2.6 billion. This represents about a 15-20% reduction from previous years' figures. Husky also projects that it will have achieved close to a $600 million cost savings in fiscal year 2015, much of it from workforce reductions.
At the same time, Husky is likely to exit 2015 with about $7 billion in net debt, up considerably from $4.0 billion at 2014 year end, due in part to a Q1 $1.3 billion capital payment to BP for their joint Toledo refinery. During the year, Husky has been active in financing its needs through a series of issues of notes and preferred shares. At year-end, Husky's debt to cash flow ratio will likely be in the still respectable range of 2.0x, although this is certainly above the company target.
Something of a surprise came with Husky's Q3 announcement that it was discontinuing its cash dividend, and replacing it with the issue of common shares. Obviously, for Husky this was seen as a preferable alternative to actually cutting the dividend, as other companies had done. What is clear is that this is a defensive measure, and that Husky is preparing itself for a 2016 price regime of about $45 WTI. Although this may be seen as a worst case scenario, Husky is trying to move its breakeven price even below this level.
At the same time, Husky's CEO made it clear that the change in the dividend payment was not a long-term policy. He said during the Q3 conference call,
So this is a call for this quarter, this is not a call in perpetuity. The dividend is important to us and we remain committed to return cash to our shareholders, which means we have to generate profit. Borrowing to cover cost distributions is not sustainable. While dilutive, the shares per dividend measure allows us to maintain dividend without impacting our balance sheet.
While Husky has one controlling shareholder, it does have a considerable number of investors who hold it for its yield. Some of them reacted negatively to the change in dividend payments, and there was some immediate selling from institutional investors who preferred cash yield. The share price fell from about the $20 level to about $17.50 level on the news, but it has since come back to about $18 or so.
The company has also made it very clear that to reduce its debt-load it is prepared to divest some of its assets. It gave no particulars, but these will certainly be non-core, and not assets that could be developed on the "low sustaining capital" principle. These assets to be divested are likely to be in western Canada, perhaps 15% of the current holdings. Husky sees any such moves as a refocusing of its efforts in this area. It does not necessarily have any immediate plans to sell, but could do so over the next few years.
Analyst Recommendations
The following is a table of the most recent (since the dividend announcement on October 30) analyst recommendations regarding Husky. The target prices quoted are in CAD and are quoted for HSE on the Toronto Stock Exchange.
| | | | |
| --- | --- | --- | --- |
| Date | Institution | Recommendation | Target Price |
|   |   |   |   |
| November 2 | TD Securities | Buy | $29.00 |
| November 2 | Scotiabank | Sector Perform | $26.00 |
| November 2 | RBC Capital | Sector Perform | $24.00 |
| November 2 | Raymond James |   | $21.00 |
| November 1 | CIBC | Sector Performer | $23.50 |
| November 1 | BMO Capital Markets | Outperform | $24.00 |
| November 1 | Barclays | Overweight | $26.00 |
|   |   |   |   |
Risks
The greatest risk to Husky, as for any energy company, would come from a further major decline in oil or international gas prices, or sustained pricing at current levels for a long period.
There is always a particular risk to a company like Husky from some major incident damaging its physical operations at an oil sands project like Sunrise or its offshore platforms that could greatly curtail its production or cause environmental damage. In projects like these, it is not simply a question of a single drilling rig put out of action, but the risk of a major shutdown.
Husky also has some risks associated with the current Alberta royalty review, which should be clarified late this year or in early 2016.
Given the international nature of Husky operations, which include projects in Indonesia and Taiwan, there is always a certain geopolitical risk.
For U.S. investors there is a risk from any further decline in the Canadian dollar. Given a Canadian economy that is weaker than the U.S., the CAD could decline still further. At the same time, the current slide in the CAD is largely attributable to the economic damage from low oil prices; an increase in crude pricing could strengthen the currency.
Investment Thesis
Potential Husky investors must first decide whether they value the benefit of the company's diversification, or whether they might wish to invest in an energy company (or companies) more focused within the sector.
In the longer-term, a number of factors make Husky especially attractive: its exposure to China, already the world's second largest energy consumer, and growing; its large assets in the Canadian oil sands with their long-life reserves; its potential for increased production; its relatively low cost in both operational and capex terms. In the short-term it is made defensive by its downstream operations, which profit from low crude pricing.
Investors with a longer horizon, say three to five years, are likely to do very well in a company like Husky, whose current capital projects by the end of 2017 should have led to significant gains in production and stable operating costs, presumably accompanied by higher levels of oil pricing.
Many in the market are tending to see the replacement of the cash dividend by a yield in shares as a very temporary policy, perhaps lasting only a few quarters. Any reversal should increase the share price.
The extreme devaluation of production companies by lower crude prices has led investors and institutions who want to retain some exposure to the energy sector to invest in "safer" plays, especially when prices hit extreme lows. Since they do not wish to be empty-handed as energy gains some ground, they bought into the bigger names. Husky is now gaining some credit as one of the "safer" plays, but especially since the change in its dividend policy, it is low-priced by comparison.
DISCLAIMER: The information provided above is not a recommendation to buy or sell a stock. It intends to increase investor awareness and to assist investors in making smarter decisions. Prospective investors should always do their own further research, and take into account their own current financial holdings, their risk levels and their shorter or longer-term outlooks.
Disclosure: I/we have no positions in any stocks mentioned, and no plans to initiate any positions within the next 72 hours.
I wrote this article myself, and it expresses my own opinions. I am not receiving compensation for it (other than from Seeking Alpha). I have no business relationship with any company whose stock is mentioned in this article.
Editor's Note: This article discusses one or more securities that do not trade on a major U.S. exchange. Please be aware of the risks associated with these stocks.