As we approach the end of 2015 and retirement investors reevaluate their holdings, we have prepared a list of our highest conviction dividend paying stocks for 2016. We have seen many investors take on too much risk by reaching for a very attractive current yield and seeing the stock suffer dramatic declines or the dividend slashed as the high payout is unsustainable. Therefore, our list of the top five dividend stocks is based on not only the current yield but also the safety of the dividend, the likelihood of an increase in the dividend and low downside risk in the stock price. We believe the following five stocks have the ability to outperform the S&P 500 in 2016 while also providing income for investors.
Altria Group Inc. (NYSE: MO), as a leading global cigarette manufacturer, currently yields 3.91% and recently increased their quarterly dividend by 9% to $0.565 per share ($2.26 annualized). Altria is highly regarded for its consistent dividend increases and has boosted its dividend 49 times over the past 46 years. A cause for concern among some investors is that the current payout ratio is 85% of earnings, which is slightly above the company's targeted payout ratio of 80% and future increases may be limited. We disagree with this assessment.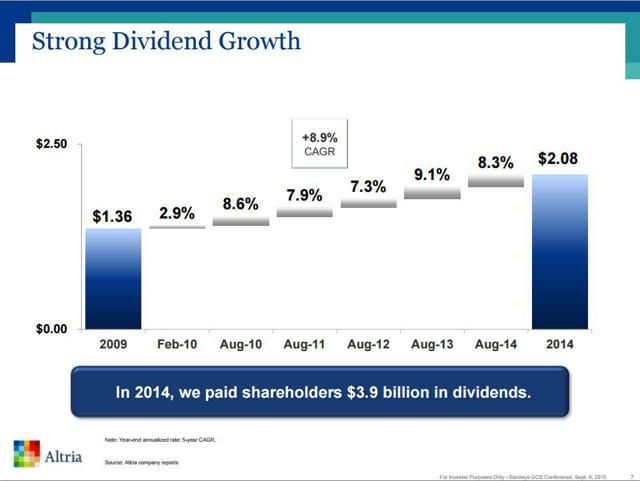 (Source: Altria Group November 2015 Investor Presentation)
With consensus earnings estimates for 2016 of $3.06 per share, we believe that the Board will maintain its targeted payout ratio of 80% and will announce a further increase in the second half of 2016 to $0.61 per share per quarter. This would represent an 8% increase in the dividend and would bring the payout ratio down to 80%, which we believe is more sustainable. While we believe the stock is not particularly cheap with a 21 P/E, we find that the high-quality brands and predictability of earnings makes this both an attractive and safe dividend investment opportunity for 2016.
Southern Company (NYSE: SO), a leading utility company based in Atlanta, is also a high-quality dividend paying stock. Southern Company currently yields 4.87% and increased its dividend for the 14th straight year in 2015. The company currently pays a quarterly dividend of $0.5425 per share ($2.17 annualized). While the payout ratio is considered high at 83% and many consider the dividend increase potential limited given this ratio and the slow growth of the utility business, we see a strong likelihood that there will be further dividend increases.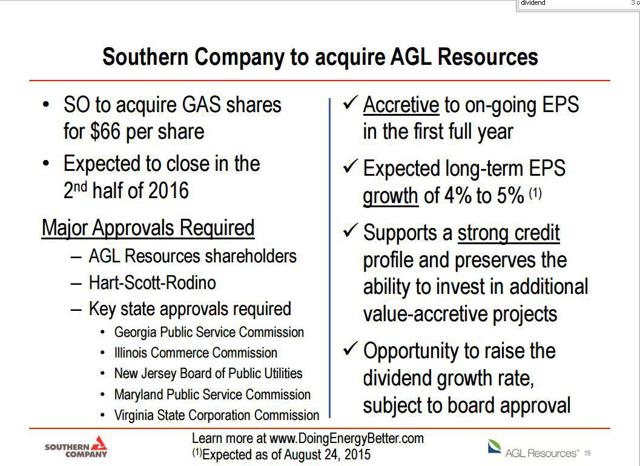 (Source: Southern Company Investor Presentation)
We believe the AGL Resources (NYSE: GAS) acquisition will serve as a major catalyst for future dividend increases in 2016 and beyond. We reviewed the AGL Resources transaction here, and believe the strategic rationale of the deal is compelling and will benefit Southern Company shareholders significantly. We believe Southern Company should earn close to $3.00 per share in 2016 (excluding the acquisition), and based on this performance, the Board will likely increase the dividend in early 2016 by as much as 5%.
Exelon Corp. (NYSE: EXC) is the second utility company included on this list, and is also a well-managed utility that is expected to close a significant acquisition in 2016. Based in Chicago, Exelon currently yields 4.5% and pays a quarterly dividend of $0.31 per share.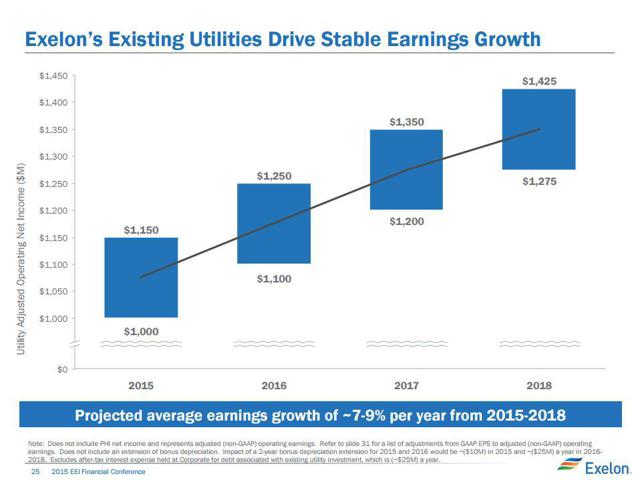 (Source: Exelon Investor Presentation)
While Exelon's dividend has remained flat since 2013, we believe there is significant upside in the stock driven by attractive earnings per share growth from the company's existing utility business. Additionally, Exelon is expected to close the accretive Pepco Holdings (NYSE: POM) acquisition in early 2016, which will provide a further boost to earnings. Although the transaction has been slowed by regulatory hurdles as we discussed here, once the transaction is finalized, we believe management will focus its capital allocation policy on returning excess cash to shareholders in the form of an increased dividend. We believe that the Board will increase its dividend in 2016 for the first time in three years, and a quarterly dividend increase of 13% to $0.35 per share is not unreasonable to expect given the significant earning power of the existing utility business.
Cummins Inc. (NYSE: CMI), a leading global manufacturer of diesel and natural gas engines and power generation systems, is also a high-quality business with an attractive and safe current yield of 3.9%. The 10-year track record of shareholder-friendly actions is impressive as the Board has consistently repurchased shares and increased the quarterly dividend to $0.975 per share ($3.90 annualized).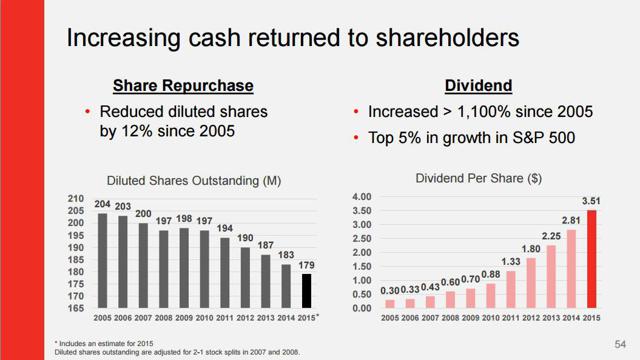 (Source: Cummins Inc. Investor Presentation, November 2015)
The most attractive aspect of adding Cummins to a retirement portfolio for 2016 is that the stock has declined over 30% from near-record highs following weak Q3 results and expectations of soft demand in the next year. We believe the near-term headwinds Cummins is experiencing provide an attractive entry point for long-term income-oriented investors as we expect that the company will continue to pay a steadily increasing dividend and repurchase shares throughout the business cycle. Management reaffirmed this commitment as recently as two weeks ago when it announced a new $1 billion share repurchase program. Furthermore, in our view any improvement in the underlying engine business and power generation business will provide an opportunity for capital appreciation. For these reasons, we believe this is one of the more attractive dividend paying stocks for a retirement portfolio.
Staples, Inc. (NASDAQGS: SPLS), a leading retailer of office products, has an attractive current yield of 3.96% but operates in a highly competitive industry. The quarterly dividend has remained flat at $0.12 per share since 2013, however, we believe there is the potential for an increase in 2016, particularly if the Office Depot (NASDAQGS: ODP) acquisition is approved by antitrust regulators. It is possible that the FTC will challenge the merger, but if the deal is approved with only modest further concessions in 2016, we believe shareholders of Staples will stand to benefit significantly over the long term through greater earning power and a rewarding cash return program.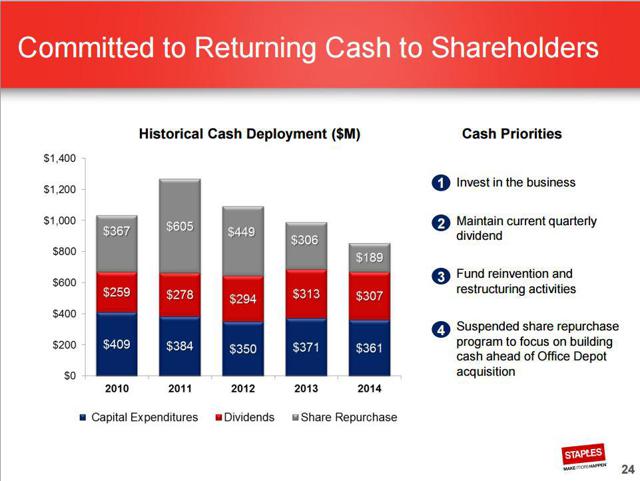 (Source: Staples Inc. Shareholder Presentation)
However, in the event that the transaction is challenged by the FTC and ultimately abandoned by Staples, we would expect Staples to earn close to $0.90 per share next year. We believe this would be a decent but not great operating performance for management, yet would only represent a dividend payout ratio of 53%. We believe the dividend is relatively safe for the next three years and excess cash under a Staples as a standalone scenario would be deployed towards share repurchases. As an added bonus, shares are trading at only 13.5 times projected 2016 earnings. Therefore, in addition to the nearly 4% current dividend yield, we may also see considerable capital appreciation following a strong operating performance in 2016.
The Takeaway
Looking ahead to 2016, we believe these five stocks are in a position to pay an attractive dividend, increase earnings per share and based upon their current valuations, experience considerable capital appreciation. All of the stocks discussed will likely be in a strong financial position to increase their dividend during the next 12 months, even as three of the companies look to close transformative acquisitions. Therefore, we think any retirement investor should consider these stocks when reevaluating their portfolio for 2016. Also, in the coming weeks, please be on the lookout for our model retirement portfolio that will include a complete list of positions and weightings for 2016 with analysis of the holdings. We plan to continue to track and update our portfolio during the year for our readers.
Disclosure: I am/we are long MO, GAS, POM.
I wrote this article myself, and it expresses my own opinions. I am not receiving compensation for it (other than from Seeking Alpha). I have no business relationship with any company whose stock is mentioned in this article.