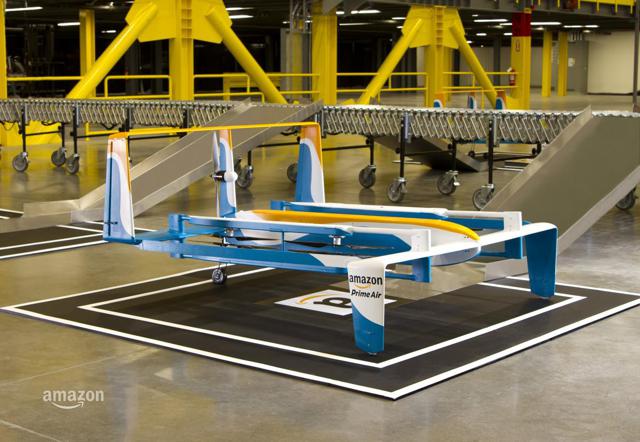 The drone industry will be the next big investment opportunity. It is estimated that over the next 10 years, the drone industry will have more than an $82 billion impact on the economy and create over 100k new jobs. Currently, the military spends the most on drones, followed by precision agriculture. Companies have even decided to work on delivering packages via drone, as well as utilize drones to provide internet access to remote areas of the globe. Now is a great time to invest in this industry while it is in its infancy.
Below, are charts from the Association for Unmanned Vehicle Systems International (AUVSI), which detail the economic and employment impact of drones in the U.S. over the next decade: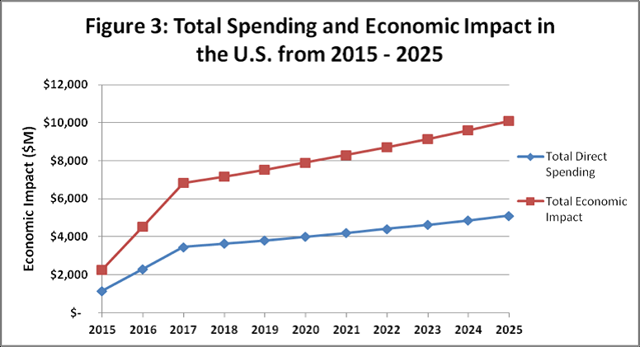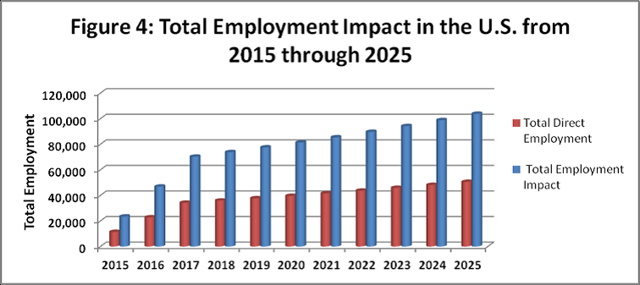 Foreign drone manufacturers are currently dominating civilian drone sales. DJI, from China, had $500 million in revenue in 2014, roughly four times its revenue from 2013. This year DJI's revenue is expected to exceed $1 billion. Its next closest competitor is Paris's Parrot (OTCPK:PAOTF), which manufactures the Bebop drone. These increasing drone sales are promising to retailers such as Amazon (NASDAQ:AMZN), as well as U.S. drone and chip manufacturers.
Currently, the military is the biggest contributor to the U.S. drone industry. Military drone spending will only continue to increase. In 2016, the military expects to spend $2.9 billion on drones. Companies like Boeing (NYSE:BA), Northrop Grumman (NYSE:NOC), Lockheed Martin (NYSE:LMT), and AeroVironment (NASDAQ:AVAV) are dominating the military drone field. My favorite of the bunch is AeroVironment, which is the only true drone company. Roughly 85% of its business comes from drones, generating $221 million in revenue last year. AeroVironment recently developed a drone called the switchblade, which can be launched from a tube, fly as far as 10 kilometers by remote control, then kamikaze to its target, where it will detonate on impact. AeroVironment is currently the largest supplier of small drones to the military, whereas Lockheed Martin, Boeing, and Northrop Grumman focus primarily on the larger drone models such as Predators and Reapers. AeroVironment has a lot of room for growth due to its size and primary focus on drones. They are also trying to expand into the commercial drone industry. According to some sources, Lockheed Martin could decide to acquire AeroVironment, which would net a nice premium for investors. AeroVironment's next earnings report will come out on December 8th.
Here is a chart from ARK research breaking down the drone market by industry: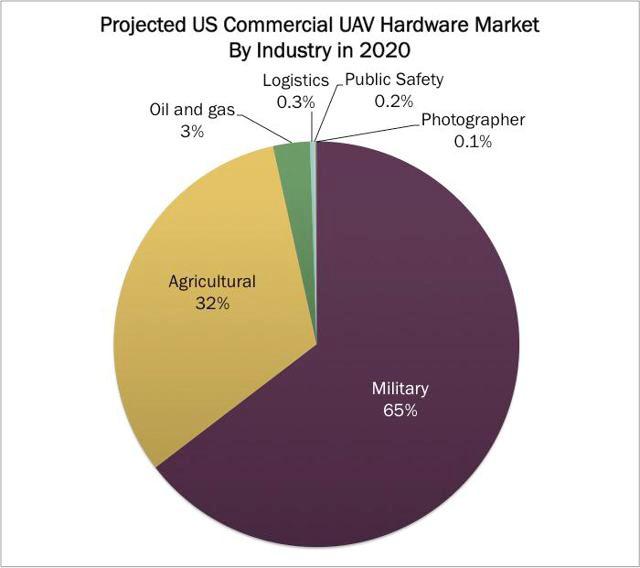 At the end of October, the FAA announced that there are currently over 700k drones in the U.S., with an expected one million additional drones to be purchased by Christmas. A large portion of these drones are being purchased from Amazon. In addition to the sale of these drones, Amazon is the first company to decide to utilize drone technology to deliver packages. Amazon has been testing this technology for roughly two years. Recently, at the end of October, Amazon was granted an exemption to begin outdoor testing. Amazon Prime Air should be ready to go by the time drone delivery is legal. ARK predicts that Amazon will be able to deliver any package under 5lbs for just $1 within 30 minutes or less. On Sunday, Amazon released this video of its newest drone prototype, which can fly up to 15 miles at an altitude of 400 feet. In this video, you can see exactly how Amazon's drone delivery system would operate.
Even without drone delivery, drone sales alone should greatly benefit Amazon. Below is a chart from the Washington Examiner showing global drone revenue and unit sales numbers: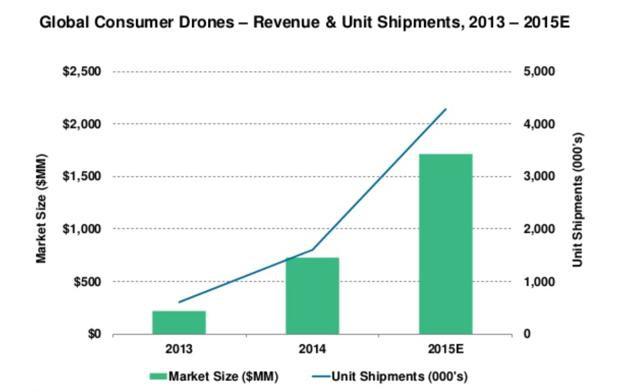 Amazon is not the only company that would like to deliver packages by drone. Wal-Mart (NYSE:WMT) and Alphabet (NASDAQ:GOOGL)(NASDAQ:GOOG) have also begun their own testing to try to compete with Amazon. In addition to package delivery, Alphabet plans to use drones to beam down internet access to remote areas of the globe. Facebook (NASDAQ:FB) is also aspiring to do the same. This will increase the user base of both companies. GoPro (NASDAQ:GPRO) is also trying to get in on the drone industry by making its cameras drone compatible and is currently developing a drone of its own.
In addition to the large increase in hobby drone sales, military drone spending, and drone delivery, commercial drone use is rapidly expanding. Currently, commercial drone operations are banned without an exemption from the FAA. The FAA has granted 2,420 commercial drone exemptions in the U.S. This is a process that takes roughly six months and has many restrictions, such as requiring a licensed airplane pilot to operate the drone. In less than a year, after the new regulations come out, this process will be lifted. Anyone will be able to engage in commercial drone operations after taking a short written test. There will no longer be a need to apply for an exemption or to be a licensed pilot to operate a drone. This will exponentially increase the commercial use of drones, impacting many areas of the economy, and lead to a further increase in drone sales.
This will benefit companies that sell drones such as Amazon, but it will also greatly benefit the companies which sell the components used in making drones. In this category, my favorite company is InvenSense (NYSE:INVN), which is the leading manufacturer of the motion sensor chips used in drones and smartphones. They are also another relatively smaller company with lots of growth potential. However, currently most of its business comes from smartphones. Other component companies that are likely to benefit are IXYS (NASDAQ:IXYS), which manufactures drone power chips and Ambarella (NASDAQ:AMBA), which manufactures drone video capture chips. As GoPro's leading chip supplier, Ambarella will greatly benefit if GoPro's drone endeavors are successful.
Nvidia (NASDAQ:NVDA) is also expanding into the drone industry with its high-powered Tegra GPU chips, which are being used by Parrot's drones. These chips have revolutionized the way drone cameras work by allowing real time models of the drone's environment, just as the human eye would see it. This provides for superior depth perception over rival cameras. Intel (NASDAQ:INTC) and Qualcomm (NASDAQ:QCOM) are also expanding into the drone industry and could greatly profit from chip sales in this growing field. Intel has invested in three drone manufacturers this past year and is making its own depth-sensing drone cameras. Intel is also working with Ascending, a German drone maker, in order to develop its RealSense collision-avoidance technology. Qualcomm is also working on similar collision-avoidance technology as well as geofencing. Geofencing will be utilized to prevent drones from flying into certain areas.
Many people think drone delivery is a terrible idea which will end up in countless lawsuits due to crashes, drones getting shot down, or drones being hacked. The FAA has already announced that shooting down a drone could result in the same penalties as shooting down an aircraft. Crashes are unlikely due to the advanced technology and extensive testing currently taking place. The FAA is moving at a snail's pace in order to make absolutely certain that these drones are safe before authorizing their use. It will be more likely that a delivery driver will get into a crash with someone than problems being caused by drones falling out of the sky. Drones are likely to be just as safe as airplanes, which also had safety doubts at their inception. If drone delivery is successful, companies like FedEx (NYSE:FDX) and UPS (NYSE:UPS) will be hit hard. Brick and mortar retail stores could also suffer.
However, there are certainly some hurdles still left to get through. The main hurdle which needs to be overcome is permission from the FAA. This will be achieved once the FAA believes that drone delivery is safe. The safety hurdles that need to be overcome include the need for more advanced collision-avoidance systems and protections from hacking. As discussed above, chip companies are working on these systems as we speak. The hacking problem will also likely be easy to solve.
To ensure safety, Amazon has developed more than ten generations of drones since they began testing two years ago. Amazon has also proposed a drone highway in the sky between 200-400 feet. All drones operating in this airspace must have sophisticated GPS tracking systems, a reliable internet connection, online flight planning, communication technology to "talk" to other drones, and sensor-based sense-and-avoid technology. If connection is lost with a drone, they are programmed to immediately return home. Amazon will likely begin full scale drone delivery in Europe before the system is approved in the United States. DHL performed the first legal drone delivery in Europe back in 2014. The FAA is starting to embrace the idea of drone delivery. Earlier this year, the FAA approved the first legal drone delivery in the U.S., which brought 10lbs of medicine to a clinic in rural Virginia.
Drone delivery has also been successfully going on since 2011 in other parts of the world. Matternet has been using drones to deliver medical supplies to countries like Switzerland, Haiti, and the Dominican Republic. These drones can be shut down remotely in case of theft, will deploy a parachute if the drone fails, and will only land on a sensor equipped landing pad. These precautions take care of many of the current concerns over drone delivery. The drones also automatically generate their route based on current weather conditions, population density, terrain, and restricted airspace. They are activated by a button on your phone and fly autonomously.
The technology already exists for successful drone delivery and is improving every day. Drone deliveries have already been permitted around the world under certain conditions. The only hurdle remaining is the FAA. This hurdle will soon be conquered as the FAA has already shown a trend toward relaxing drone regulations through their new proposed regulations. While the rules coming out will not automatically allow for drone delivery, the FAA has started up its Pathfinder initiative. Under this initiative, the FAA has permitted three companies to test drone operations in urban areas as well as permit beyond visual line-of-sight flights in isolated areas. This shows that the FAA is dedicated to continuing the integration of advanced drone technology. The FAA could also grant a drone delivery exemption to certain companies at any time without changing their regulations. This is exactly what they are currently doing with the over 2,400 commercial exemptions granted.
Drones will be utilized for package delivery, news gathering, professional photography, agriculture, safety inspections, search and rescue missions, firefighting operations, law enforcement use, providing internet service to remote areas of the globe, and much more. The possibilities for this new industry are endless.
Conclusion: The drone industry is rapidly expanding and will have an enormous impact on the economy in the next ten years. Now is the time to start investing. Drone delivery is already happening and will soon likely become full-scale in Europe. After this happens, economic pressures will likely cause the FAA to swiftly grant delivery exemptions in the U.S. This will make FedEX and UPS risky stocks in the future. Furthermore, regardless of whether drone delivery happens, the drone industry is still rapidly expanding. In less than a year, once the new FAA regulations are in place, commercial drone operations will exponentially increase. Just the sale alone of these drones and the components used to make them will greatly benefit the companies listed in the near future.
Disclosure: I am/we are long GOOG, AMZN, LMT, AVAV.
I wrote this article myself, and it expresses my own opinions. I am not receiving compensation for it (other than from Seeking Alpha). I have no business relationship with any company whose stock is mentioned in this article.
Editor's Note: This article discusses one or more securities that do not trade on a major U.S. exchange. Please be aware of the risks associated with these stocks.