New Director of Sales at Applied Minerals (OTCQB:AMNL), Brian Newsome, continues to have the "hot hand" in helping drive business outcomes at the company. Newsome, who just closed a major distribution agreement for the halloysite clay and iron oxide producer with Horn has followed up his debut agreement close with a quick encore. This time, he's partnered Applied Minerals with specialty-chemicals distributor Brandt Technologies. As was the case with the Horn agreement, this too is meaningful for several reasons. However, the Brandt Technologies agreement has plenty of nuance that deserves mention and that deserves noting. I'll explain.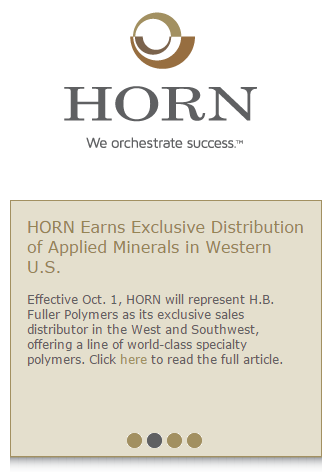 (images sourced from ethorn.com)
For starters Brandt Technologies will give Applied Minerals layered, national distribution coverage and a secondary customer base to potentially cross-sell into. That matters and it matters in a big, big way. While Horn has an extensive distribution infrastructure primarily in the western half of country, stretching as far east as Texas, Brandt Technologies is the preeminent specialty-chemicals distributor in the Midwest. Now, with Brandt, Applied Minerals has mature, scalable infrastructure across the entire national landscape outside of the Eastern seaboard. My guess is that Newsome, who again has been hot as of late, will have this territory covered soon.
Still, even without having the Eastern seaboard covered from a singular distribution standpoint Applied Minerals has clearly taken strides into creating a model that can service any customer of any size. This, at least in my conversations with investors considering a position in the company, was a primary reason for "buy reluctance". That on top of not appearing to have been making any development progress the company presumably would be limited in revenue ramp and in development momentum by lack of total model maturation. This isn't the case any longer.
By partnering with such mature and expansive infrastructures from a distribution standpoint Applied Minerals now stands ready to grow as quickly as capital and resource constraints will allow. Even to that end Applied Minerals has taken noticeable strides as of late. The company very recently announced much improved cash run rates as part of a broader model optimization effort.
In addition to the tangible benefits of taking on a second distributor Applied Minerals should stand to benefit from the intangible benefits that I believe will be unintended consequences of execution. First, Brian Newsome is very clearly executing. Led by his apparently deep rolodex of contacts stemming from his experiences at BASF, his former employer, Newsome is pulling years of development forward for Applied Minerals. Not only does this give the company's underlying development narrative credibility, it also brings something of implied demand to the company regarding its services and its products. No longer is Applied Minerals the apparent desperate/market seeding suitor, now instead appearing to be the partner with clear value to bring to a partnership. At least that's how Horn and now Brandt viewed the company.
Second, more and more it's appearing that Applied Minerals' balance sheet has the all-important intangible foundation of "credibility" to build on. This is different than the tangible credibility being brought to the development narrative. For a stock that has for too long flown under the radar, fears of further dilution - the company has a long and somewhat questionable history of this - have constantly and prominently plagued both investor interest and share price. With Applied Minerals' recent cost cutting and model efficiency initiatives announced, any uptick to revenues or operating leverage would only reinforce the idea that the balance sheet is structurally sound. If sentiment regarding this shifts Applied Minerals could see a marked increase to share price. I believe sentiment is at an inflection point.
All told Applied Minerals maintains its development momentum with the Brandt announcement. I believe the announcement is meaningful and that it can be productive for the broader bull thesis on several levels. I also believe, as I have stated often as of late, that AMNL shares will reprice higher over the coming quarter or so. If the company can show anything of revenue growth they could price higher for much longer than that. To that end, we'll have to wait and see.
Good luck everybody.
RISKS:
AMNL is a microcap with shares traded Over the Counter, where liquidity is often light. Low liquidity is one of the reasons the stock is so cheap. You can buy the stock well below fair value, but that also means you may have a problem selling at fair value, or at all, in the future. Because of the illiquidity in AMNL shares, you should only enter a position if you won't need the money in the near term.
Secondly, there is competition. The overall sector in which AMNL competes is competitive, and substantially, all the competitors in AMNL's space are much better funded, have longer track records of operations, and are in better position to access the credit markets.
Third, there is execution risk. If management does try to significantly grow the business and increase market share organically by increasing expenses, the plan could suffer setbacks and the company could be forced to raise capital at inferior terms, if it can raise capital at all.
Disclosure: I am/we are long AMNL.
I wrote this article myself, and it expresses my own opinions. I am not receiving compensation for it (other than from Seeking Alpha). I have no business relationship with any company whose stock is mentioned in this article.
Editor's Note: This article covers one or more stocks trading at less than $1 per share and/or with less than a $100 million market cap. Please be aware of the risks associated with these stocks.