This is a first look at what will/could be the 3 Must Own Activist Targets Of The Week recurring feature.
The key criteria is that these 3 to 5 stocks be newly targeted by an activist (within the last week) and be underrated - which will likely mean they are trading with a sub $5 billion market cap. If you like the sound of this, please take the survey and get early access when we officially launch.
Houghton Mifflin Harcourt (HMHC)
Activist involved: Anchorage Capital
Percent owned: 15.2%
Market cap: $2.7 billion
Stock move since: Down 0.7%
HMHC is a media company in the education solutions business. At the end of 3Q, HMHC was Anchorage's largest equity holding. The fund has owned a sizable stake in HMHC since November 2013, but it's been passive until now. This is only Anchorage's fifth activist campaign and the first since 2013.
HMHC operates in two segments: Education and Trade Publishing. The Education segment provides educational products, technology platforms and services to meet the diverse needs of classrooms. Its Trade Publishing segment develops, markets and sells consumer books in print and digital formats and licenses book rights to other publishers and electronic businesses in the United States and abroad.
It's not a sexy business, offering content to both educational institutions and consumers, which includes characters and titles such as Curious George, Carmen Sandiego, The Oregon Trail, The Little Prince, The Lord of the Rings, Life of Pi, Webster's New World Dictionary and Cliffs Notes.
The market has fallen out of love with HMHC of late.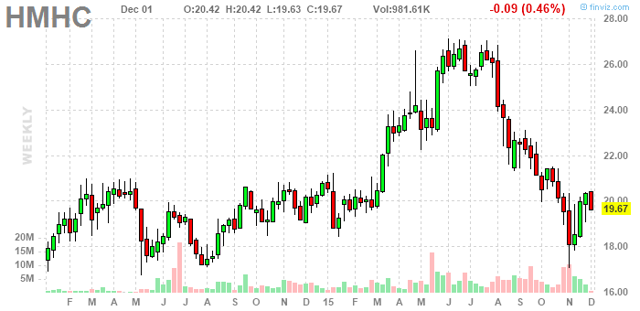 Bottom line - HMHC is undergoing a transition and has been left for dead by the market. It's still a major player in the education industry, even if you've never heard of it. Anchorage is likely here to help with the recent re-organization of the company. The company was previously loaded down with debt and went through bankruptcy a couple times. Since its 2013 IPO it's had a debt free balance sheet. As well, the market is overlooking the company's transition to the digital world.
SciQuest (SQI)
Activist involved: Discovery Group
Percent owned: 5.3%
Market cap: $360 million
Stock move since: Up 5.7%
Discovery Group is a fairly prolific activist, specializing in the small-cap space. SQI is a small-cap company operating in the cloud based and automation solutions businesses.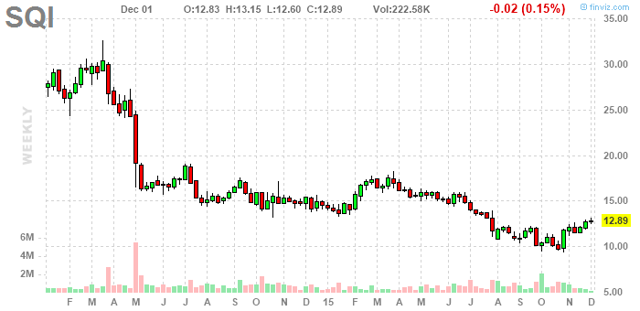 Its core business is to automate the source-to-settle process; spend analysis solutions that cleanse and classify spend data to drive and measure cost savings; supplier management solutions that facilitate its customers' interactions with their suppliers; contract lifecycle management solutions that automate the contract lifecycle from contract creation through maintenance.
Bottom line - What Discovery will push for, it remains to be seen. In the meantime, the company has some key highlights. It has a clean balance sheet and could be an enticing buyout candidate for large players in the industry.
Control4 (CTRL)
Activist involved: Discovery Group
Percent owned: 5.5%
Market cap: $185 million
Stock move since: Flat
CTRL has been hit hard this year, facing a myriad of competition and effectively getting left behind, in the Internet of Things (IOT) industry. It's down 50% on the year.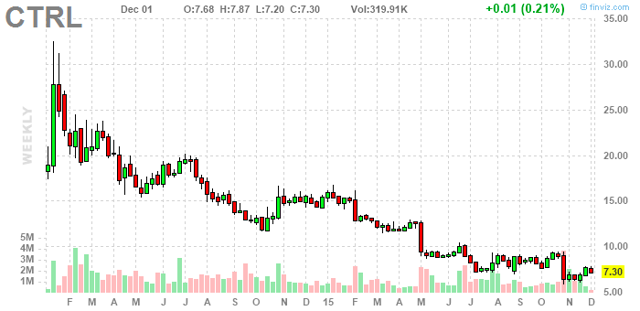 CTRL offers control solutions for the connected home. The idea being it integrates music, video, security, lighting, temperature, etc. in the home. It has its own operating system (C4 OS). However, being early is the same as being wrong. Was CTRL just too early to the home automation / IOT movement. In October, it launched the latest home operating system version, which integrates with smart locks, cameras and more security systems. The market said; so what?
Bottom line - Discovery isn't an aggressive activist. They see a cheap stock that's been beaten down unjustifiably; trading at 17.5x forward earnings and expected. to grow EPS at a 20% CAGR over the next half decade. It's got a cash hoard of ~$2.50 a share, which could be adjusted to grow via M&A. Then there's the idea that with a with a sub $500 million market cap, it could be a buyout target for a company that can leverage its home automation software.
American Residential Properties (ARPI)
Activist involved: Land & Buildings
Percent owned: 7.4%
Market cap: $540 million
Stock move since: Up 4.7%
Land & Buildings specializes in real estate. It took on MGM (NYSE:MGM) to get the company to spin off its real estate. However, given its size, just around $100 million in AUM, it doesn't take on too many official activist campaigns. Shares of ARPI are flat on the year.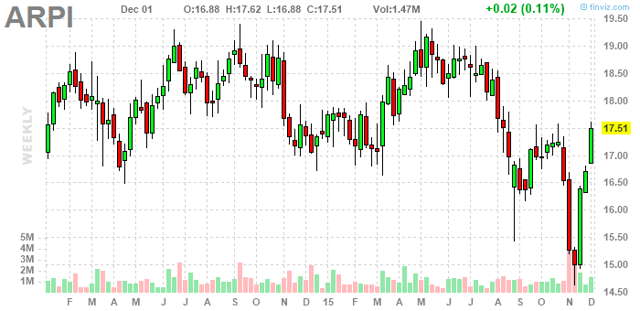 The REIT acquires, owns, renovates, and manages single-family homes as rental properties. The big part of Land & Buildings' thesis is that the company is trading at a discount to NAV largely as a result of poor operational performance, an insufficient scale and the lack of a clear strategic plan. More so, there's been management missteps and a lack of effective oversight by the board.
Bottom line - American Residential is interesting, as it has a niche in the single family rental market. A market that's growing as millennials opt not to buy homes. Now, it hasn't been paying a dividend (yielding 2.2%) long, which has kept some buyers out of the name. And it has a limited history given its 2013 IPO. But it trades at 1.1x book value, which is cheap for an equity REIT, especially in the single-family home rental market. Look for Land & Buildings to push for a buyout or other ways for the company to lower its cost of capital, which is running high.
Final note - Every Monday we'll hit you with 3 to 5 newly activist targeted stocks. The format will be similar to the above, but refined over time with the help of feedback. If interested, take our early access survey.
Disclosure: I/we have no positions in any stocks mentioned, and no plans to initiate any positions within the next 72 hours.
I wrote this article myself, and it expresses my own opinions. I am not receiving compensation for it (other than from Seeking Alpha). I have no business relationship with any company whose stock is mentioned in this article.