I am sure this article will not be in much favor just because of the four letter word in the heading, but perhaps that is the best reason it should be considered. Where else can you find a stock with a positive cash flow, trading at seven-year lows, 40% of book value, and quadruple bottom on the chart.
Gold certainly is out of favor in the retail market and at severe extremes. The most popular way investors participate in the gold and precious metals market is the mining shares. This long-term chart of the XAU Index gives a perfect picture of the extreme pessimism.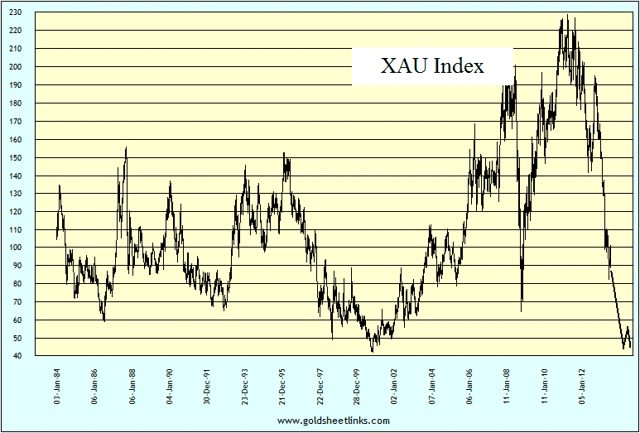 There is a bubble and a rift among the biggest gold market players in the world, but it provides a large opportunity for us, small guys, to pick up their crumbs.
I have been in the commodity and stock markets for 40 years when I count my young and foolish ones, and never have I seen anything close to this. I have seen the 20% interest rates, the 1987 crash, the 2000 and 2008 crashes, and the bull markets in between.
To present a complete picture here would be very lengthy and quite a few charts, so to summarize my research and get on with an investment idea, here is the long and short of it.
We all know gold has seen a tremendous run in the last decade. We all know about the U.S. real estate bubble that popped in 2008 and its aftermath. Freddie Mac (OTCQB:FMCC) reported that the U.S. housing market peaked in 2006 at $13.3 trillion, approximately doubling from the late 1990s.
But what few realize is the greed and ingenuity of Wall Street has built another bubble that is far larger. The World Gold Council reported the size of the global gold market in 2010 was $2.5 trillion, which does not sound that large, but it just valued about 36% of the known physical gold deemed as official holdings and private investment. I think that is fair because all the jewelry and what is used in electronics is not readily available.
Since 2010, gold has declined about 15%, but its size has grown some with new mine production each year. I think $2.2 trillion would be a fair estimation for the market value today.
Now, where Wall Street (and the London Bullion market shares the blame) has built a bubble is in what many refer to as "paper gold", the futures and derivatives, etc.
In CFTC hearings in 2010, Jeffrey Christian of CPM Group, a well-known main stream expert in gold, commented that the leverage was 100 to 1 (100 ounces of paper gold to 1 ounce of physical).
An early 2013 gold market analysis by the Reserve Bank of India indicated 92 to 1, per calculations.
"Investing in gold, although remained to be a century old phenomenon, investing in innovative gold backed instruments seems to be of recent origin."
This leverage mostly started in mid-2000s with about a five-fold increase in COMEX Gold contracts. Also, in 2004, the CBOT offered a mini 33.3 oz future contract, and in the 2000s, a slew of gold ETFs came about, probably the most widely followed is the SPDR Gold Trust ETF (NYSEARCA:GLD).
You can find a list of gold ETFs here.
With 100 to 1 leverage of the physical gold market estimated at $2.2 trillion, this paper gold bubble is about $220 trillion - dwarfing the U.S. housing bubble.
As the gold price has come down, we have seen the demand for physical gold rise, especially the last few months as the price has been weaker. This is eating away at the base that supports the bubble.
The most recent World Gold Council data for the third quarter of 2015 shows central banks are on pace for record buying, with India and China demand at near-record elevated levels. In the U.S. demand for coins and bars has soared. The U.S. Mint reported the highest sales of Gold Eagle coins for more than five years.
Last week, even eBay (NASDAQ:EBAY) reported record demand as gross merchandise volume for bullion has spiked 60 percent from last year, and 27 percent from October.
It is an unprecedented anomaly to see prices fall so much as demand is high and rising, but this is how this paper gold bubble is inflating. The banks can create paper gold instantly just by taking the short side of long paper gold contracts, but they cannot create the physical metal that is leaving the system.
We are starting to see strains in the system with the COMEX-registered gold inventories at record lows, central banks trying to repatriate gold and buying large amounts, and the strong demand in Asia and now the U.S. as well. I have no doubt that there is an increasing strain, stretching this paper gold bubble very thin.
Recently, I spoke with a long-time London gold trader, and he indicated to me there is a rift developing among bullion banks where some are getting nervous about all this leverage and have been moving from the short side of the market to the long side. This is unusual as typically they have mostly acted as a group.
While the U.S. housing bubble increased demand with cheap and elaborate mortgage financial instruments pushing the prices up, the paper gold bubble is increasing its supply with financial instruments suppressing prices. I believe it is only a matter of when this bubble starts to unwind and we see a significant increase in the gold price.
The gold price is a catalyst for gold mining shares, but the timing cannot be predicted accurately. What I do know for sure is the extreme pessimism that has created the best buying opportunity of our lifetimes. Many gold stocks are lower than the levels seen in 2000/01 when gold was just $250 per ounce.
I like the smaller or mid-tier producers as they are more nimble and have been able to react quicker to the lower gold price, taking their write-offs and making adjustments to mining plans.
New Gold (NYSEMKT:NGD)
Recent price $2.21
Shares outstanding 509 million
Market cap $1.125 billion
Fundamentally, the company has been doing quite well.
The valuation is extremely low, trading at 40% of book value or approximately $55 per gold ounce in the ground.
A very large short position is pent-up buying that could exaggerate any rally.
New Gold has a portfolio of four producing assets and three significant development projects. The New Afton Mine in Canada, the Mesquite Mine in the United States, the Peak Mines in Australia and the Cerro San Pedro Mine in Mexico provide the company with its current production base and solid foundation. In addition, NGD owns 100% of the Rainy River and Blackwater projects, both under development in Canada.
It is attractive for a number of reasons
Costs are low, all-in sustaining costs of $788/ounce, including total cash costs of $495/ounce.
The three mines, in Canada, Mexico and Australia, are benefiting from the low currency in those countries.
In the third quarter, gold production increased by 31% to 122,580 ounces relative to 93,367 ounces in the prior-year quarter, and silver production increased to 600,000 ounces from 200,000 ounces in the prior-year quarter.
The third quarter cash flow from operations, before changes in working capital, was $58 million, or $0.11/ share.
Sept. 30, 2015, cash balance was $385 million.
A strong growth profile with its new Rainy River project coming on stream in 2017.
Strong financial flexibility with a previously announced $175 million Rainy River streaming transaction with Royal Gold (NASDAQ:RGLD).
In late August, the company announced an agreement to monetize its 30% interest in the El Morro project by selling to Goldcorp (NYSE:GG) in exchange for $90 million (U.S.) in cash and a 4% stream on gold production.
I like this move because El Morro is an iffy project of when it might be put into production. Most likely, Goldcorp wanted 100% of the project to make the expenditure more viable.
New Gold was profitable in the second quarter, earning $9.4 million (U.S.). The reported loss in the third quarter was pretty much all driven by the impact of a non-cash $100 million after-tax loss associated with the announced sale of El Morro and a $41 million pretax foreign exchange loss.
On July 20th, it got a royalty stream financing before the last Gold price correction. Royal Gold, Inc. entered into a $175 million purchase and sale agreement with New Gold for a percentage of the gold and silver production from the Rainy River project in Ontario, Canada.
The Rainy River project is located 65 kilometres northwest of Fort Frances in Western Ontario, Canada, just north of the Minnesota border. Over its first nine years of full production, 21,000 tonne per day, the combined open-pit underground operation is scheduled to produce an average of 325,000 ounces of gold per year. The permits to begin major earthworks construction are in place, and as of mid-2015, detailed engineering is 95 percent complete and 14 percent of the total development capital estimate of $877 million has been spent. Start-up is projected for mid-2017.
Stream transaction details
Royal Gold will make two advance payments to New Gold, consisting of $100 million at closing and $75 million once capital spending on the project is 60 percent complete (currently expected by mid-2016).

New Gold will deliver to Royal Gold:

6.5 percent of the gold produced at Rainy River until 230,000 ounces have been delivered, and 3.25 per cent thereafter;

60 percent of the silver produced at Rainy River until 3.1 million ounces have been delivered, and 30 percent thereafter.

Royal Gold will pay New Gold 25 percent of the spot price per ounce of gold or silver.
Growth in the pipeline
Blackwater
The company's Blackwater project, located in south-central British Columbia, is expected to produce an average of 485,000 ounces of gold per year at below-industry average costs. The current focus at Blackwater is working toward the approval of the environmental assessment.
Summary
Mining is energy intensive, especially open pits that use a lot of fuel for trucking, and those costs have come way down in the past year. All four of New Gold's producing mines are open pit. Diesel fuel prices have dropped -25% in the past year, and NGD will see the full benefit at its one U.S. mine, but currencies like the Canadian and Australian dollar have dropped about -12% taking away about half the benefit at the Afton and Peak mines.
New Gold has a large short position of 32.9 million shares on Toronto and 9.2 million in New York; this represents approx 8.5% of the float, which represents a considerable pent-up buying to cover. Ignoring its 3 billion pounds of copper reserves, the company has about 18 million gold equivalent reserves (adding 90 million ounces of silver). When you consider Measured and Indicated Resources, NGD has about 26.5 million ounces of gold equivalent (adding silver and ignoring copper).
With a US$1.1 billion market cap, and $360 million for debt, less cash, a value of $1.46 billion on 26.5 million ounces of gold is only US$55 per ounce, which is historically cheap. This is a valuation junior gold companies with no production had in the early 2000s with $300 gold prices.
The current book value is $2.82 billion or $5.54 per share, and New Gold has already taken considerable write-offs in 2014 to reflect lower gold prices. The reported net loss in the fourth quarter of 2014 and the full-year period was primarily attributable to a $394 million after-tax impairment expense.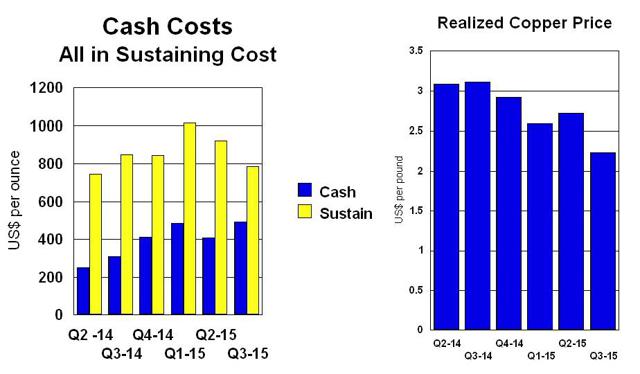 On the risk side, there appears very little. The gold price has been around $1,070 to $1,150 the past five months; the prior 12 months was in the $1,150 to $1,200 range, and that is priced into the market. What has benefited New Gold a fair bit is the cost credits it applies to its gold costs with copper credits, especially at the Afton Mine. That has helped keep costs low, but the past five months has seen copper prices fall, and you can see that reflected in New Gold's first-quarter costs when copper prices dropped. It looks like the copper price might be down approximately a nickel in the fourth quarter. If we see a further drop in copper, it could increase costs further, but New Gold still has a good buffer with an all-in sustaining cost at $788 in the third quarter and gold at $1,060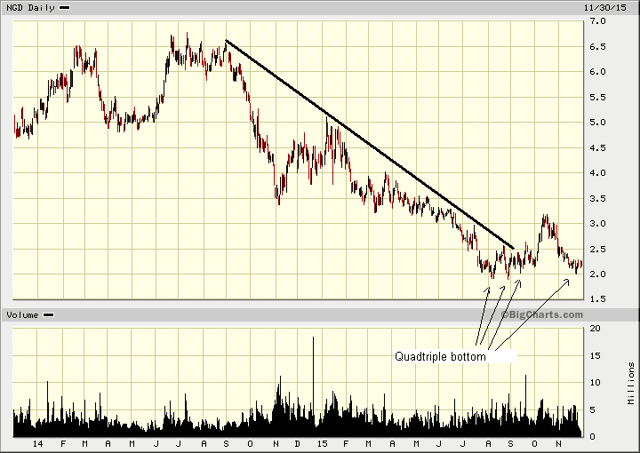 On the chart, it looks like the recent downtrend is broken, and we have a solid bottom around $2.00 with four successful tests of that bottom.
Technically, a close below $1.85 would be bearish, and I would consider a stop/loss between there and $1.80.
Disclosure: I/we have no positions in any stocks mentioned, and no plans to initiate any positions within the next 72 hours.
I wrote this article myself, and it expresses my own opinions. I am not receiving compensation for it (other than from Seeking Alpha). I have no business relationship with any company whose stock is mentioned in this article.