The Pending Deal
Back in November of 2014, Halliburton (NYSE:HAL) announced a $35 billion acquisition of Baker Hughes (NYSE:BHI), the largest oil field services M&A deal in history. This encompasses combining two global companies with 120,000 people in more than 80 countries while delivering on nearly $2 billion of projected synergy within two years and up to $7.5B in divestment. And is planned to achieve positive cash flow by end of year after the deal is closed. The purpose of the deal from HAL side is a compelling strategic plan to create a leading oil field service company. The combined company would be well positioned for greater growth, with higher margins and returns.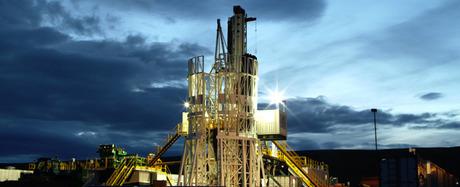 (Source: HBI website)
Moreover, it would have a deeper offering of products and service and accelerate penetration in deepwater, mature fields and in unconventional segments. See figure below. Today, HAL is very small compared to the industry leader which is Schlumberger Ltd. (NYSE:SLB), with the merge the industry's second and third place companies would combine into a bigger competitor. In March of 2015, both HAL and BHI stockholders showed overwhelming support in the pending deal with 99% and 98% respectively in favor.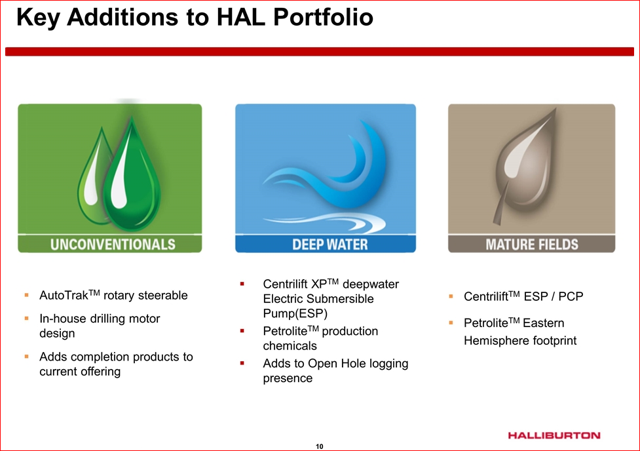 (Source: HAL SEC 425 filing, dated 11/5/15 Presentation)
Under the terms of the deal the acquisition is expected to close in late 2015. However, provisions allow extensions into 2016. HAL has a very strong incentive to close the deal because if the deal falls through, then HAL is on the hook to pay BHI about $3.5B for the breakup fee.
A number of necessary divestitures need to occur before approvals can be obtained to allow this to be executed. The selling of the following business units is required before it is permitted. For HAL, the list includes three units: Fixed Cutter a Roller Cone Drill Bits, Expandable Liner Hangers, Directional Drilling and Logging-While-Drilling / Measurement-While-Drilling. For HBI, the list includes: Core Completions business, Sand Control business in Gulf of Mexico, Offshore Cementing in Brazil, the Gulf of Mexico, Australia, United Kingdom and Norway. See figure below. HAL will finance the cash portion of the deal using a combination of cash on hand and debt financing.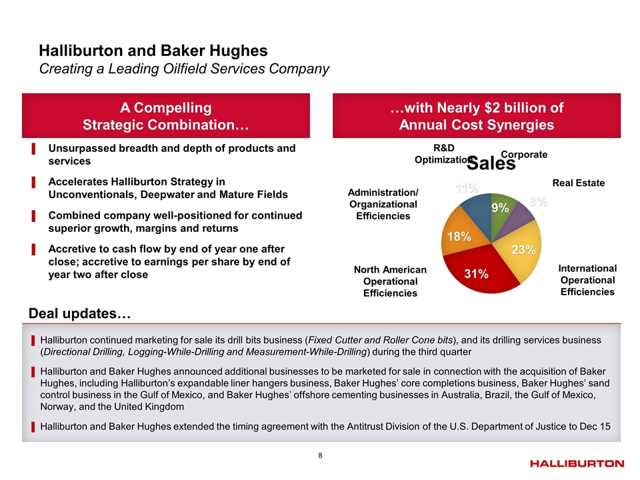 (Source: HAL SEC 425 filing, dated 11/5/15 Presentation)
On 11/10/15, Mark McCollum, Executive Vice President and Chief Integration Officer of Halliburton Company said,"To date, the pending acquisition has received unconditional regulatory clearances in Canada, Colombia, Kazakhstan, South Africa, and Turkey. We anticipate the sale of these businesses to be conditioned on and completed in the same timeframe as the closing of the Baker Hughes acquisition. As we announced in our recent earnings call, we continue to target a 2015 close for the deal but recognize there are certain items outside of our control that could cause the transaction to close in 2016, which is allowed under the merger agreement. Now, this in no way changes that we remain confident the deal will be approved by applicable competition enforcement authorities."

(Source: SEC 425 filing, dated 11/10/15)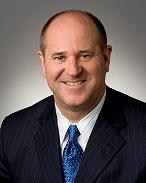 (Source: HAL Website)
The transaction is subject to regulatory approvals and customary closing conditions. This includes US antitrust laws, the US Department of Justice (DOJ), as well as international approvals. Both firms have to obtain antitrust approvals overseas. Many of which have unique judicial systems and antitrust rules. The deal must be approved by many players and thus, just based on pure numbers this part is out of the control of both HAL and BHI hands. However, with that said, it must be noted that HAL and BHI have already made great efforts in doing everything that has been asked to see this deal become reality. This is quite worthy considering the size and complex nature of this large undertaking.
Halliburton's chairman and chief executive, Dave Lesar, remarked that, "We clearly would not have done this deal if we didn't believe it was achievable from a regulatory standpoint. We are absolutely confident that we're going to get this thing done."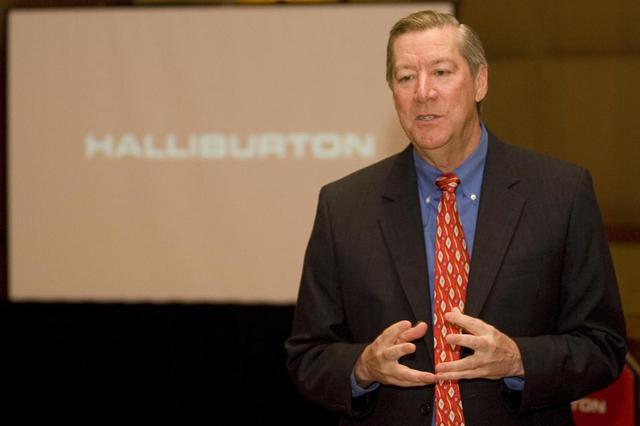 (Source: HAL Website)
Third Quarter Results
This is to just give you a feel for BHI's recent numbers as a standalone company. Revenue for the third quarter for BHI decreased by 39% compared to YoY 2014. The total rig count also went down by 40%. Naturally the trending down of the revenue is due to the downturn in the oil and natural gas environment. For 2015, Net Loss for the third quarter was $159M, and $936M for the first nine months. Compared to 2014 Net Income for the third quarter was $375M and $1.06B for the nine months. Steps have already been taken to reduce costs and make operational changes. Some include workforce reductions, contract termination, closing some plants and others. These reductions have accounted for about $573M of charges in the first quarter with more charges in the second of $76M and $98M in the third quarter. During the earnings report, the following comment was made regarding the deal.
Martin Craighead, Chairman and Chief Executive Officer of Baker Hughes said, "Regarding the pending merger, I continue to be pleased with the efforts of the teams working on regulatory matters and developing plans for a successful integration. The recently announced plan to divest certain businesses is another important step in the process to complete the transaction. These businesses represent industry leading products and services with extremely proud histories of innovation and value creation for our clients throughout the world."

(Source: BHI Third Quarter Press Release)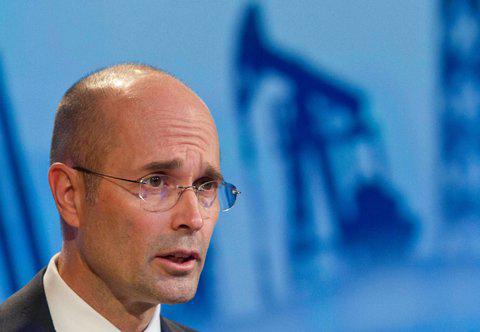 (Source: BHI Website)
Some Numbers
Under the definitive agreement, Halliburton will acquire all of the outstanding shares of Baker Hughes in a stock and cash transaction. Each share of common stock of Baker Hughes will be converted into the right to receive 1.12 Halliburton shares plus $19.00 in cash. See figure below. On March 27, 2015, Halliburton's stockholders approved the proposal to issue shares of Halliburton common stock as contemplated by the Merger Agreement. In addition, Baker Hughes' stockholders adopted the Merger Agreement and thereby approved the proposed combination of the two companies. Running some numbers as an example, let's use HAL market price of say $38.00/share and BHI market price of say $51.00/share. One share of BHI using these figures and the terms of the deal of $19.00/share of cash and 1.12 ratios, we see that BHI shares in the deal are valued at about $61.00/share. That results in about a 20% upside. Not to mention the apparent exposure to the upside of the synergy of the combined company going forward. Also, as part of the agreement, BHI has agreed not to repurchase any of their common shares while the merger is pending, and they have agreed not to increase the quarterly dividend during the same period.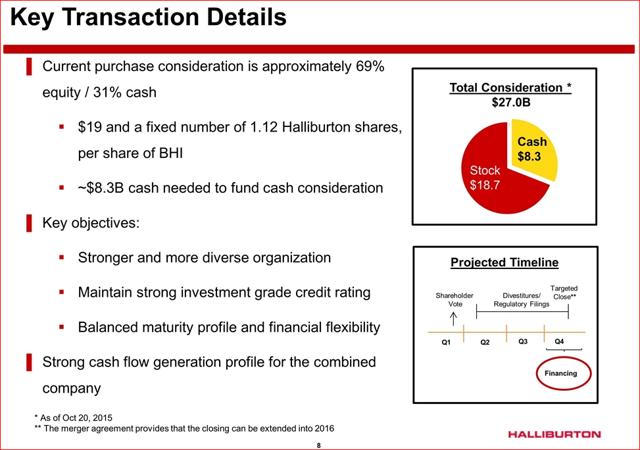 (Source: HAL SEC 425 filing, dated 11/5/15 Presentation)
Recommendation:
Buy in the low $50.00's/share. We believe this provides an bull long opportunity for the value investor on three points. First, just on the deal itself their is about a 20% upside alone. Second, the combined company will offer synergy and positive cash flow. Third, the new company will be a powerhouse that can go head to head with Schlumberger Ltd.
Disclaimer: Port Wren Capital members receive exclusive independent research on numerous value-investing opportunities. The same ones we invest in ourselves. Port Wren Capital only focuses on undervalued US stocks seeking above-average returns, using distinct contrarian strategies and margin of safety. Michael Osteen is the Chief Investment Research Officer at Port Wren Capital, LLC. While every effort has been made to ensure accuracy in this document, no responsibility can be accepted for errors or omissions. You understand and acknowledge that this is not to be intended as investment advice, it is solely for general information, and you are advised to perform your own research and due diligence prior to making any type of investment and that investing in stocks involves risks that could result in part or all of your capital invested.
Disclosure: I/we have no positions in any stocks mentioned, and no plans to initiate any positions within the next 72 hours.
I wrote this article myself, and it expresses my own opinions. I am not receiving compensation for it (other than from Seeking Alpha). I have no business relationship with any company whose stock is mentioned in this article.