In my initial article on Wayfair, Why Wayfair Is My Largest Short Position, I wrote:
…this business is so poorly managed and/or spread so thin that they were selling Chinese-made laminate long after everyone in the flooring industry knew (thanks to the March 1st 60 Minutes story on Lumber Liquidators) that there were big issues - and potential liabilities - associated with this product, so extreme caution was called for.

Just as I did with Lumber Liquidators, I hired a testing company to purchase and test five samples of Ark laminate flooring from Wayfair's web site. All five failed the California Air Resources Board (CARB2) limit in spectacular fashion (by a factor of 2-5x) [I've posted the test results here]. In fact, the test results were very similar to those for the three samples of Lumber Liquidators Chinese-made laminate that I had tested more than a year ago.
In my follow-up article, Wayfair Doubles Down On Poisoning Its (And Its Partners') Customers, I shared the first three results of five samples of Chinese-made composite wood furniture that I had tested (this chart was part of a 74-slide presentation I gave at the Robin Hood Investors Conference on November 16th). As one can see, two of the three Wayfair furniture items failed by a wide margin: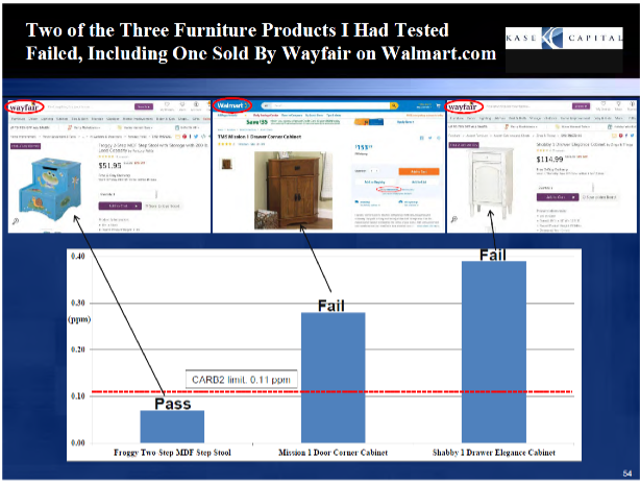 Then, last week I received the test results for the other two Wayfair furniture products I had tested (I have posted all five of my furniture test results here) and, sure enough, they failed as well: a nightstand emitted formaldehyde at a level of 0.14 parts per million and an end table was at 0.48 ppm, both above the CARB2 limit of 0.11, as this page shows: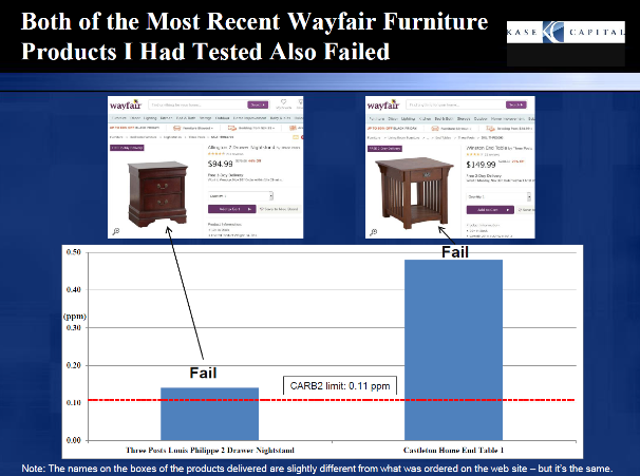 Note that the nightstand is made in Malaysia, evidence that the problem, while concentrated in China I believe, is not limited to that country. Note also that these two products are brands exclusive to Wayfair and were shipped to California before being tested, meaning that they are required to comply with CARB2 (California Air Resources Board) formaldehyde limits.
A Systemic Problem
I have no doubt that Wayfair and its defenders will claim that I've cherry-picked certain products to test and that they represent only a tiny fraction of the 7+ million products the company sells. And it is indeed true that, especially when I'm paying ~$1,000/test, I am not testing randomly. Rather, I have focused on products that I think are likely to be toxic - namely, those made in China of composite wood, which typically means medium-density fibreboard (MDF), a commodity product that's at the core of products like laminate flooring and low-end furniture.
MDF can be manufactured at a meaningfully lower cost if resin with high amounts of formaldehyde is used. Hence, there's strong incentive for manufacturers to cheat - and it's well known that China is the Wild West and companies there, in pretty much any industry, will cheat like crazy if they're not: a) paid a fair price; and b) monitored closely. Specifically, one industry insider with deep experience in China told me that the MDF manufacturers there are notorious for cutting corners.
For these reasons, I've focused my attention on composite wood products from China - and my suspicions have been confirmed, based on 9 of the 10 items that Wayfair is selling that I've had tested failing the CARB2 formaldehyde test.
There's no shortage of potentially toxic Wayfair products to test, as a search under "MDF" on the company's website last night yielded 18,457 items, as this screenshot shows: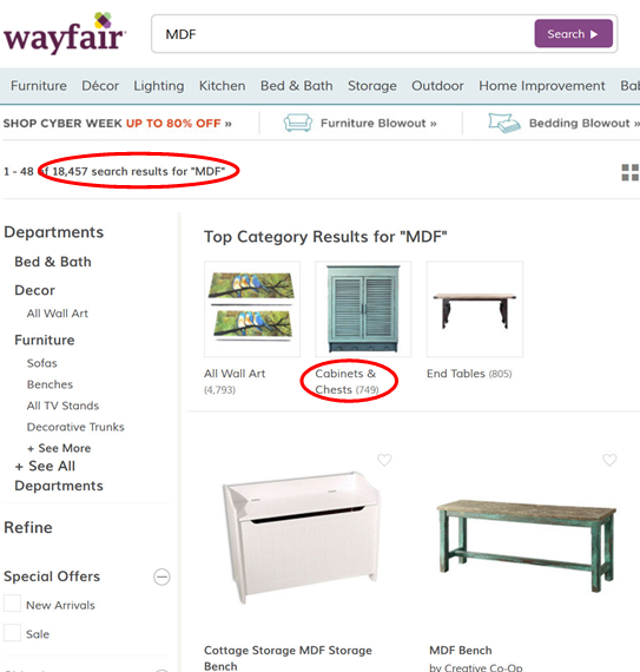 Of course only a small fraction of these items are potentially toxic, but even if we look at only 4% of the total in the "Cabinets & Chests" category, that's still 749 products.
How many is too many? How many more tests do I have to do before Wayfair (and, to be fair, other sellers of such products) come to their senses and realize that they have a big problem, not a little one???
Wayfair is, I believe, learning what Lumber Liquidators (LL) learned the hard way: if you go to China and hit the low bid (as I think many of Wayfair's suppliers are doing), odds are high that you will get tainted product of some sort: at best, very low quality; at worst, made of illegal or toxic materials.
What Wayfair Should Do
What would any sensible, honest, ethical and reputable company do when confronted with evidence that it is selling products that don't comply with environmental regulations in the largest state, California, and therefore is likely jeopardizing the health and safety of its customers? Wayfair should:
Immediately suspend sales not only of the products in question, but also any other products that might be toxic (in this case, at the very least, all furniture and other wood products manufactured in China that are constructed of wood composite materials such as MDF and particleboard);
Ask the person who revealed the test results (me) for an official copy of them so that my results can be verified (I've posted all ten of them here and here);
Once the results of the tests I commissioned are confirmed, contact all customers who bought these products, inform them of the potential danger, and offer a free return and either a full refund or replacement;
Launch its own large-scale testing program to determine how widespread this problem is; and
Make a substantial investment in compliance, which would include hiring a senior-level Chief of Compliance, engage firms that specialize in on-the-ground monitoring of suppliers (especially those in Asia), and regularly test products being sold on its site.
What Wayfair Is Actually Doing
Wayfair of course doesn't want to do any of this because it would hurt both the company's profits (well, to be accurate, increase its losses; it's never earned a profit) as well as its stock price (the latter would be especially bad when the CEO, Niraj Shah, and the other co-founder, Steven Conine, each own Wayfair stock worth more than $600 million and the top eight executives at Wayfair have been selling an average of nearly $7 million of stock per month for the past seven months, led by Shah and Conine, at $2.7 million per month each).
So instead, Wayfair's top executives have tried to sweep this issue under the rug by either ignoring it or giving what I believe to be phony assurances. For example, CEO Shah said last month that Wayfair has "a lot of safeguards to make sure all products meet all federal, all state and all local laws..."
What are these safeguards? Who is the Chief of Compliance? How many people are tasked with ensuring that Wayfair is selling safe products? I suspect that Wayfair doesn't have satisfactory answers to these questions.
In addition, CFO Michael Fleisher said on the Q3 conference call last month:
We carry a big selection, as you know, 7 million items…So our approach is actually to be very thorough in worrying about the safety the products we sell. In order to do that, we do a few things. One is all our suppliers, we have supplier agreements with them, we have indemnification agreements with them, we have certificates of insurance from them, we have detailed product information which specifies down to the various regulatory bodies whether they be local, state or federal, what pieces they comply with, or if items don't comply, so that we can take the appropriate steps in terms of whether we offer them or not. And that's how we are able to make sure that the products are of high quality, and meet all the guidelines.

The other thing we do though, that not many people do, is that we do not source items directly from the factories that they are made overseas. So we are sourcing from folks who are the distributors and the actual product designers, who are generally American and European companies who are then sourcing in Asia. So we have an additional layer of QA, QC that a lot of the other retailers who are directly sourcing may not have, except through their own QC personnel, who would be on site. And so that's our approach, it's been pretty thorough, it's worked quite well.
Fleisher claims that, by not sourcing directly, Wayfair has "an additional layer" of quality control, but I believe that exactly the opposite is true: the company appears to have no compliance or quality control whatsoever. Rather, it appears to be relying on little more than assurances from more than 7,000 suppliers, supplying more than seven million items.
This is a recipe for disaster.
My Next Tests: Baby Furniture
I don't wish to play a game of "gotcha" with Wayfair, so I'm going to give the company a chance to get out in front of this issue by publicly revealing what I plan to test next.
The good news regarding furniture is that, even if it has high levels of formaldehyde, it's less dangerous than flooring because there's less toxic material and less direct contact (there's much less MDF in, say, a cabinet than an entire floor, and babies don't crawl on a cabinet all day long).
Speaking of babies, however, if anyone is harmed by formaldehyde-tainted furniture, I suspect that it would be infants and young children (they're more susceptible to common symptoms like coughing, eye and nose irritation, etc.). And if any items of furniture are particularly dangerous, I'd guess it would be ones that children are in close contact with.
Hence, the next products I plan to test are ones from Wayfair's Nursery Shop, such as cribs, toddler beds, cradles, bassinets, dressers and changing tables. My focus will of course be on items made in China of composite wood.
I will report what I find in a month or so. If I discover that these types of products, to which infants and young children are exposed, contain dangerous levels of formaldehyde, then this issue - and Wayfair's problems - are much bigger than I thought. The company (and those who own its stock) should think long and hard about the implications of possible headlines like "Test Results Show That Cribs Sold By Wayfair Poison Babies With Formaldehyde." I have no idea what the test results will show, but so far I'm batting .900. Don't say I didn't give the company and its shareholders fair warning…
Conclusion
To address this issue and protect American consumers, Wayfair (and many other retailers) need to stop ignoring this issue and take action. In light of the known potential dangers of composite wood products, especially those made in China, it is irresponsible for any retailer to sell these products without a rigorous compliance program in place. The entire industry, not just Wayfair, needs to wake up and deal with what I suspect is a widespread problem.