December is approximately the one-year anniversary of the great oil price crash that started in July 2014 with oil at $100 per barrel, ending with oil at $50 in December 2015.
During our recent Thanksgiving, we saw the lowest U.S. gasoline prices since 2007. I bought gas for $1.78 per gallon. West Texas Intermediate crude recently traded at $41.71 per barrel.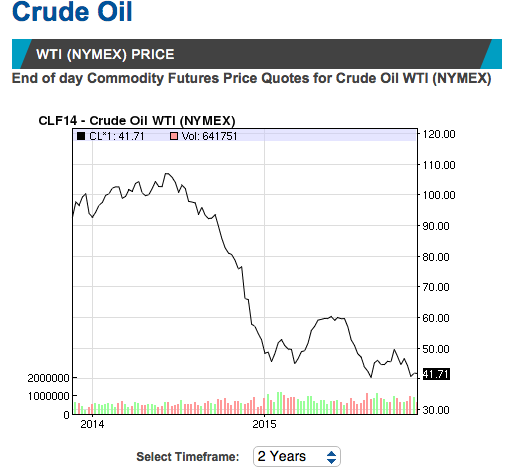 Source: Nasdaq
In September 2015, I predicted the price of oil would reach a bottom around December 1, 2015. I believe the bottom in oil prices has arrived. Here's why: U.S. crude oil production is forecast to decline through third quarter 2016. U.S. oil rig count has declined three weeks in a row. Oil has traded between $40 and $60 per barrel for a year. The bottom appears to be around $40 per barrel. I believe oil will continue to trade between $40 and $60 per barrel for another year, perhaps longer. I expect oil to reach $50 per barrel by March and perhaps $60 per barrel by June 1, 2016.
The U.S. Energy Information Administration estimates that total U.S. crude oil production declined by 40,000 barrels per day (b/d) in October compared with September. Projected U.S. crude oil production averages 9.3 million b/d in 2015 and 8.8 million b/d in 2016.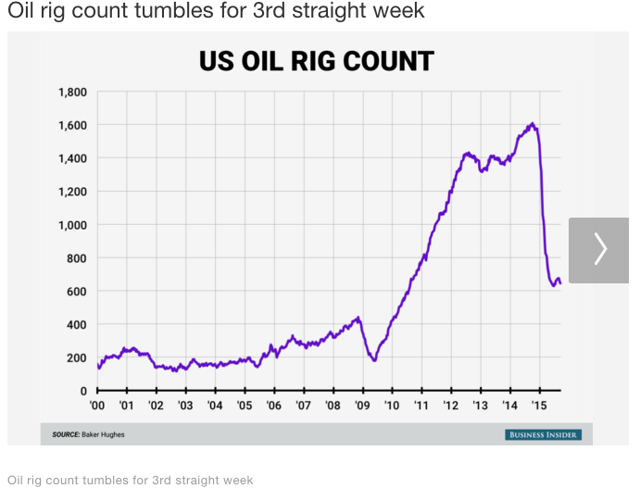 Source: Baker Hughes
EIA forecasts that Brent crude oil prices will average $54/b in 2015 and $56/b in 2016. The 2015 forecast price is unchanged from last month's STEO, and the 2016 forecast price is $2/b lower. Forecast West Texas Intermediate crude oil prices average $4/b lower than the Brent price in 2015 and $5/b lower in 2016.
I sold most of my oil stocks in July 2014, when a friend of mine in the oil industry predicted a fallout in the shale play in America. He was right. Many shale plays were not profitable with prices below $70 per barrel. I'm still holding a few shares of Chevron (NYSE:CVX) and Conoco Philips (NYSE:COP). I am more confident holding these stocks now that they've had a year to adjust to the new oil paradigm.
I believe low oil prices are with us for a long time. The Fed is expected to raise interest rates. This will cause the dollar to increase in value.
Oil is a global commodity subject to the whims of supply and demand. Countries like Russia, Venezuela and Saudi Arabia will continue pumping oil no matter what the price is because their economies are dependent on oil exports. Iran is cooperating with the international community in nuclear oversight, with the goal of ending economic sanctions. This may put more Iranian oil on the market in 2016. These factors will keep the pressure on oil prices to remain low for a long time.
At 488.2 million barrels, U.S. crude oil inventories remain near levels not seen for this time of year in at least the last 80 years.
I bought a few shares of United States Oil ETF (NYSEARCA:USO). Oil price is at or near its bottom right now. I've got a little skin in the game. I bought USO at $12.93 per share. I plan to underweight oil stocks going forward. While this may be near the bottom, stocks usually don't recover quickly. There is certainly going to be more pain ahead in the oil sector with low prices.
Disclosure: I am/we are long USO, CVX, COP.
I wrote this article myself, and it expresses my own opinions. I am not receiving compensation for it (other than from Seeking Alpha). I have no business relationship with any company whose stock is mentioned in this article.