The Financial Times broke news on Thursday - big news, folks.
"The European Central Bank has left interest rates unchanged, dashing expectations of a cut to its deposit rate," the FT wrote a while before a formal announcement was made.
Reaction:
"They are nuts to have put this out a news like this a few minutes before (the announcement)," a cash equity trader told me.
Reuters:
"The euro jumped to a two-week high and European shares turned lower on Thursday as investors, hoping for another bit of Mario Draghi magic, got the minimum cut in the European Central Bank's (ECB) deposit rate that they had been expecting," Reuters reported.

"Roughly 5 minutes before the decision was due the Financial Times inadvertently sent out a story saying rates had been left on hold and Reuters then sent conflicting headlines saying the central bank had both cut and held the deposit rate," the news agency added.

"It spun markets. The euro jumped more than 1 percent against the dollar, rebounding sharply from a 7-1/2-month low hit hours previously. European stocks went from 0.4 percent higher and nudging 3-month highs to 0.4 percent lower," Reuters concluded.
I will not bore you with all the full details of the ECB's monetary policy - there are economists, analysts and market pundits for that. But I noticed that the Euro climbed, while bond prices in Europe's periphery sent mixed signals at first, but then plunged quite dramatically.
The ECB should be careful when it comes to managing expectations, given its track record at a critical time under Jean-Claude Trichet, but even more so when it comes to deciding the speed at which dovish monetary policies are implemented.
Question Time
So, Is ECB president Mario Draghi, whose mandate is essentially to maintain price stability, underestimating deflation risk and debt levels?
Is he misjudging the cycle?
Landscape
Shaky growth prospects across Europe combine with massive debt loads that have forced virtually all the major countries, excluding Germany, to push back deadlines for debt repayments since the credit crunch. The International Monetary Fund has become less complacent, but the deal with Greece, and the volatility that Greece brought to the global markets are not a too distant memory.
This is a very sluggish cycle, and that is part of the reason why interest rates in the U.S., which are expected to rise this month for the first time since the crunch, will not be on a predetermined path of regular moves.
It's a challenging environment out there.
What does Caterpillar (NYSE:CAT) think about it, though?
Caterpillar
Caterpillar, whose valuation has been on my radar for some time, is closely followed because is very possibly the best company in the world at predicting future trends, given its end markets and its geographical reach.
(I guess that nobody at the ECB had time to read the transcripts of Seeking Alpha over the last few days, but I advise you to do so.)
The following headline drew my attention this week: "Caterpillar Presents at Credit Suisse 3rd Annual Industrial Conference (Transcript)"
It was worth it.
Talking to CAT's Rich Moore, investor relations, and having initially discussed the prospects for solar, Jamie Cook of Credit Suisse moved on to the 'big picture'.
"No, okay, I'll keep going. So I guess the other part within on the oil and gas side, where there is a fair bit of concern, it's just after market trends and how that's all doing I think people look to see what - the mining after market trends, which have continued to be depressed. And it has surprised people can you talk about what you're seeing in that marketing given that if there's excess equipment out there. Yes, just water trends there."
Here's what Moore had to say on the matter.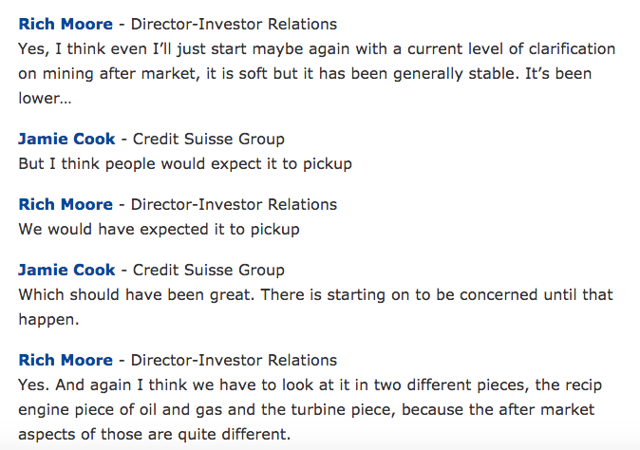 (Source: Seeking Alpha)
General Electric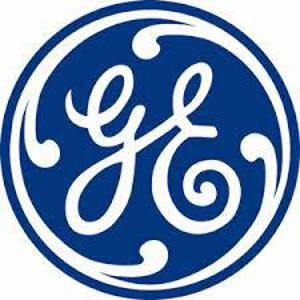 General Electric (NYSE:GE), which continues to shrink its assets base, has agreed this week to sell its finance business in Germany and France. Its CEO Jeffrey Immelt also argued that GE is a good bet for investors. As you might know, I have different views, but there's more at stake here than the valuation of its shares.
Interviewed by Julian Mitchell of Credit Suisse, Lorenzo Simonelli, President of GE Oil & Gas, commented on the downturn in the commodity cycle.

(Source: Seeking Alpha)
He continued by saying that:
(Source: Seeking Alpha)
I am not entirely sure what kind of outlook Mario Draghi has in mind for Europe, but I know that today is another good day to reiterate my view on General Electric and Caterpillar.
Disclosure: I/we have no positions in any stocks mentioned, and no plans to initiate any positions within the next 72 hours.
I wrote this article myself, and it expresses my own opinions. I am not receiving compensation for it (other than from Seeking Alpha). I have no business relationship with any company whose stock is mentioned in this article.