Black Friday is behind us. It usually gives some nice indications on how the holiday shopping season is going to play out. How did Black Friday go for tech gadgets, tablets and smartphones? In this article I will show you the results of some research done on Google Trends that may give you some indications on the likely winners and losers in the holiday season.
How Google Trends work
First of all it is important to understand how Google Trends works and how to read the graphs. The tool shows the popularity of a keyword search over a certain period of time. There are a couple of things that you need to understand to interpret the data.
Depending on the selection you make the search can include all related terms. As an example if you search for "iPhone 6" it will show all results related to iPhone 6. Google's algorithms will decide what is or isn't related. This analysis was completed allowing a broad set of keywords to be included.
The chart does not give you details on the absolute number of searches on Google. Instead it will give you indications on search interest relative to the highest point in the chart. As a consequence these charts can't be relied upon for estimating total sales but can give you great indications on mindshare. I find it a great tool for comparing the relative popularity of tech gadgets.
And the winner is...
I looked at Google Trend data over the past month of November and relative to searches in the United States. Obviously I had to make a choice on what terms to use for my analysis. For the tech gadget category I decided to pick "GoPro", "Fitbit" and "Apple Watch". The results for me were to some extent surprising: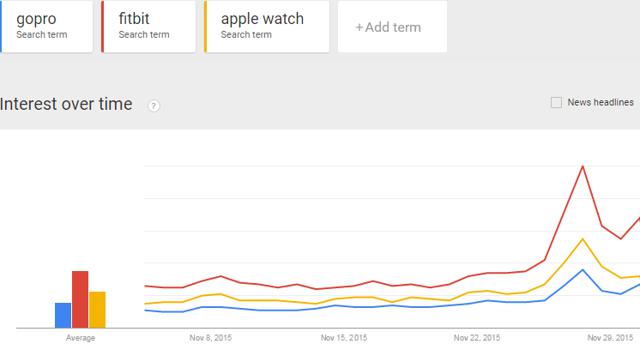 Source: Google Trends
I was expecting the Apple Watch to be the big winner here, especially considering its very recent launch. Surprisingly, Fitbit (NYSE:FIT) was by far the clear winner of this competition with a very large advantage over the other two at the peak. GoPro (NASDAQ:GPRO) was a small disappointment but it looks like it is recovering mindshare at the expense of the Apple Watch towards the end of the month.
Tablets & Smartphones
I also tried to play around with the Google Trends tool to try and find out what is happening with tablets and smartphones. The following chart shows the trend for the month of November relative to "Kindle Fire", "Galaxy Tab" and "iPad". Obviously there are many more tablets in the market but I had to make a choice in order to make the chart readable.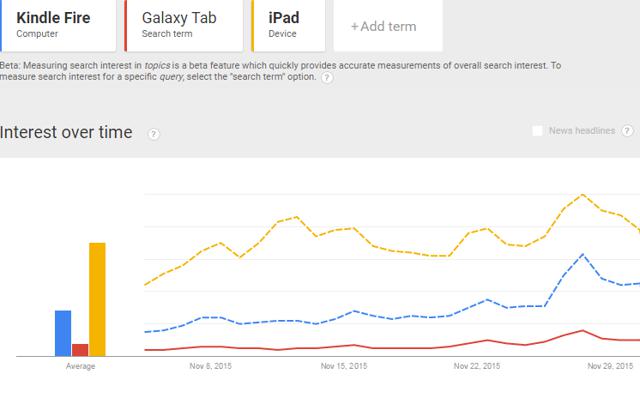 Source: Google Trends
As I would expect the iPad is still number one in terms of mindshare. That is not surprising. What I find interesting in this chart is the spike for the Kindle Fire around Black Friday: it looks like the increase in mindshare was more pronounced for the Kindle than for the two competitors. That looks like a good sign for Amazon (NASDAQ:AMZN).
Moving on to smartphones again I had to make a choice. For my analysis I picked "Google Nexus", "iPhone 6", "Samsung Galaxy S" and "Microsoft Lumia":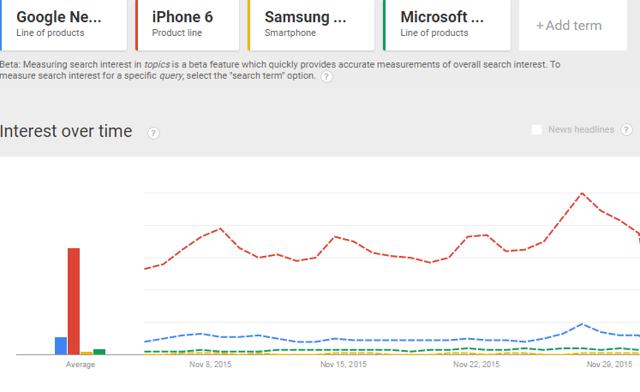 Source: Google Trends
Here Apple's (NASDAQ:AAPL) dominance is clear, with a massive advantage over all the other players. The Google (NASDAQ:GOOG) Nexus came second and had a spike around Black Friday but news for Samsung or Microsoft do not seem particularly good on the smartphone side…
Conclusions
One has to be aware that the tool used for this research has a limited ability to predict sales but it can nevertheless give some interesting insights. I believe the biggest surprise of all for me was the massive interest in Fitbit products when compared to other gadgets and the somehow disappointing reading for the Apple Watch. Apple comes back roaring when we look at smartphone searches and still shows absolute dominance but the tablet analysis shows that the competitive advantage is eroding. From a stock market point of view my takeaway is that, after the collapse of the past few months, Fitbit may be worth another look going into the holiday season while I would be cautious on Apple as the much awaited Watch does not look to be the most desirable gadget of this holiday season.
Disclosure: I am/we are long GPRO.
I wrote this article myself, and it expresses my own opinions. I am not receiving compensation for it (other than from Seeking Alpha). I have no business relationship with any company whose stock is mentioned in this article.