Both Exxon Mobil (NYSE:XOM) and crude oil have hit a resistance at the same time. Compare the charts provided by Barchart of the price of both over the last 6 months to see what I mean :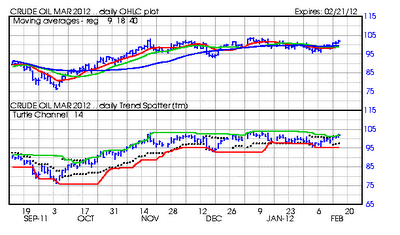 The charts for both look very similar.
Exxon Mobil Corporation (XOM) engages in the exploration and production of crude oil and natural gas, and manufacture of petroleum products, as well as transportation and sale of crude oil, natural gas, and petroleum products. The company manufactures and markets commodity petrochemicals, including olefins, aromatics, polyethylene and polypropylene plastics, and other specialty products. As of December 31, 2010, it operated 35,691 gross and 30,494 net operated wells. The company has operations in the United States, Canada/South America, Europe, Africa, Asia, and Australia/Oceania. Exxon Mobil Corporation was founded in 1870 and is based in Irving, Texas. [Yahoo Finance profile]
Factors to Consider
Barchart technical indicators:
8% Barchart technical buy signal
Trend Spotter sell signal
Below its 20, but above its 50 and 100 day moving averages
Just 4.44% off its 1 year high but only up 1.62% in the past year
Relative Strength Index 46.93%
Barchart computes a technical support level at 83.53
Recently traded at 84.28 with a 50 day moving average of 84.17
Fundamental factors:
Popular with Wall Street as a core holding where 18 brokerage firms have assigned 24 analysts to follow the company's numbers
Although analysts think revenue will be down 3.30% this year they predict an increase of 5.20% next year
Earnings estimates are down by 2.00% this year, an increase of 9.00% next year and an annual increase of 7.36% over the next 5 years
These consensus numbers resulted in 7 strong buy, 6 buy, 9 hold, 2 under perform and no sell reports issued to clients
The P/E ratio is 10.03 compared to a 15.8 P/E for the overall market
The 2.23% dividend is only 22% of earnings compared to a 2.10% dividend rate for the market
XOM would rather use earnings to buy back shares and invest in capital expenditures and new exploration to replace their maturing oil fields
Analyst predict a total return in the neighborhood of 15% annually over the next 5 years
The company has an A++ financial strength rating
The Price Stability rank is 100
General investor interest:
The stock is widely followed by the readers of Motley Fool where 8,255 have the stock on their watch lists
The readership voted 94% that the stock will beat the market
The more experienced All Stars voted 96% for the same result
Journalists' articles have been 91% favorable.
While Jim Cramer advises to pass on the issue, but Bill Nygren, Pat Dorsey, John Rogers and also Wayne Rogers are more bullish
During the past year, Chevron (NYSE:CVX) has returned 9.12%, Exxon with 1.62%, BP (NYSE:BP) down 2.30% and Cononco Philips (NYSE:COP) up 0.10% are all in step: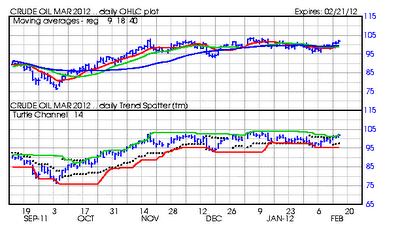 Summary
Exxon Mobil (XOM) is a total return stock combining capital appreciation, dividends and stock buy backs to enhance shareholder value. If a nice steady 15% total return is what you are seeking now is the time to buy before a beak out occurs. Resistance at around 86 seems to be shown on this hourly trading chart of the price over the last month: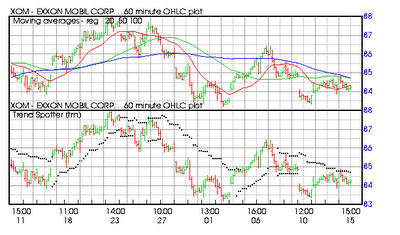 Disclosure: I have no positions in any stocks mentioned, and no plans to initiate any positions within the next 72 hours.