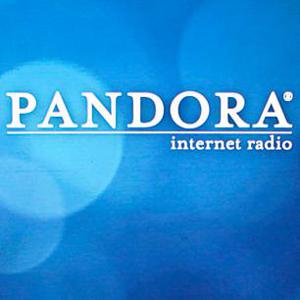 On Wednesday, Pandora (NYSE:P) announced a $300 million convertible offering of senior notes due in 2020, via a private placement to qualified investors pursuant to rule 144A.
The notes will be unsecured senior obligations and can be converted to cash, Pandora's common stock or a combination thereof at the company's election. No pricing was announced, so we will know the details at the offering.
The question is, why does Pandora suddenly need $300 million? If we look at its most current balance sheet, the company has $362 million in cash and equivalents. Since Pandora did not say how it will use the proceeds of the offering, we will have to guess.
As a side note, any dilution is bad for stocks, in my book. Especially when the proceeds are used for everyday business purposes, and not for an acquisition that will produce more EPS than your own stock.
Pandora coming late to the on-demand streaming party
Last month, Pandora announced it was acquiring key assets from Rdio, which was a streaming radio and on-demand music company that went out of business. Pandora also said that, "The company expects to offer an expanded Pandora listening experience by late 2016, pending its ability to obtain proper licenses."
What this means is that the company hopes to be able to offer a on-demand streaming option for its listeners by the end of 2016, because it currently does not have one.
Pandora's service is a listening-only mode type service. You can listen to music by genre type, but you cannot search for a specific title. With the acquisition of Rdio, the company hopes to fill that gap.
However, it might be too late. As I discussed on my last article on Pandora (please consider "Why Pandora Fell 35% On Friday And Might Fall Even More"), active listener growth has been in negative territory over the past several quarters.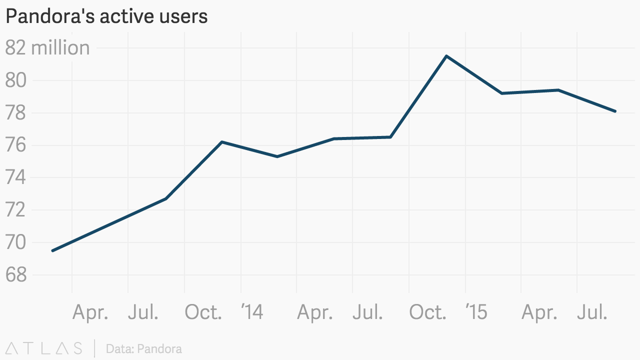 (Source)
And while revenue has been going up due to better monetization, there are limits to how much your income can grow if your user base does not grow. So, while Pandora has been doing a very good job squeezing money out of advertisers, its user base has not been growing. And I think this has to do with the fact that the company does not offer on-demand streaming.
But even with the Rdio asset purchase, Pandora will not be able to offer on-demand service by the end of 2016. And this will cost the company plenty, and there is a chance that it might be too late.
Spotify is the current king of on-demand music services, claiming about 75 million listeners and 20 million paid subscribers. But as long as Pandora delays in offering a comparable service, Spotify will probably gain listeners and Pandora will probably lose listeners.
However, Spotify is probably the least of Pandora's worries, because there is another formidable enemy that might take it to the cleaners, and very soon. And that is none other than Apple (NASDAQ:AAPL).
I have been searching the entire internet to find out how many subscribers Apple's new streaming service has, and the only piece of evidence we have is from a Reuters article back on October 20.
In that article, Tim Cook says Apple has 6.5 million subscribers, and another 8.5 million that are still using the 90-day free trial. Is that a big number? You better believe it.
Apple's service had only been around for 4 months in October, and it already had about one third the subscribers Spotify has. However, Spotify has been around for 7 years, and Apple's service only for 4 months.
I assume the 6.5 million subscribers have grown by today. In other words, Apple is burning rubber when it comes to attracting paid listeners. And yes, this is probably attributed to its very large ecosystem.
In fact, Apple's streaming service is growing so fast, I think Pandora will continue to bleed active listeners at a very rapid pace from now on, until it at least has a comparable streaming service to be able to compete with Spotify and Apple.
However, the earliest this will happen is in late 2016. That's at least 4 quarters from now, folks, and we will not know the outcome of the company's efforts until Q1 of 2017!
What Pandora will do with the $300 million
So getting back to why Pandora needs the money, it has partly to do paying for Rdio, but more importantly, the company will also need a lot of money to integrate the technology to work with Pandora's platform. I have no idea how much money it will cost, but I imagine it will not be cheap.
In the meantime, however, not only will the company probably continue to bleed listeners, but I also think its heavy expenditures to integrate Rdio will result in Pandora losing money for the next 2-3 quarters. I think most of that $300 million will probably be expenditures to integrate Rdio.
So, in essence, Pandora took out an insurance policy even though it has plenty of cash.
Bottom line
On my last article on Pandora (link above), I reiterated my price target for Pandora at $8 a share, with the possibility of the stock even reaching $5 a share, since we all know the market overshoots both up and down.
If I am correct that Pandora, over the next several quarters, will report an adjusted loss, I think this target will be reached sooner than we think. And the trigger for that is probably the placement of the notes, for it probably gave the market a clue that integrating Rdio will cost more than it thought.
Disclosure: I/we have no positions in any stocks mentioned, and no plans to initiate any positions within the next 72 hours.
I wrote this article myself, and it expresses my own opinions. I am not receiving compensation for it (other than from Seeking Alpha). I have no business relationship with any company whose stock is mentioned in this article.