Sometimes, you've got to try and create a narrative behind insider trading activity. It's not always clear what's going on - a stock could look like a dog and insiders are gobbling up stock. More frequently, the stock looks good and insiders are bailing like it's the Titanic.
This week's Insiderize pick (from my weekly newsletter) is a case of the former: the stock looks bad, acts bad, performance hasn't been great at the corporate level, yet it has insiders stepping up to the plate and buying.
My methodology uses insider trading data from Bluetrader. I monitor hundreds of weekly trades, looking for interesting stories that may slip between the cracks.
Agilysys (NASDAQ:AGYS) is a small cap stock with a market cap around $165 million dollars. It sells point of sales software, hardware and services to the hospitality and retail sectors.
The stock is down 3% year to date and while its performance over the past year has been very strong (up over 30%), its five year chart looks terrible. The company has not done good by its shareholders over the past 10 years.
The company is debt-free and loses money. It had $200M of sales in 2011, 94% of which were booked in the U.S. and the remainder in Asia and Europe.
The company has restructured its business recently, relocated its corporate HQ, reduced operational costs by doing this (eliminating about $15m in expense) and brought in a new management team.
While it's burning cash, it does have about $90M (of its $165M marketcap) in cash and short-term securities.
What AGYS does
There are two divisions at AGYS, based on the solution: Hospitality (HSG) and Retail (NYSE:RSG).
Hospitality (HSG)
Hospitality sells enterprise software solutions, hardware to enable them,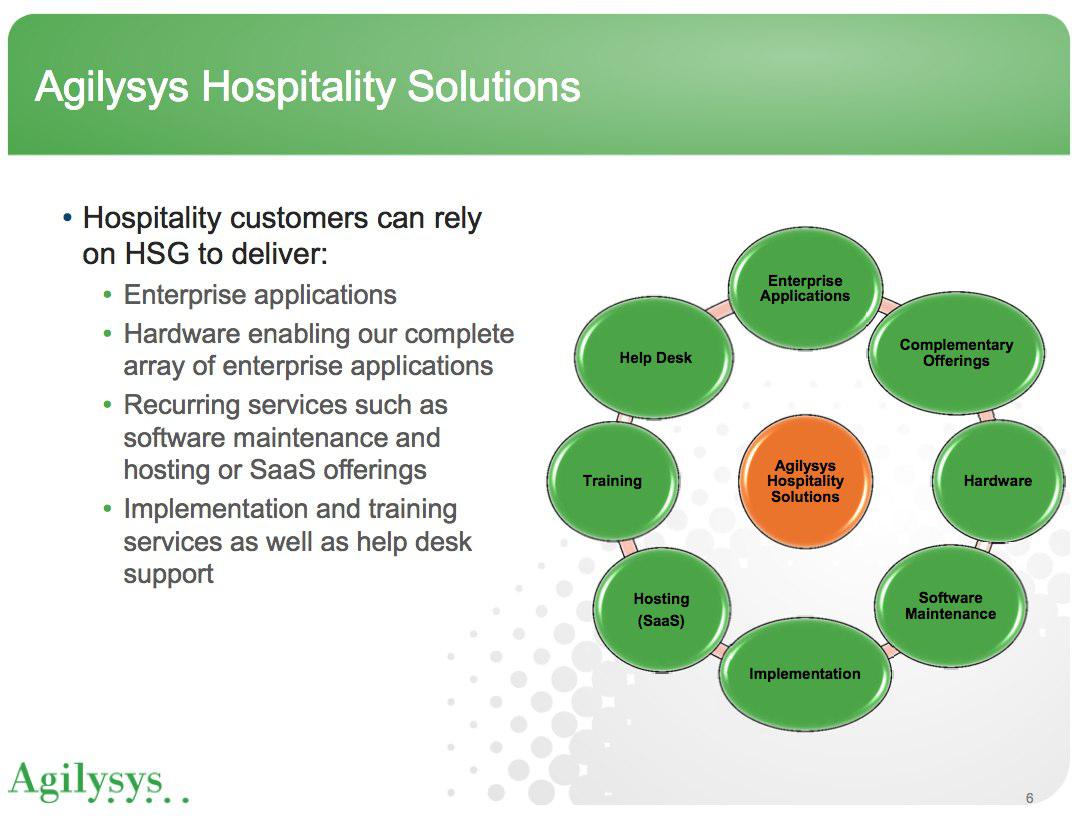 and provides recurring services like maintenance, hosting and other SaaS (Software as a Service). Agilysys's software helps with front-desk management, procurement, reservations, and property management (click all charts to enlarge).
The client base breaks down like this:
42% commercial and tribal gaming
19% hotel resorts
17% food service
AGYS has a large install base in hospitality -- 67% of this division's revenues come from service and support.
Retail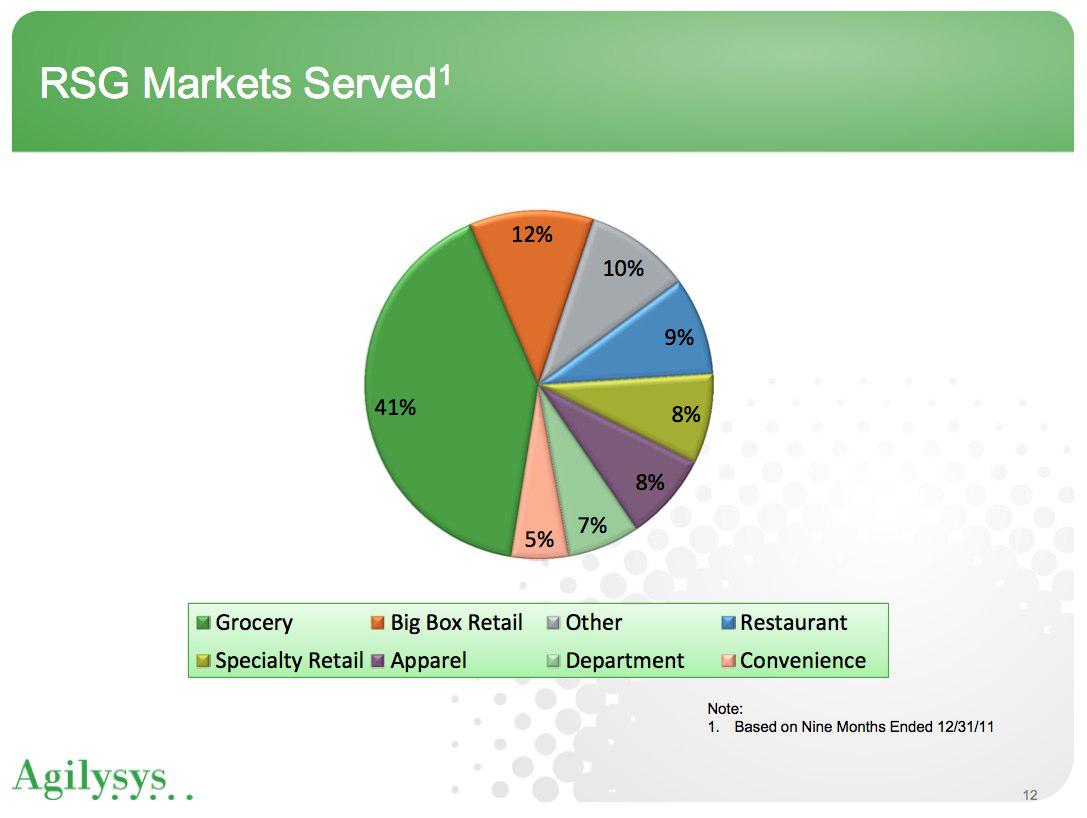 Agilysys provides an end-to-end in-store solution to retailers based on a point of sale (PoS) installation. Its business/customer is more diverse than its HSG business and breaks down accordingly:
41% grocery
the rest split kind of evenly between big box retail, restaurant, specialty retail, convenience stores
And unlike the more mature hospitality business which makes its money from services for already installed software, AGYS retail group's revenues are 60% hardware and 35% support and services.
What's going on here, who's buying the stock?
1) AGYS CEO Jim Dennedy (Forbes profile) bought $74k worth of the stock this week on the open market. He's been buying in small increments pretty regularly since 8/2011.
Dennedy is also the Chief Investment Officer at Arcadia Capital Advisors (an affiliate of MD Sass-Macquarie Financial Strategies). His firm's investment thesis: "it emphasizes active engagement with its portfolio companies to create and enhance shareholder value".
I couldn't find out much about Dennedy other than the fact that he seems to be really talented at selling firms:
As a member of the BOD, he helped steer Navisite (a cloud hosting firm) to a sale to Time Warner Cable ($TWC) for $230M, a 33% premium to where the stock was trading.
As President of Engryo, he sold his firm to Microsoft in 2007, which is now a big part of Big Softie's Server and Cloud Platform
As a board member of Entrust, he helped sell his firm to private equity firm, Thoma Bravo
So, Dennedy appears to be a skilled investor in the software/services space with good operating experience to help effect change in his portfolio companies. Arcardia appears to be a $500M fund that targets small companies it feels "probably shouldn't be public". It has 12-15 long holdings (so concentrated positions) and a handful of shorts.
MD Sass, by the way -- the affiliated company of Arcadia -- is pretty darn interesting. They manage what appears to be around $7 billion in a variety of strategic vehicles (of which one is Dennedy's Arcadia).
2) The CFO of AGYS, Robert Ellis bought $55k worth of stock this week. When CFOs buy, I listen. Just 'cause they're CFOs.
3) Kyle Badger, General Counsel of Agilysis, $75,000 also bought in 11/2011
So, we've got clustering (multiple insiders buying around the same time) and consensus (all buys, no sales).
What it looks like is going on: setting the stage for a buyout
This is pure conjecture so take it with a bucket (a trough) of salt. Listen, Dennedy is there at AGYS to make a profit.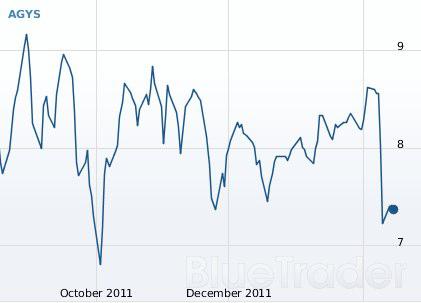 He's shown that he can contribute to getting smallish software and services companies bought by larger ones and he's onboard to do that. So, the intermediate question is whether he's also there to turnaround the company.
For what it's worth -- while there has been talk of a turnaround, I've seen enough upset customers online who feel like they've been left behind to say that it hasn't happened (or at least, customers aren't feeling it yet). There's been talk of some nice new products being rolled out but it appears slow to happen.
In the meantime, the company is cutting costs (relocate), stemming its losses --> I assume in an effort to bide it time so management and the board can find a buyer.
And Dennedy et al were buying the stock after a dssapointing earnings report when the stock got whacked.
Also an organic opportunity
That said, there is opportunity to turn this thing around and make a nice business out of it.
Go International: AGYS has an opportunity to partner internationally to expand -- Asia is probably a good place to start.
Leverage The Install Base: with all those machines in the market, Agilysys can develop other services to cross sell to its existing (happy) clients
Mobility Solutions: PoS is moving more and more into mobile solutions. AGYS can play and compete there
Expand Specialty Retail And Franchise Business: make a stronger push into food service specialty and chain hotels
Who knows what's really going on -- investors should do their best reading the insider trading tea-leaves.
Disclosure: I have no positions in any stocks mentioned, and no plans to initiate any positions within the next 72 hours.
Disclaimer: This should not be construed as investment advice. I've tried my best to be as faithful to the story as I could, using sound resources to help describe the insider trading activity at leading companies. But you should definitely do your homework — don't base an investment decision off this information.