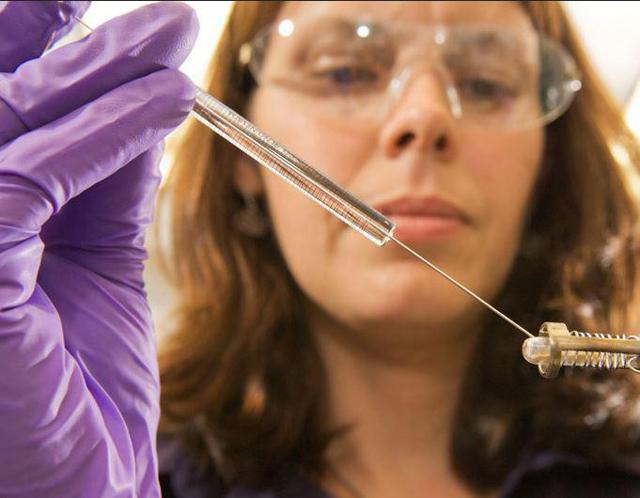 (Courtesy Flickr/Creative Commons)
Launching a rare disease drug usually comes with a big payoff for the company's investors.
So you might think that's what's ahead for Alexion Pharmaceutical's (NASDAQ: ALXN), with the company approaching global launch with not just one, but two ultra-rare disease drugs. On October 23, Alexion nailed FDA approval for rare disease drug Strensiq. The FDA's final decision on another drug - Kanuma, PDUFA date, December 8 - is likely in the bag.
While Kanuma's FDA decision was put off in September, the drug seems destined to sail through this time. The drug's solid clinical trial data earned the oft-tougher nod from the EU commission this fall. Pivotal data published in the New England Journal of Medicine about Kanuma showed it meeting the primary endpoint of alanine aminotransferase (ALT) normalization compared with placebo (31% vs. 7%, p=0.03) as well as six secondary endpoints.
But regulatory approval is simply an open door to an even riskier stage - commercialization. The risks faced in the clinic and with regulatory approval are well known, but the risks of drug launches get ignored. Not a good idea, because launches can fall well short of the rosy expectations created by the companies and the analysts who follow them. That's particularly true in rare diseases, where you just do not transform drugs into billions of revenue overnight. Rare disease launches require a notoriously slow build-up over time. The company has to scour the planet for patients and handhold them into treatment initiation.
Thus far, Alexion has managed to achieve that with its rare disease drug Soliris. But Alexon's stock has been on a monster run on the merits of massively profitable cash cow Soliris for a long time - smashing the returns of the S&P over the past ten years. And that's precisely the problem. The stock is way ahead of itself.
Stock Price Sanity Check
Leaving aside the effects of hype and hoopla, I don't see further upside for Alexion's stock at this point. Here's why. Alexion's valuation is a choker using any application of traditional metrics. P/E (TTM) is 137, compared to Amgen (NASDAQ:AMGN) P/E, 18.66, or industry average P/E, 27.4. With a 5-year average EBITDA growth rate of 52.39%, the current PEG is 2.62. Alexion's median PEG over the past 13 years is 1.38.
But since we're in the high-flying biotech world, let's push this further to try and find some upside. I'll focus on its potential based on expectations for the new drugs and look for a clear data point as a sanity check.
Alexion now has three drugs in its stable:
1) Strensiq: Approved for long-term enzyme replacement therapy in patients with pediatric-onset hypophosphatasia, a rare and often fatal metabolic bone disease. The highest peak sales estimate (worldwide) is $1 billion.
2) Kanuma: Designed to treat a previously untreatable genetic disease, lysosomal acid lipase deficiency. Around 3,000 adults and children have been diagnosed with the disease in the reimbursable markets of North America, Europe, and Japan. Kanuma's worldwide sales opportunity is pegged at $1 billion by several analysts.
3) Soliris: Delivered $2.2 billion in revenue last year. The drug is still ramping up. Sales have climbed more than 30% (on average) annually for the past seven years. This past quarter, net product sales increased 20% year on year. If you take out currency craziness, they increased 29%. Morningstar has pegged peak sales of Soliris of $5 billion in four years - assuming the company can continue to expand indications.
Based on that, let's assume $5B peak sales for Soliris, $1B for Strensiq, and $1B for Kanuma.
That gives us $7 billion in peak total sales. On average, biotechs trade @ 2.9 x peak sales, which would give Alexion a $20.3 billion market cap.
Ouch. Double ouch.
Alexion's current market cap is already $39.79 billion.
Meaning peak sales are already priced in. Meaning the risk/reward equation looks quite unattractive. And there's an even bigger gotcha. Peak sales estimates are based on best-case scenarios of reimbursement always being available. That's possible. But highly debatable.
Blowup Coming on Orphan Drug Pricing?
Thus far, Alexion has been able to get many payers to shoulder the staggering price tag for Soliris, which has been cheered and jeered as the most expensive drug in the world. Costing upwards of $500,000 in the U.S., Soliris is currently approved for two life-threatening blood disorders - paroxysmal nocturnal hemoglobinuria (or PNH) in 2007, and atypical uremic syndrome (or aHUS), in 2011.
The groups that pay for drugs in the U.S. are a patchwork of private insurers and government plans, and they have long been thought of as far too fragmented to drive drug prices down. But those days are over. Just such a price drop is currently playing out in the market for hepatitis C drugs with Gilead Sciences (NYSE: GILD).
Gilead has been forced into deep discounts with its hep-C drugs, and there's an unsettling contrast rare disease investors should note. Gilead's HCV drugs actually cure a disease that afflicts millions. By contrast, Alexion's drugs don't offer cures. In addition, for just one staggering point of comparison, Alexion has a drug candidate in their pipeline that treats a condition affecting only six identified patients worldwide, according to an Irish Times interview of Julie O'Neill, VP, Alexion's global operations.
Equally unsettling long term for Alexion, the company can't emulate Gilead and turn to other avenues for growth. Alexion's future revenue would drop like a stone without its $500,000 per person drug pricing. In fact, the company's business model relies on one peculiar and high-risk economic premise - medicines that afflict only a very small number of people will continue to command incredibly exorbitant prices because so few people take them.
That assumption is likely going by the wayside. So many companies have been jumping on the lucrative rare disease bandwagon that if something doesn't change orphan drug sales will make up 19% of total prescription drug sales by 2020. That's an amazing $176 billion, according to EvaluatePharma's Orphan Drug Report.
I don't think that's tenable. Insiders seem to agree. "In the future, there will be more pricing pressure" as costly orphan drugs proliferate, says Rhonda Greenapple of Reimbursement Intelligence, a pharmaceutical market research firm that surveys insurers.
Here's the crux. Alexion has historically managed both organic growth and the pressure to discount very well, but we're in a new world. With a presidential election less than 13 months away, Clinton and other candidates will keep gunning for specialty drug "price-gouging." After all, every politician needs a villain, and specialty Biotechs and Big Pharma make easy targets.
Alexion already appears to be trying to keep the target off its back. The stock slid on October 23, when the company startled analysts by setting an annual average price of $285,000 for Strensiq. That was well below the $400,000 some analysts had been expecting for the new therapy.
Also worthy of note - overseas, there's a major blowback. Europe now accounts for 37% of Alexion's total revenues, but Alexion is getting constant smack downs from cost-effectiveness watchdogs, most recently today, when NICE balked at the price of Strensiq - despite only seeing about 7 cases per year [C1] in the U.K. In New Zealand, government coverage for Soliris is completely denied. Canada's Patent Medicine Prices Review Board is attempting to force Alexion to not just lower Soliris's price, but also repay them.
When Alexion built its fortune, rare disease drugs were shamefully neglected. But the playing field is entirely different these days. The FDA granted a record 260 orphan drug designations last year. The field also features some players with major chops. Bristol-Myers Squibb's (NYSE:BMY) rare disease drug Opdivo should haul in $6 billion in worldwide sales, meaning it will soon pass Novartis to take the title for the biggest "orphan drug" company.
None of these other companies are after Alexion's disease targets. But they are after the same piece of the strained healthcare budget. And however you slice it, there's only so much pie to go around.
Meanwhile, Soliris' Throne is Not Invulnerable
A couple of investigational compounds could eventually give Soliris a run for its money. OMS721 from Omeros Corporation (NASDAQ: OMER) has recently released Phase II data. Results from a handful of patients show it could be a contender with Soliris in aHUS, where there would certainly be lots of room to compete in price. Conducting a successful Phase III trial will be no slam-dunk for this drug, but it has definite traction at this point.
ALN-CC5, from Alnylam Pharmaceuticals Inc. (NASDAQ: ALNY) is generally considered the closest thing to a near and present threat to Soliris. Preliminary Phase I/II results have been released showing a durable knockdown of complement protein C5 after a single dose. While it's a long, tough road before ALN-CC5 cuts in front of blockbuster Soliris, I'm impressed with Alnylam's RNAi programs long term.
Pipeline and Shift in Strategy
Overall, Alexion has eight investigational drugs being explored for 11 indications, as well as 30 in pre-clinical phase. The company could be awarded as many as eight new approvals through 2018 - assuming 100% success with all attempts at label expansion for Soliris and new discoveries in the metabolic segment. Anything can happen in the clinic, but that's a big assumption.
I would expect to hear a lot from Alexion's management about the pipeline at various conferences in coming days - as we're likely to see a very slow ramp up of the new drug, and that's where hope for more upside will come. In the past, Alexion has focused mostly on expanding the label for Soliris, but its $8.4 billion purchase of Synageva BioPharma (double target's market cap, according to WSJ) indicates a major shift in strategy.

Most analysts questioned the price Alexion paid for Synageva, but Alexion's CEO David Hallal defended it by saying, "We think the valuation is appropriate because we think Synageva is so much more valuable in our hands than anyone else's hands."
No argument about that. But buying a drug for 3,000 people for $8.4 billion? Once you strip out the typical management chatter about "synergies," and a handful of clinical candidates, it still looks like a duck, quacks like a duck, etc. More power to Alexion if they can somehow make this work, but I'd say it's still a duck.
Takeaway
Alexion has been a phenomenal stock to own for years, but we are approaching a tipping point in the extreme costs of specialty drugs. The controversy is already playing out on the presidential campaign trail, and it's certainly possible we'll see government intervention after the 2016 election.
Clinton, and even Trump, has tapped into mounting public resentment over drug costs. As John Rother, President and CEO of the National Coalition on Health Care said recently, "What's going on at the grass roots level, and in the media, I believe is going to put pressure all the candidates - in both parties - to come forward with some response."
While an amazingly good run in the clinic could bring data readouts that pop the stock, right now, I don't see a long-term favorable risk/reward profile for Alexion. And as politicians and payers continue to flex their muscles, I see this as a particularly bad time to be in a company that sells some of the highest-priced drugs in the world.
Disclosure: I/we have no positions in any stocks mentioned, and no plans to initiate any positions within the next 72 hours.
I wrote this article myself, and it expresses my own opinions. I am not receiving compensation for it (other than from Seeking Alpha). I have no business relationship with any company whose stock is mentioned in this article.