By G C Mays
The USDA published its Oil Crops Outlook Report. There were no changes made to ending soybean stocks in the U.S. However, global soybean stocks declined by 3.1 million metric tons to 60.3 million. The drought in South America has resulted in total production declines of 7 million metric tons from Brazil and Argentina since December. Over the last month, the USDA reduced global production estimates by 5.5 million metric tons to 251.5 million, which is 5 percent lower than the 264.2 million metric tons produced in 2011/12.
With spring corn planting expected in the range of 94 million acres, this could certainly raise soybean prices and incentivize farmers to further maximize yields by purchasing fertilizer from companies like Agrium (NYSE:AGU), CF Industries (NYSE:CF), Potash Corp (NYSE:POT) and Mosaic (NYSE:MOS). Regardless of which company delivers the tonnage, higher soybean prices will generally boost the stock prices of all the companies. However, farmers, distributors and manufacturers are locked into a standoff over recent high fertilizer prices.
U.S. Exports continue to lag last year's pace by more than 30 percent. As expected, there was a slight pickup in U.S. exports in January, however, record exports of old crops from Brazil kept a lid on what could have been possible. Total US soybean export estimates remain unchanged at 34.7 million metric tons, which is markedly lower than last year's 40.9 million metric tons.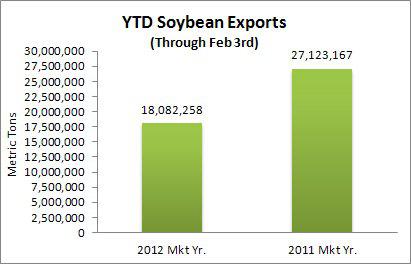 Source: The Mays Report
Nevertheless, net new domestic sales still couldn't keep pace, and the January pickup in exports caused the decline in outstanding sales to accelerate to a level that's almost 42% lower than last years pace.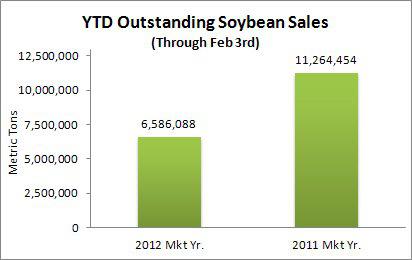 Source: The Mays Report
With falling estimates of ending stocks and lingering weather fears, soybean prices have risen since late November when South American drought issues became more widespread. The U.S. average soybean price is now $11.20 - $12.30 per bushel compared with $10.95 - $12.45 last month. Since December 1st, soybean prices have risen 11.3 percent.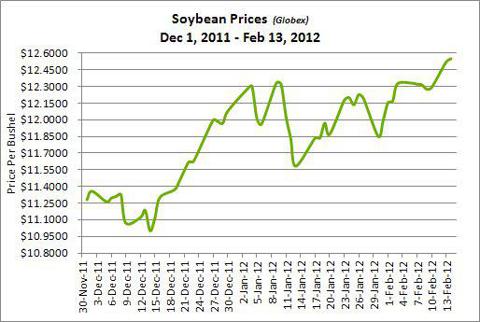 Source: The Mays Report
Higher prices and lower supplies generally slow trade. Estimated soybean imports of 90.8 million metric tons is higher than the 2010 /11 growing season total of 88.8 million, but is 2.2 million lower than January estimates. Trade in China undoubtedly has affected this figure, as it accounts for 60 percent of world soybean trade.
Between October 2011 - January 2012, China imported 19.5 million tons, which is down slightly from 19.8 million over the same period a year ago. Stagnant soybean meal demand caused by lower hog herds as well as industry overcapacity has reduced the processing margins in China. For months, pork producers, forced to cut herds due to outbreak of disease among the animals, purchased less soybean meal. As the animal diseases come under control, hog herds will once again get larger, and the resulting higher soybean demand should raise imports. In anticipating that the situation will soon be rectified, China agreed on February 15th to buy 8.62 million metric tons of soybeans from U.S. suppliers Cargill, Archer Daniels Midland Co. (NYSE:ADM) and Bunge Ltd. (NYSE:BG). The group could announce more sales agreements in Los Angeles on Feb 17th. Those other agreements, if announced, could raise total sales for the week to 11.5 million tons.
At 55.5 million metric tons, estimated soybean imports to China during the 2011/12 growing season were 1 million lower than last month and 3 million lower than the USDA's initial estimate for the 2011/12 season. According to Bloomberg, the USDA said on Feb 13th that China will probably increase annual purchases to 90 million metric tons over the next decade.
Agrium, Mosaic, and CF industries all have high and statistically significant correlations with soybeans over the long-term (most recent 60 months) as well as short-term (most recent 45 trading days), although over the short-term, an even higher correlation with the S&P 500 has prevailed. Besides the EUR/USD exchange rate and weather, the most important thing to keep an eye on will be the prospective planting report, whose release is at the end of March. If farmers swap soybean acres for corn, this could give support to pricing in the face of a stronger dollar and falling demand.
Disclosure: I have no positions in any stocks mentioned, and no plans to initiate any positions within the next 72 hours.