Fitbit (NYSE:FIT) is one of those rare breeds of recently issued tech stocks that actually makes money, and has been growing at quite an incredibly fast pace. So, when the stock sold off on an earlier-than-expected release of lock-up agreements and unexpected secondary public offering, I began to take interest. My primary concern surrounded the dilution effect of options and expiration of lockup agreements in early February 2016 worth 50% of adjusted shares outstanding, which I wrote about in my piece titled Fitbit: Beware the Dilution.
Positive Channel Checks During Black Friday
Since then, channel checks at major sell-side firms, including Barclays, Piper Jaffray, Stifel, and Raymond James indicated that Fitbit's products were one of the least discounted items in wearables, and the wearables category itself was one of the winners of this holiday season. According to Best Buy, customers purchased 2x more wearables vs last year (SOURCE: Stifel, "FIT a Winner Early in Holiday Shopping Season"). Given the strong performance over Black Friday, several analysts noted the potential for upside to estimates, which currently sit at $648MM on average for Q4 2015 revenue (SOURCE: Bloomberg). Fitbit, the leader in fitness wearables, is likely underpriced given the secular trends toward wearables and technology in fitness, its massive 85% North American market share in dollars (SOURCE: Piper Jaffray Healthcare Conference 12/2/15), the selloff in the stock given supply concerns, and the rapid growth they are experiencing.
Competition Concerns Overblown
Bears will argue that Fitbit's products are in direct competition with the Apple watch, but I disagree, and believe that both the Apple Watch and Fitbit's products can co-exist, as each appeal to different segments of the marketplace. Fitbit's products range in price from $60 to $250 while the lowest end Apple Watch rings the register at $349 - $399. Anecdotally, there is some evidence of this as employees at Target mentioned there are two different types of consumers for Apple Watch and Fitbit, typically due to price (SOURCE: Barclays, "Fitbit: The Hap-Hap-Happiest Christmas"). Size is likely also a differentiator of the two products, as Fitbit's products are thin, ranging from 15mm wide for a Flex, 21mm for a Charge or Charge HR, to 34mm for the Surge. Compare that to the Apple watch ranging from 33.3mm to 35.9mm wide (SOURCE: Here). In my opinion, there is likely a demand for slimmer designs while working out. Many users probably don't want to workout with something on their wrist that is nearly the size of a large luxury watch.
Large Addressable Market
In addition to design and pricing differences allowing Fitbit and Apple Watch to co-exist, there's plenty of room for both to grow. IDC estimates that the wearables market, as defined by smart watches and fitness trackers, may reach sales of $45 billion by 2019. That's 11.25x the size of the roughly $4 billion in sales in 2014 (SOURCE: Bloomberg Industries).
Tremendous Growth
Fitbit has experienced tremendous revenue growth over the past year and a half, its most recent quarter coming in at 167% year on year. Current Q4 estimates from the street are for revenues of $648MM or +75% vs last holiday season (SOURCE: Thompson One). Given the strong showing during Black Friday there may be upsides to this estimate. Non-GAAP EBITDA growth has also been equally strong, at +91% y/y for Q3, and estimated at +28% for the holiday season. Lower EBITDA growth for this holiday season is likely the result of significantly larger marketing spend by Fitbit. Per Barclays estimates, Fitbit is spending more in 4Q 2015 than in all of FY 2014, which is likely to contribute meaningfully to topline growth, and precisely the type of investment the market share leader in a developing industry needs to make to further establish themselves as the leading brand, in my opinion.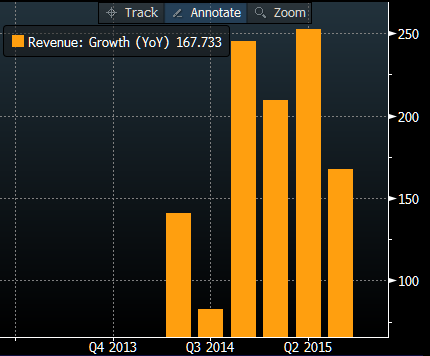 International Growth Potential
Another potential avenue for growth comes from international. Only 33% of revenues come from outside the U.S. as of Q3 2015, and growth internationally is quite strong. Asia Pacific grew 108% sequentially as of Q3 2015. Americas ex-US grew 44% sequentially, and Europe, Middle East and Africa grew 23%. Those would be large growth numbers on a year-over-year basis, and are huge numbers on a sequential basis, in my opinion.
Valuation
On a fully diluted basis, including stock options, restricted stock units, warrants, employee stock purchase plans, and equity incentive plans, Fitbit has 253.4 million shares outstanding. Current enterprise value post secondary public offering and multiples using Q4 2015 estimates are as follows: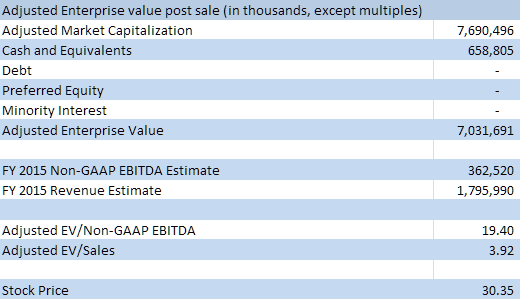 (SOURCE: Thompson One and Fitbit Filings)
Conclusion
At 19.4x EV/FY2015 non-GAAP EBITDA estimates, with 85% U.S. market share, 75% expected topline growth, 28% expected EBITDA growth, potential for upside given the secular growth of the wearables industry, the large potential addressable market, and the potential for additional international growth, I believe Fitbit is substantially undervalued. I have a 30x EV/FY 2015 non-GAAP EBITDA target, implying a 30% EBITDA growth expectation, and a $45.5 target price or 50% upside from current levels.
Disclosure: I am/we are long FIT.
I wrote this article myself, and it expresses my own opinions. I am not receiving compensation for it (other than from Seeking Alpha). I have no business relationship with any company whose stock is mentioned in this article.