Ambarella (NASDAQ:AMBA) reported its fiscal 2016 Q3 earnings on Thursday with revenue up 42% y/y to $93.2 million and net income up 61% y/y to $29.5 million. Despite the fact that these were numbers that most small semiconductor companies would kill for, Ambarella sold off about 7% after hours. Ambarella recovered the following day, but the sell off shows that Ambarella investors have become a little skittish.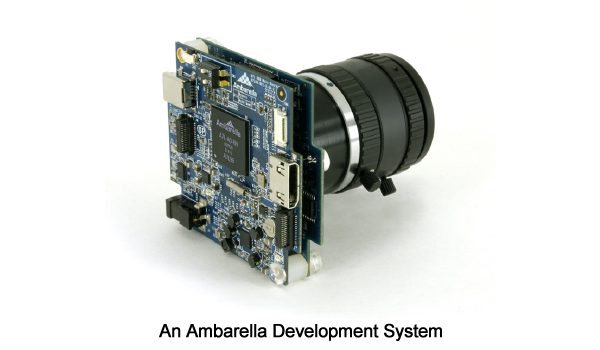 Source: Ambarella
Unique Niche
Ambarella occupies a unique niche among fabless ARM processor companies in its focus on camera sensor processing. Ambarella's systems on chip (SOCs) provide front end image signal processing, digital compression and transcoding, as well as general purpose computation functions through the ARM CPU cores. Ambarella's most advanced SOC, the H1 which is targeted at the booming drone market, can provide 4K video capture at 60 frames/sec.
Ambarella's image processing technology seems to be the crucial factor in GoPro's (GPRO) consistently higher ratings than its competition. GoPro has fueled Ambarella's growth to a large extent, although Ambarella does serve other markets such as wearable, automotive, and security cameras. At the earnings conference call, one analyst, Brad Erickson of Pacific Crest, offered his estimate that action cameras made up about 40% of Ambarella's revenue, but Ambarella management wouldn't confirm this.
The percentage must be large. In the past year, both companies' stocks have risen and fallen more or less in unison, although Ambarella remains in a much stronger position: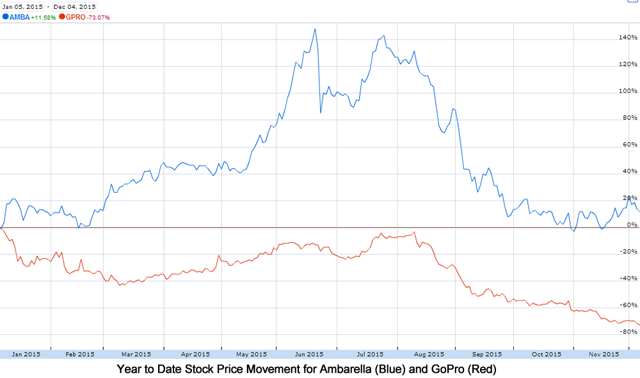 Source: Google Finance
Clearly, investors view Ambarella as not being overly dependent on GoPro. To some degree, this is confirmed in the guidance given by the respective companies in their latest earnings calls. GoPro, during the conference call, guided to a 17% y/y decline in revenue for the December quarter. Ambarella guided to roughly flat revenue with a range of 0.5%-4% y/y for the next quarter ending in January.
Ambarella appears to be perfectly comfortable in its role as a merchant vendor of SOCs to various OEMs, and doesn't seem to be overly concerned about GoPro's fate. During the conference call, Ambarella indicated that it expects revenue in drones and security Internet Protocol (IP) cameras for professional and home use to take up the slack in GoPro revenue. This could be a miscalculation on Ambarella's part.
Intensifying Competition
GoPro's problems run a lot deeper than what its management was willing to own up to during the last conference call. During the call, GoPro management claimed that it was just a pricing error of the HERO4 Session that led to higher-than-normal inventory levels as well as cost impacts due to price protection guarantees that the company had to honor after the retail price of the Session was reduced.
As I've pointed out, GoPro is facing serious competition, both from cheap knock-offs and from major brands such as Sony (SNE). GoPro's HERO4 series cameras remain best in class for now, but that's probably not going to last.
GoPro's increasing competition is also a problem for Ambarella, since not all, or even most of GoPro's competitors will be using Ambarella SOCs. Alpha Imaging Technology and Allwinner Technology are just two examples of companies making action camera SOCs, pursuing the same course as Ambarella of extending their IP camera SOCs for use in the action camera market.
It's debatable how competitive these cameras will be, but the real competition for GoPro and Ambarella will probably come from the large consumer electronics companies such as Sony, Samsung (OTCPK:SSNLF), and yes, even Apple (AAPL). The reason is that these companies are already designing their own SOCs that do what Ambarella does. Mostly, these SOCs are found in the smartphones of these companies. The intense competition in smartphones has fueled innovation in SOC design, so that the three most important smartphone companies, Samsung, Apple, and Huawei all design their own SOCs.
The competition in smartphones extends to the cameras in them as well, with companies competing to provide the most capable and professional looking still and video recording. Although Ambarella claims that its SOCs are more capable than what traditional camera companies such as Nikon and Canon are capable of producing, that isn't where the real competition lies for Ambarella.
The SOCs being produced by Apple, Samsung, and Huawei are certainly more capable in terms of CPU cores. Apple and Samsung have both moved to 64 bit processing in their custom ARM core designs, while Ambarella uses the ARM Cortex A9 that is several years old 32-bit design. Huawei uses the latest ARM Cortex A72 in the recently announced Kirin 950 SOC.
Even the image signal processor sections of the Apple and Samsung SOCs are probably equal to Ambarella's. Smartphone SOCs have to do all the same basic tasks that Ambarella's SOCs do. They have to capture video, compress and store it, and perform image processing functions to enhance the imagery and remove unwanted defects.
Companies such as Apple and Samsung haven't addressed the action camera market because they were too busy going after the much larger smartphone market. But the expertise developed for smartphones can certainly be brought to bear on the action camera, and it's probably only a matter of time until that happens. Sony has already developed its own action camera, the X1000V which uses a Sony-developed SOC.
The large smartphone manufacturers are leading a structural change in the consumer electronics industry away from the old PC OEM model of using commodity processors to a new model in which the device makers design their own SOCs. The three leading practitioners of this approach, Apple, Samsung, and Huawei are able to deploy enormous resources in the design of their SOCs, and have leaped ahead of commodity suppliers such as Intel (INTC) and Qualcomm (QCOM).
Investor Takeaway
What bothers me most about Ambarella is that its management appears oblivious to the changes now sweeping the semiconductor industry. Right now, the only reason that Ambarella hasn't come under more pressure is that it served a niche that was largely ignored by the electronics giants.
This appears about to change, with the advent of competition at both the high and low end of the action camera market. Commodity processor vendors can adapt to the impact of the paradigm shift to custom SOCs, but it is a struggle, as companies such as Qualcomm can attest. How Ambarella will adapt to the changing competitive landscape is the central question for its management and investors.
Ambarella's response to GoPro's slowdown is the classic merchant vendor response of just looking for other markets and OEMs to service. If the big smartphone companies enter the market for action cameras, I'm not convinced that Ambarella will have any alternative markets and OEMs to turn to. Samsung already makes a line of IP cameras, so we have an example of one of the large electronics companies moving into a market Ambarella serves.
In a recent article, I proposed a merger with GoPro as a way to embrace the paradigm shift and become an integrated device maker in the vein of the large smartphone companies. Judging by the comments I received, this was enormously unpopular among Ambarella investors who seemed to believe that the commodity supplier model is viable for Ambarella going forward.
But the paradigm shift represented by companies such as Apple isn't going away. It's only gathering momentum. To the extent that Ambarella investors live in denial of this (not uncommon in semiconductor stocks), Ambarella is probably overvalued.
Ambarella's continued profitability, as well as growth in adjacent markets such as drones does serve to offset, for now, the threat from the paradigm shift. And there is still the potential that Ambarella will find some creative and unforeseen way to adapt to the shift. For these reasons, I rate Ambarella a somewhat speculative hold.
Editor's Note: This article discusses one or more securities that do not trade on a major U.S. exchange. Please be aware of the risks associated with these stocks.