By Tom Roseen
During the fund-flows week ended December 2, 2015, investors remained on the fence ahead of the U.S. nonfarm payrolls report, the European Central Bank's details of its stimulus plans, and after learning that Chinese regulators were investigating two Chinese brokerage firms for securities violations. And, of course, investors were anxiously awaiting results of Black Friday and Cyber Monday sales to get a gauge of consumer demand for the upcoming holiday season. With the U.S. market closed for Thursday's Thanksgiving Day holiday, returns were muted on Friday; investors preferred the comfort of defensive issues after energy shares once again took it on the chin following another decline in oil prices that were pressured by a strong dollar and concerns of a glut in global supply.
While energy shares saw a slight boost on Monday after an uptick in oil prices, retail stocks struggled as first reads on the beginning of the holiday shopping season appeared soft. A weaker-than-expected Chicago PMI report indicated the region fell back into contraction territory, but that was partially offset by a 0.2% increase in pending home sales for October. Investors even appeared to shrug off a subpar reading of the November ISM manufacturing index, which fell to 48.9 (the lowest reading since 2009 and signaling contraction), ahead of comments from Federal Reserve Chair Janet Yellen and the nonfarm payrolls report due on Friday. Better-than-expected reports on construction spending and auto sales helped keep investors engaged. On Wednesday, however, stocks turned down as Yellen and Atlanta Fed President Dennis Lockhart both indicated a case for an imminent rate increase and as oil futures sank under $40 a barrel.
Nonetheless, investors were net purchases of fund assets (including those of conventional funds and exchange-traded funds [ETFs]), injecting a net $15.2 billion for the fund-flows week ended December 2. Cautious investors turned their back on equity and fixed income funds, redeeming $0.9 billion and $2.1 billion net, respectively, for the week, but they padded the coffers of money market funds (+$17.8 billion) and municipal bond funds (+$0.4 billion) on the uncertain news.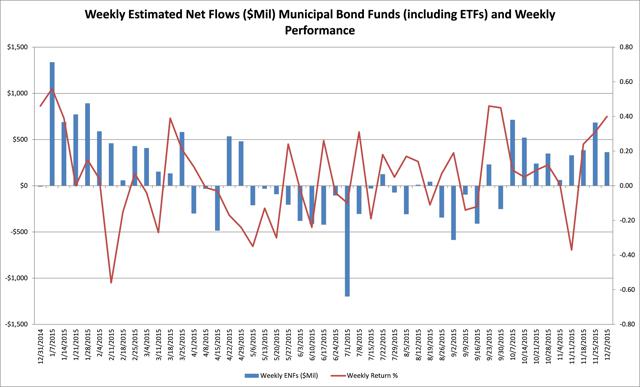 Source: Thomson Reuters Lipper
For the ninth week in a row municipal bond funds witnessed net inflows, taking in $364 million this past week. While investors remain worried about underfunded pension liabilities in New Jersey, the downgrade of Chicago's debt, the troubles that arose from Detroit's bankruptcy, and the decline of the number of muni issues being insured, they are still finding some comfort in revenue-related municipal bond issues, especially before tax season. Municipal bond funds have witnessed ten weeks of plus-side returns in the last eleven, with national municipal bond funds and single-state municipal bond funds returning 2.67% and 1.97%, respectively, year to date through December 3. For the same period general domestic taxable fixed income funds are down 1.06%.