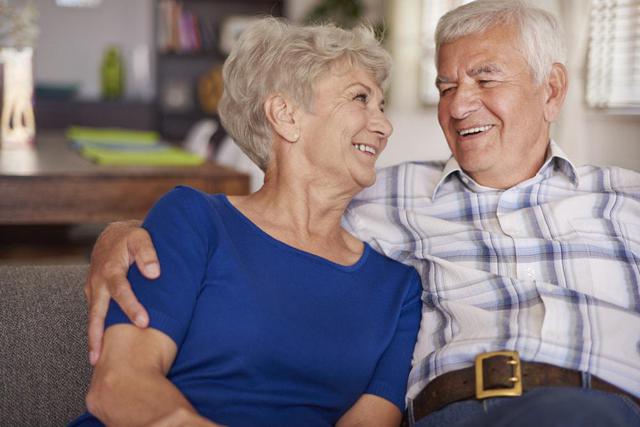 While I continue to offer suggestions on portfolio management as well as stocks to consider via the Team Alpha Retirement Portfolio, I feel it is prudent at this time of year to share my opinions with a wide swath of retired folks who find themselves in a tenuous position.
All of us at Seeking Alpha write about taking actions that could make you more money or a better long-term investor. I always try not to pull any punches no matter how bittersweet the message might be, and I feel I should offer my opinion on this forum to help even more folks, and not lull anyone into a false sense of security.
The Truth Of The Matter For Many Folks Over 65 And Already Retired
Many of us here on Seeking Alpha have been fortunate to either accumulate a fair amount of net worth and savings, and many have been even more fortunate to find the educational value of SA at a much younger age than the generations that came before you!
If that is the case, you are well ahead of the game, on the right track, and I for one have confidence that you will have a more secure financial future, especially for those with time horizons of 5, 10, 15, 20 years or longer!
The unfortunate truth is that there are many folks who are seeking a "lifeline" because they have neither the time horizon, nor the net worth to greatly improve their financial future. That does NOT mean that all is lost, but it does mean that you need to face the facts that there are approaches that should be AVOIDED, and strategies put into place NOW to give yourself the best opportunity for success.
Some facts:
The MEDIAN net worth of folks 65-74 is $190k. That means half of everyone has more and the other half has less, which is a far better reflection of how wealth is distributed than the "average":

The chart below shows that the median US household has gone nowhere in the past 50 years: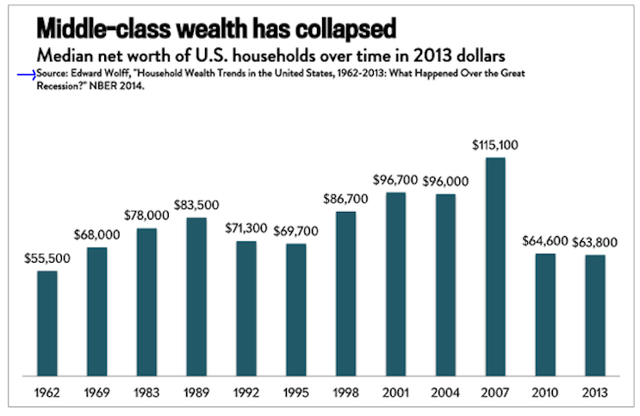 While it may be difficult for many of us reading SA to accept these facts, the bottom line is that there is a retirement crisis in this country that is affecting far more folks than we realize.
Here is a chart from the Federal Reserve that illustrates the core of the retirement matter: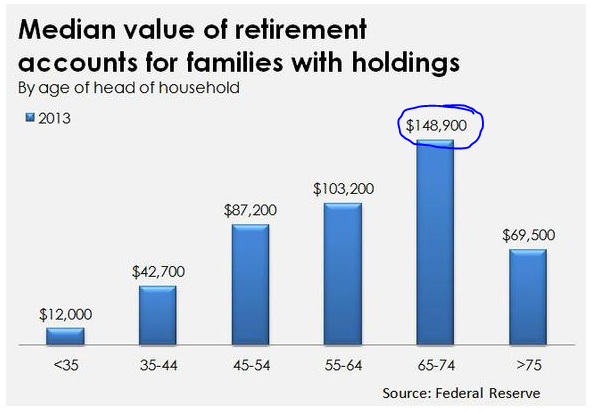 At this point, let's take a hypothetical couple who are 65-74, already retired and have a grand total of $149,000 for retirement, and no pension of any kind. The couple has an annual expense budget of roughly $50,000 - the U.S. average - and has the average monthly Social Security benefit currently being received per COUPLE of about $1,328 + $664 (for a non-working spouse), or a total of $1,992 per month, or just about $24,000 per year.
The difference of $26,000 between income and expenses will NOT be covered with a savings or investable account of $149,000 without taking on extraordinary risk, and as far as I am concerned, far too many take risks that could place them in jeopardy of even the most modest of financial futures:
Reaching for very high yield, which comes with extremely high risk.
Investing in high valuation momentum stocks that suggest the "hope" of extreme capital appreciation but come with a much greater risk of total loss.
Using the popular approaches for immediate wealth such as day trading, exotic options strategies, penny stock investing, and the myriad other highly "pitched" ways to save the day. Simply put, it has been my own experience to see regular people use these approaches in the hope of generating more wealth very quickly, only to lose even more and in many cases, everything, and needing to live on Social Security alone.
I have no reduced risk strategy of any kind to create an income stream of $26,000 from a total retirement account of $149,000. That would amount to roughly a 17%-20% return, from dividends or otherwise. What I can suggest are some ways to get the most out of the Social Security income and the account balance of $149,000 if you are already retired, over 65, without a long-term horizon to accumulate more wealth right now.
Actions That Should Be Considered Right Now
The number one focus for folks who find themselves in the situation described above is capital preservation. Simply put, you cannot afford to lose any of your retirement savings, period.
There are only two ways to achieve a more secure financial future at this point:
Reduce all of your expenses so that you can cover them with a reliable income stream from lower risk investments plus the income you receive.
Increase your income by working part time to help offset the difference in expenses and income.
It might be tough to face, but if one were to invest their $149,000 in the most reliable dividend paying blue chip stocks right now, the income received would be somewhere between $6,000 and $10,000 per year. In my previous article, I used the following four stocks that are within my buy zone and will yield an average of roughly 4.05%: Exxon Mobil (NYSE:XOM), Procter & Gamble (NYSE:PG), AT&T (NYSE:T) and Con Edison (NYSE:ED).
An equal amount invested in each of these stocks would generate roughly $6,034 of dividend income annually. While these stocks are dividend aristocrats and are blue chip, low risk, mega cap champions, the difference between the $50k in expenses and $24k in income will still be roughly $20,000 per year.
Without using a very high risk strategy, which I will NOT endorse, you will need to reduce your expenses or use principal to close the difference and to be able to live!
Here are some thoughts:
If you have not already done so, downsize significantly from your current home to a place you can afford within your new budget.
There is no need for two cars if both folks are fully retired, and a reliable used one is just as good as a new one.
Leave the latest technology to those who can afford it and just pay for the basics.
If you can find some part-time work, go for it! Working three or four days a week and bringing added income home will do wonders for your situation.
Since this is not a personal finance lesson, let me also say, that aside from investing in those reliable mega cap blue chip dividend aristocrats (a list of which can be found right here), you can use your principal to support your new lifestyle by using what you require, to live within your means.
For example, without investing a dime, you can take $7,000 out per year from your savings, and your savings will last about 20 years, or to age 85. That won't keep up with inflation, so another thought would be to invest in the above dividend aristocrats I noted, or some others you feel confident in, AND take another 3%-4% out of the principal on top of the dividends. That would give you roughly $10k-$12k annually and if the dividend aristocrats continue increasing their dividends, your savings still have a good chance of carrying you to 85-90 years of age or longer.
By doing this, you would have a few more dollars each year, but you will be using principal and depleting the underlying assets, which eventually will reduce your dividend income stream as well. At that point, perhaps 20 years hence, you will need to once again adjust your lifestyle so that you will spend less than you have coming in, there are no low risk substitutes, no matter WHAT anyone tries to sell you.
The Bottom Line
Facing hard facts is never easy, but it will be a start for many people to begin traveling down a better road if need be. Keep in mind the true priorities of life, realize that having "things" might be nice but not essential, and embrace what you DO have.
By doing so, the new road will be a bit easier to travel.
Why "Follow" Me?
The main reason for a subscriber to "Follow" me, especially for the model portfolios (TARP or otherwise), is to glean some knowledge to become a better investor and not simply place bets.
Money management is every bit as important as any other aspect of investing, and by following a portfolio and the actions taken, you can gain some insight into a somewhat higher level of investing acumen. There are no requirements, and this is not "rocket science" - it is simply a powerful way for you to put the money you have worked hard for to work even harder for you.
My message will be consistent, and my hope by doing this is to share my own experiences, illustrated in the model portfolios I build exclusively for Seeking Alpha.
Knowledge is power, and many folks shy away from the investing world because that very world makes it more confusing each and every day in an effort to sell you something: stock picks, technical strategies, books, videos, subscriptions with "secret ideas," gadgets, and even snake oil.
My promise to you is that my work here will remain free to all of my followers, with the hope of giving to you some of the things that took years for me to learn myself. That being said, let me reach out to you with my usual ending:
**One final note: The only favor I ask is that you click the "Follow" button so I can grow my Seeking Alpha friendships. That is my personal blessing in doing this, and how I can offer my experiences to as many regular folks as possible, who might not otherwise receive it.
Plus, it is free (and will continue to be) and does not cost one penny for anyone who reads me.
Disclaimer: The opinions and the strategies of the author are not intended to ever be a recommendation to buy or sell a security. The strategy the author uses has worked for him and it is for you to decide if it could benefit your financial future. Please remember to do your own research and know your risk tolerance.
Disclosure: I am/we are long ED, PG, T, XOM.
I wrote this article myself, and it expresses my own opinions. I am not receiving compensation for it (other than from Seeking Alpha). I have no business relationship with any company whose stock is mentioned in this article.