It was the worst week (-10.9%) for MLPs since March 2009 and the 5th-worst week of all time. The MLP Index now yields 9.5%. The collapse was the combination of 3 main factors beyond the ongoing background noise of tax-loss selling and de-leveraging: (1) a massive and successful $1.2bn equity offering for Columbia Pipeline Group, Inc. (CPGX) that was at least partially funded by sales of MLPs; (2) Kinder Morgan's (NYSE:KMI) sudden collapse and ongoing leverage quagmire; and (3) oil price weakness after inventory and the OPEC meeting.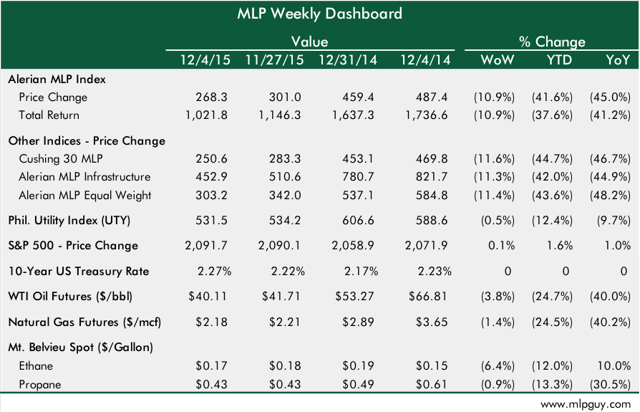 Broken Halo?
KMI was down 29.5% this week, to lead all things midstream on the downside. Its decline accelerated following the Moody's outlook change, as analyst and press speculation went from bad (KMI might have to hold distributions flat after reducing dividend growth guidance from 10% to 6-10%) to worse (it might need to cut its dividend). The company issued a press release during trading hours on Friday that did little to clarify matters.
Over the weekend, Barron's weighed in highlighting a possible cut, while Forbes ran a piece that walked through KMI's debt and how an actual ratings downgrade is not imminent. That piece did highlight how much pressure the high yield market would be under if $40bn of debt suddenly flooded that market.
6-10% dividend growth, or any dividend growth whatsoever, for KMI in 2016 is now completely off the table, but it is not a foregone conclusion that the company cuts its dividend.
Don't Cut
This may be an overly simplistic way of looking at things, but let's assume there is a choice between: (a) cutting the dividend by 50%; or (b) issuing a large PIPE to reduce leverage, and holding dividends flat to cover dilution. Cutting the dividend would cause massive value destruction not just for KMI, but for the whole midstream and MLP sector. The company might have happier ratings agencies and debt holders, and have the ability to fund growth projects with cash in that case, but the stock would take years to recover.
In the PIPE case, the market reaction would likely be very positive, sparking a short squeeze, particularly if the PIPE were accompanied by a commitment by Rich Kinder to forego the $500mm in annual dividend his 250mm shares would entitle him to.
Below is a back-of-the-envelope view of what KMI would look like under each scenario. It's clear which one is the best alternative of these two scenarios, especially from the perspective of its largest shareholder (Big Rich himself).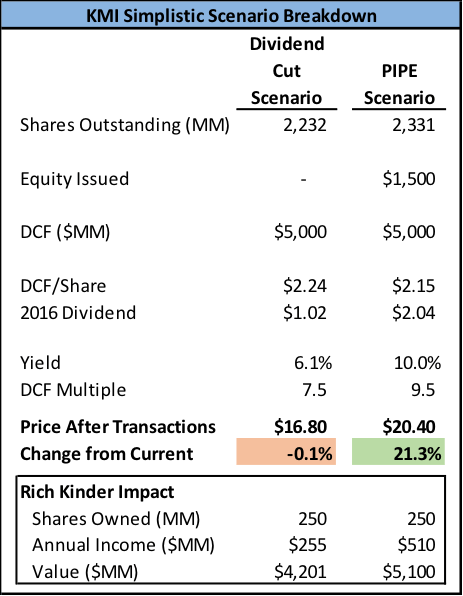 In the cut scenario, I assume that KMI will trade at 7.5x the $5bn DCF guidance, in line with another investment-grade natural gas pipeline midstream company that cut its distribution: Boardwalk Pipeline Partners (NYSE:BWP). That's being generous, because KMI would probably initially get sold hard on the cut announcement.
In the PIPE and flat dividend case, I assume a 10% discount on the PIPE and a 10% yield following the PIPE. After CPGX's $1.2bn PIPE this week, investors have shown willingness to step in front of a positive catalyst. There are plenty of shareholders who would be happy to support KMI.
But there are many other potential scenarios that the company is no doubt working on that may not involve issuing equity at these levels. Given all of that, it would seem there is some risk to the upside that I'd be worried about if I were short KMI.
In any event, the issues are very company-specific, and not many MLPs are as highly levered as KMI. The MLP business model is not broken, but it is possible to break your MLP, just like it's possible to break a corporation. But until things calm down, the MLP sector will continue to get whipped around by the most prominent midstream company out there.
Poll Question
Last week's poll question asking what you thought of 2016 returns for MLPs versus the S&P 500 in a flat oil environment. The results showed that 65% of respondents believe MLPs will outperform the S&P 500 next year. Not surprising to see the bullishness from regular readers of MLPguy.com. But it was encouraging to see such positive sentiment still exists. But maybe looking ahead to 2016 was a bit premature in light of painfully fresh volatility. This week's question is focused on the next 18 days.
How will MLPs finish out December from here?

Sharply Higher
Slightly Higher
Flat
Slightly Lower
Sharply Lower
Is Today the Worst Day of Your Life?
Below is a list of the top 10 worst weeks of all time for the Alerian MLP Index. This was the 5th worst ever, and the 10th 5%+ decline for the index since last October out of just 25 such weeks all time. This is volatility the depths of which we haven't seen since the financial crisis, but over a much longer time period.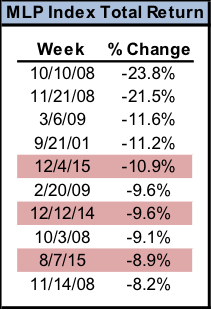 During this volatile time, I try to explain what's going on to my wife from time to time. Yesterday, I told her that this week was the worst of the year so far. Her response was, "Again?" It reminds me of the hypnosis scene in Office Space, when the main character explains how every day since he started working at his job has been the worst day of his life, and how every time you see him, it's the worst day of his life. It's messed up.
Winners & Losers
3 MLPs were positive this week. It was strange that Columbia Pipeline Partners (NYSE:CPPL) didn't rally on the very successful equity offering from its sponsor, given that the stock appeared to be crushed in 3Q based on its need for equity capital, which appears to have been solved for 2016.
For the bottom 5, extreme downside volatility with Targa Resources Partners (NYSE:NGLS) and Crestwood Equity Partners (NYSE:CEQP) capture the most downside among midstream MLPs. NGLS dropped like a rock on Friday, down 18.6%, with losses accelerating into the close.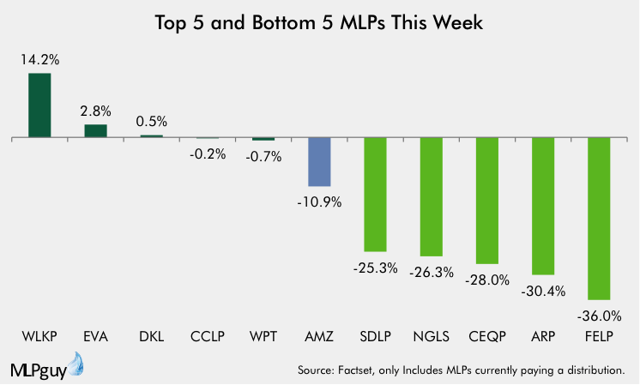 Back-to-back weeks in the top 5 for Delek Logistics Partners (NYSE:DKL) is impressive in this market. Foresight Energy LP (NYSE:FELP), Seadrill Partners LLC (NYSE:SDLP) and Atlas Resource Partners (NYSE:ARP) made it on the bottom 5 in back-to-back weeks (for ARP, it's 3 in a row).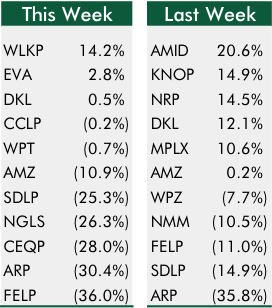 DKL returned to the top 5 for the year so far, and FELP plunged to the bottom 5 where each on the list is down 80%+.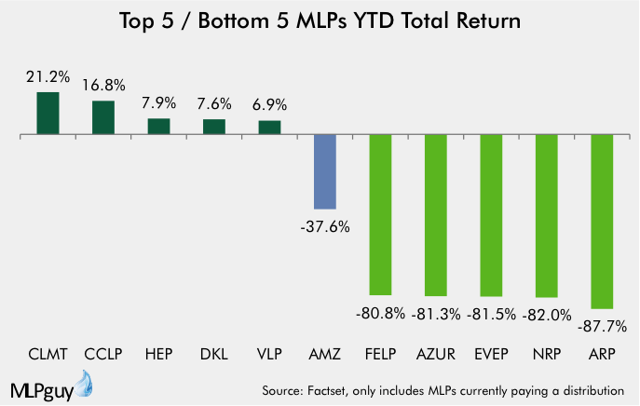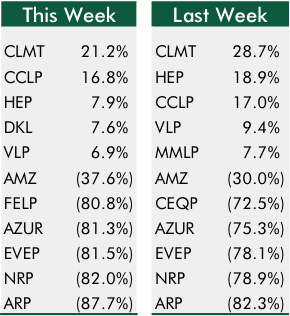 General Partner Holding Companies
GPs underperformed MLPs this week, and each one was down. CPGX is the big winner this week, actually trading up after its big equity offering. Some of those gains were likely funded by the sales of others on this list (and from KMI).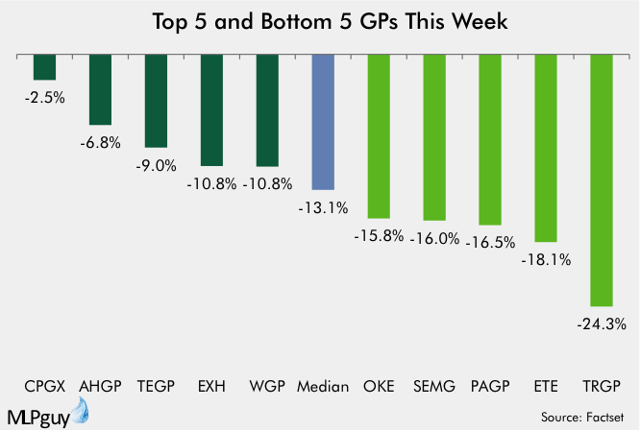 Plains GP Holdings (NYSE:PAGP) went from near the top to near the bottom of the group, and has turned into a leveraged way to play oil price movements. Energy Transfer Equity, LP (NYSE:ETE) continues to trade lower despite its Analyst Day actions to solve equity needs and outline synergies with Williams Companies (NYSE:WMB). No coincidence that the two weakest-performing GPs are both trying to close all-equity mergers. We've seen the damage that can be done between deal announcement and deal closing with MPLX LP (NYSE:MPLX)/MarkWest Energy Partners (NYSE:MWE) and Crestwood Equity Partners/Crestwood Midstream Partners (NYSE:CMLP).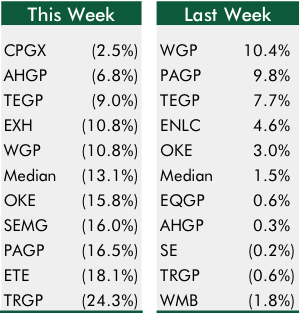 News of the (MLP) World

Capital Markets
Columbia Pipeline Group priced its public offering of 71.5mm shares at $17.50/share, raising $1.25bn in gross proceeds.

Overnight offering priced at an 8.1% discount to prior close after the number of shares offered was upsized by 40%.
It traded very well in the aftermarket in a very bad tape for MLPs, up 13.1% from pricing.

NGL Energy (NYSE:NGL) launched a $300mm senior notes offering, but has faced challenges in the very weak high yield market for energy issuers.
Sunoco Logistics (NYSE:SXL) filed equity distribution agreement to sell up to $1bn in common units at-the-market.
M&A / Growth Projects
Kinder Morgan announced the acquisition of additional NGPL interest.

Following this deal, Moody's changed its ratings outlook on KMI to negative from stable, which focused the market on the company's elevated leverage and sent its shares plummeting to fresh all-time lows this week.
Other
Alerian Index changes for special rebalancing related to the MPLX/MWE merger:

Black Stone Minerals (NYSE:BSM) added to the Alerian MLP Index, replacing MWE.
MPLX replaces MWE in the Alerian MLP Infrastructure Index, Alerian Natural Gas MLP Index, Alerian Large Cap MLP Index, and Alerian Energy Infrastructure Index.