Market stresses have been constant over the past several months - Chinese growth concerns, uncertainty over rate hikes, the path of the dollar, commodity weakness - all have contributed to heightened volatility in global equities.
Rather than viewing this as the end of the bull market, however, we see the recent pullback as a mid-cycle correction. Still, it's clear that these developments have further complicated an already-complex landscape. Below, Benjamin Segal, CFA, Head of our Global Equity team, and Daniel Geber, Head of Global Equity Long/Short, share their views on the equity opportunity set, separating fundamentals from the noise in an environment with many moving parts.
U.S. Stable and Growing, but with Limited Equity Upside Potential
BENJAMIN SEGAL: From a top-down view, the U.S. has experienced an economic recovery over the past six years, while the European recovery is just gaining steam and times remain tough in emerging markets. This is reflected in business fundamentals, with earnings per share (EPS) in the U.S. 28% higher than their prior peak in August 2007.1 While the U.S. dollar has cooled a bit, the relative strength of the currency may suggest weaker prospects for U.S. multinational corporations based abroad leaving us with a preference for domestically focused American firms.
DANIEL GEBER: Generally speaking, we are constructive on equity markets globally, but we no longer feel that you can "buy the market." While we see no shortage of exciting investment opportunities, both long and short, we believe you have to be much more selective in terms of identifying those opportunities, particularly from a geographic point of view.
Many investors favored the U.S. equity market while Europe and emerging markets were in upheaval. We are less excited about U.S. equity prospects, although we do believe the recent pullback may mean an extended opportunity. Still, valuations are richer and policy is less accommodative than what we're seeing in Europe. Economic surprises in the U.S. are flat or trending lower compared with other regions where we're seeing dramatic improvement. In our view, prospects for earnings growth are also less exciting as we may be close to peak margin potential in the U.S. and wage pressures may pressure earnings.
Optimism for Developed Markets - Particularly Europe
SEGAL: Lower valuations, weaker currencies and earnings growth potential drive our optimism for the recovery in European stocks into 2016. Earnings levels in continental Europe and the U.K., for example, remain 40% below their prior peak in October 2007, which may provide some indication of their upside potential should profit levels revert as they have done in the U.S. Valuations for developed markets more broadly are also attractive; for example, the cyclically adjusted price-to-earnings ratio for the MSCI EAFE currently trades at a 40% discount to the S&P 500, or a 15%-20% discount when adjusted for differences in sector weights.
GEBER: We're also constructive on European equities for a number of reasons. In contrast to the U.S., positive economic surprises in Europe are on the rise, and the region's economic data points, leading indicators and liquidity indicators are, in our view, pointing in the right direction. Consensus estimates are calling for GDP growth of 1.5% this year.
Importantly, the ECB's extremely supportive monetary policy in Europe should lend support to equities. In particular, the financial sector could be a beneficiary. The ECB has been aggressive in expanding its balance sheet and promoting its quantitative easing program. Our outlook is that this stance will continue and that it will dictate relative prices between U.S. and European equities.
We are also constructive on Japan. We think that valuations are reasonable, there is decent earnings momentum and we see positive changes in the area of corporate governance - part of Abenomics, which includes greater allocations to equities by Japanese pension funds. This could change the shareholder structure of Japanese corporations and, in turn, promote more shareholder-friendly corporate managements. In particular, we currently have a favorable view of factory automation companies in Japan.
SEGAL: I agree with you largely on the opportunity in Europe, but we differ significantly in our views on Japan. We have heard a lot of talk about corporate governance reform, but we've seen very little in the way of action. We've also seen limited progress in how capital is deployed and in the efficiency of balance sheets. On a price-to-earnings ratio or price-to-free-cash-flow basis, we don't think Japanese equities offer good value.
For us, the one compelling phenomenon in Japan is the impact of the yen's devaluation on firms' profits. Today, each unit of revenue earned outside of Japan is yielding 25% more in yen terms and, as a result, corporate profit margins have improved significantly, bringing them in line with their historical peak reached in early 2008. We currently favor Japanese exporters that are profitable at the current exchange rate levels.
Heightened Risk in Emerging Markets
GEBER: We're less constructive overall on emerging markets. U.S. dollar strength has created challenges for emerging markets and we have concerns about the fundamental demand for commodities given how critical they are to many emerging economies like Brazil. Our negative view of the commodity complex as a whole has many implications for economies that are net importers versus exporters. China, for example, was a massive driver of demand for commodities, particularly heavy metals, during its infrastructure-intensive growth phase between 2000 and 2008. As China's growth has subsided to a reported but, in our view, questionable 7%, the demand for commodities has declined significantly.
Miners are still increasing supply in a declining demand environment, but that's largely due to the industry's long time horizon. While there are values in mining companies and their suppliers, we believe the downside has not been priced in. Generally speaking, we currently view these types of companies as short-selling opportunities.
Economic Growth Generally Is "Cyclically" Recovering
Projected GDP Growth Rates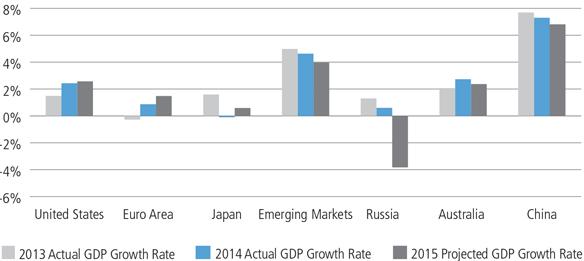 Source: International Monetary Fund; Neuberger Berman. As of October 6, 2015. IMF estimates begin after 2014.
Higher Equity Risk Premia Outside the U.S. Suggest Attractive Relative Valuations
Equity Risk Premium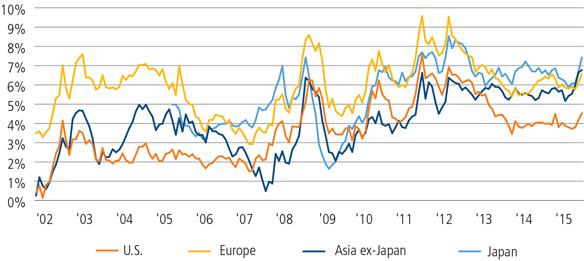 Source: Bloomberg, Neuberger Berman. As of September 30, 2015. Note: Equity risk premium is defined as the difference between Forward Earnings Yield (inverse of Forward P/E) of the region's benchmark equity index and region's 10-year nominal yield.
SEGAL: We have adopted a circumspect attitude toward emerging markets, where EPS remain 30% below their August 2011 peak. We are also in full agreement with you, Daniel, about China. While GDP growth continues to be reported as 7%, we think the fundamentals are more consistent with roughly a 4% figure-at best. China has been in the papers recently due to volatility in the A-shares market, which we think remains overpriced even after the pullback. As fundamental investors, however, we're more interested in corporate profits on the ground. China offers a tough environment for companies, as many domestic companies sell to large, powerful state-owned enterprises that often ask for lengthy terms of credit. Combined with razor-thin margins, this could yield poor returns on capital.
We do not believe the downward revaluation of the Chinese currency in August has addressed the underlying challenges China faces: excessive debt, high costs relative to neighbors, and muted private-sector spending. While China - and EM more broadly - has outgrown the developed world in recent years, we believe this outperformance has likely come to an end and remain focused on companies with underlying exposure to Europe and North America.
Weighing China Uncertainty
In the view of our Asset Allocation Committee, the ambiguous situation in China presents a notable risk to global financial markets. In mid-August, the People's Bank of China surprised investors by devaluing the yuan relative to the U.S. dollar, triggering a wave of volatility globally. Chinese equity markets experienced a broad pullback in response as investors evaluated whether the currency adjustment was reflective of a longer-term plan to create more open financial markets or part of a concerted effort to boost China's export sectors and offset the country's slowing economic growth trajectory.
At this point, the severity of the slowdown in China is unclear, as is the degree of intervention that the country's policymakers will undertake. Even though the official growth rate for China is 7%, many view this figure as suspect, with other metrics including its manufacturing PMI telling a different story.
The resources available to China's policymakers, including room for additional interest rate cuts and $3.5 trillion in foreign exchange reserves, are considerable. Should they resort once again to strong measures, such as an additional currency devaluation, we believe it could signal a hard-landing growth shock and put further strain on global stocks and commodity markets. Anticipating slower growth and ongoing volatility in the months ahead, our Asset Allocation Committee has moderated its view on Chinese equities to a neutral return outlook.
1As of June 30, 2015.
This material is provided for informational purposes only. Nothing herein constitutes investment, legal, accounting or tax advice, or a recommendation to buy, sell or hold a security. Any views or opinions expressed may not reflect those of the firm as a whole. Indexes are unmanaged and are not available for direct investment. This material may include estimates, outlooks, projections and other "forward-looking statements." Due to a variety of factors, actual events may differ significantly from those presented. Information is obtained from sources deemed reliable, but there is no representation or warranty as to its accuracy, completeness or reliability. All information is current as of the date of this material and is subject to change without notice. Third-party economic or market estimates discussed herein may or may not be realized and no opinion or representation is being given regarding such estimates. Certain products and services may not be available in all jurisdictions or to all client types. Indexes are unmanaged and are not available for direct investment. Unless otherwise indicated, returns shown reflect reinvestment of any dividends and distributions. Investing entails risks, including possible loss of principal. Past performance is no guarantee of future results.
This material is being issued on a limited basis through various global subsidiaries and affiliates of Neuberger Berman Group LLC. Please visit www.nb.com/disclosure-global-communications for the specific entities and jurisdictional limitations and restrictions.
The "Neuberger Berman" name and logo are registered service marks of Neuberger Berman Group LLC.