Mention Singapore Airlines (SIA) (OTCPK:SINGY) (OTCPK:SINGF) and the first thing coming to mind is its headline-grabbing plan to resume the world's longest commercial flight between Singapore and Los Angeles, and Newark in 2018; or its new First Class and Business Class designs being debuted on its next batch of 5 A380 superjumbos in 2017.
Almost gone unnoticed is its half-baked strategy: by allowing frequent flyers to earn and redeem Krisflyer miles on Tigerair and Scoot over routes both served by Singapore Airlines and its full-service regional subsidiary SilkAir, it has further blurred the line of differentiation on the product front and lowered the switching cost for its most price-elastic Economy passengers and lowest-tier Krisflyer members.
Make no mistake, such price-elastic backend passengers could well be better served by Scoot and Tigerair with their substantially lower cost base which would lead to a higher unit profitability for the SIA Group as a whole. Meanwhile, the most important benefit of adopting a portfolio strategy – counter-cyclical expansion by providing low-cost supply in a challenging economic environment and vice versa, is largely out of the question.
But as this analysis shows, the current arrangement strongly assumes the remaining passengers sticking with the namesake SIA brand would move upmarket, backed by an improving ability to charge a premium for the superior product. Yet the anecdotal evidence runs counter to this rosy outlook, and as competition heats up compounded by in-house cannibalisation, the breathing space that SIA has will be under further squeeze.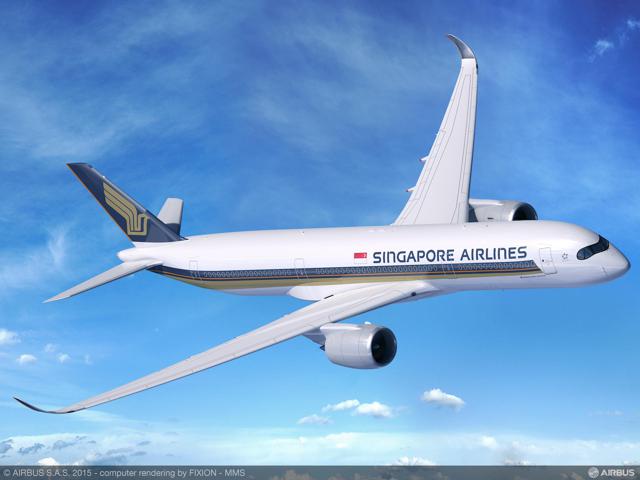 Fuel, Tigerair/Scoot progress mask SIA's decline
If anything, the FY 2015/16 first-half results provide a glimpse of what is to come financially. While group net profit rose by a spectacular 142.48% during the April-September period from S$125.7 million a year ago to S$304.8 million, it was distorted by a S$140.9 million reversal in non-operating items which alone accounted for 78.67% of the bottom-line improvement.
At an operating level, despite a 40.18% jump in FY15/16 first-half group operating profit to S$240 million from S$171.2 million in the prior-year period, there was stark difference between business units being buried beneath the surface.
Making the most progress during the first-half was Scoot, which halved its operating loss to S$22 million from a year ago, now that it is in a high-growth phase. Scoot's FY15/16 first-half revenue soared by 15.4%, as a 14.07% rise in passenger traffic to 3.73 billion revenue passenger kilometres (RPKs) from 2.37 billion RPKs in the year-earlier period was aided by a 1.92% increase in yield, to 5.3 Singapore cents per RPK flown. Unit cost also tracked in the right direction, with a 7.14% reduction to 5.2 Singapore cents per available seat kilometre (ASK), down from 5.6 Singapore cents per ASK in the prior corresponding period, leading to a break-even load factor (BELF = CASK/yield) of 98.1% against the 107.7% figure a year ago. The humming summer period meant Scoot was able to narrow its FY15/16 second-quarter operating loss to just S$2 million from S$19 million previously, with the BELF further improving to 94.4%. In fact, Scoot chief executive Campbell Wilson asserted in a Centre for Aviation (CAPA) interview that the long-haul low-cost carrier would have posted a break-even FY15/16 first-half result had there not been fuel hedging loss.
Also on a positive trajectory was Tigerair Singapore, which is breathing a respite from its previous overseas misadventures. The lack of associate losses – S$99.3 million related to the provision for 12 A320s under lease to IndiGo, plus another S$14.6 million and S$59.8 million attributed to the shutdown of PT Mandala Airlines and loss arising from the sale of Tigerair Australia, respectively; accounted for a majority of the 94.2% reduction in FY15/16 first-half net loss to S$14.4 million from the -S$247.6 million recorded in the year-ago period. However, several prominent expense items prevented Tigerair from fully benefitting from the 20.94% fall in net fuel cost to S$120.3 million, down from S$152.1 million, during the fiscal first-half. One was aircraft lease rental which soared by 28.32% or S$9.5 million, and maintenance cost which surged by 35.12% or S$12.57 million, in addition to a higher depreciation expense which rose by 26.5% or S$4.32 million. These negated S$26.38 million of the S$31.85 million, or 82.8% of the net fuel saving on a combined basis.
Nevertheless, Tigerair's operating expense decreased by 4.47% to S$346.1 million in FY15/16 first-half from S$362.3 million in year-ago period, coupled with a 4.87% increase in operating revenue to S$336.2 million from S$320.6 million, these culminated in a 76.28% narrowing in operating loss to S$9.89 million in FY15/16 first-half, from the -S$41.70 million recorded in the prior corresponding period.
But it is the namesake parent airline, Singapore Airlines, that is causing the most concern. SIA's FY15/16 revenue actually declined by S$324 million, or 5.20% to S$5.907 billion, despite the Group's first-half revenue remaining steady at S$7.58 billion. This made sense as a 1.7% decrease in passenger traffic from 48.52 billion RPKs flown in FY14/15 first-half to 47.69 billion RPKs this fiscal first-half was further hurt by a 3.67% drop in yield from 10.9 Singapore cents per RPK a year ago to 10.5 Singapore cents per RPK this year's April-September period. As SIA slashed capacity by 2.01% during the period from 60.83 billion ASKs to 59.60 billion ASKs, load factor was marginally up to 80.0%.
Most alarmingly, the entirety of SIA's 12.57% improvement in FY15/16 first-half operating profit from S$183 million to S$206 million, stemmed from a S$387 million tailwind in reduced net fuel cost, inclusive of a S$456 million fuel hedging loss reversed from the S$10 million gain recorded in the prior corresponding period. Had fuel price stayed the same as last year, SIA would have plunged to a -S$158 million operating loss owing to the revenue decline and a S$40 million higher non-fuel cost base. This trend is already starting to bite: in FY15/16 second-quarter the S$225 million decrease in revenue more than offset the S$185 million improvement in operating expense, causing a 28.99% plummet in second-quarter operating profit to S$98 million from S$138 million in the year-ago quarter.
From a return on capital employed (ROCE) perspective, this has led to a rebound from the post-financial crisis worst showing in FY14/15 of 2.17% to FY15/16 first-half's 2.99%, considerably below Cathay Pacific's (OTCPK:CPCAY) (OTCPK:CPCAF) 4.65% and 5.52% showing in the same period. Whilst SIA's latest annual report touts a 2.9% return on equity (ROE), ROCE is a much more holistic and accurate measure, given that the Star Alliance carrier issued S$500 million worth of bonds during the financial year. FY13/14's official ROE figure of 2.70% matched the Aspire Aviation database's ROCE figure, for example, as no major debt-financing activity took place for SIA that year.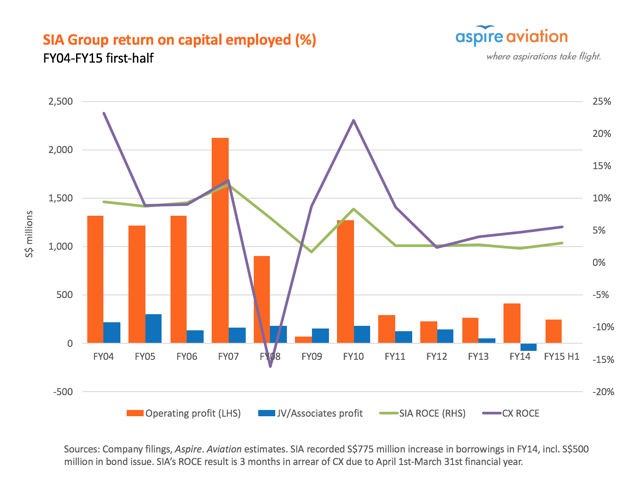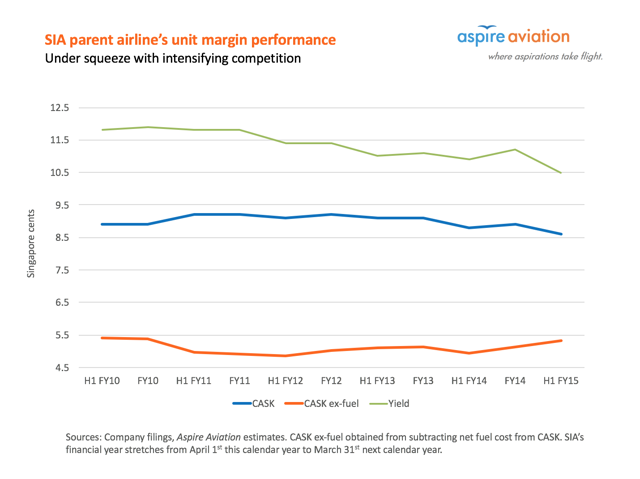 The only way for competitive positioning is up
While in its defence, Singapore Airlines and proponents of its portfolio strategy would claim that it is working as designed with the low-cost subsidiaries expanding and the full-service arm shrinking, a meaningful question is whether the namesake brand needs to move upmarket as much as it is right now absent the intra-group cannibalisation; and more pertinently, whether the market is correspondingly paying a higher yield.
There is little doubt that Singapore Airlines' products and services are at the industry forefront, and that keeping the premium brand constantly polished is essential to staying in the game. The US$80 million premium economy (PEY) product featuring a 18.5 or 19.5 inches seat width, 8-inch recline serves as a good example. The seat's full-leather finishing, footrest and personal in-seat reading light and 13.3-inch HD personal television puts it ahead of competition, complemented by "Book the Cook" service that enables travellers to pre-select their meal options, including roasted chicken in garlic cream sauce, rosemary beef brisket, roasted chicken rice, pork congee, plus more.
Aspire Aviation has long championed the adoption of a premium economy at Singapore Airlines and is the world's first to confirm its development (Shifting sands: Singapore Airlines may introduce premium economy, April 4, 2014). Therefore it is heartening to see better-than-anticipated uptake rate since its August 9th debut on the Sydney route. Chief executive Goh Choon Phong revealed:
"PEY has despite the short span that we have introduced it, it has garnered a very good response. In fact the average load factor for the PEY that we have seen has been around the mid-80s, so that's quite encouraging".
Yet the incremental roll-out of premium economy only has the primary effect of arresting the accelerating yield decline, and the ability of realising this benefit rests largely upon the intensity of competition, especially on one-stop competitive offerings by Middle Eastern carriers to Europe. At Singapore Changi, Dubai-based Emirates is now overtaking Hong Kong-based Cathay Pacific as the biggest long-haul competitor, with a 3% share of weekly seats supplied. In fact, according to the Aspire Aviation database, the FY15/16 second-quarter yield of 10.4 Singapore cents per RPK is the lowest on record and the magnitude of the decline, a 0.5 cents or 4.59% drop, is also the biggest seen so far.
Against this backdrop of weakening yield, instead of putting a laser focus on cost-cutting, the soar of Singapore Airlines' ex-fuel unit cost continues unabated. Since FY12 first-half, cost per ASK (CASK) excluding fuel has risen by 9.28%, including a 6.0% increase in FY15/16 first-half to 5.3 Singapore cents and a 7.8% rise in the second-quarter to 5.5 cents. Yield, meanwhile, has plunged by 14.0% over the same timespan. One contributing factor is the strengthening US dollar against the Singaporean dollar, which has appreciated by 10.3% since January 2014, resulting in a S$35.8 million increase in aircraft depreciation and lease rentals cost during April-September alone.
Going forward, as Singapore Airlines debuts its New First Class and New Business Class in 2017 on its next batch of 5 new A380s and 7 A350-900 ULRs (Ultra long-range); then the New Regional Business Class and New Regional Economy on the A350-900 Regional and 30 Boeing 787-10 Dreamliners in 2018, this is going to translate into extra costs. Intriguingly, SIA's first batch of A350-900s have a very generous 253-seat configuration of 42 Business Class seats, 24 Premium Economy Class seats and 187 Economy Class seats, against Cathay Pacific's 280-seat one comprising 38 Business, 28 Premium Economy and 214 Economy seats. As both carriers plan to deploy the aircraft onto secondary European ports, with SIA's first long-haul A350 destination being Amsterdam and reportedly Sao Paulo, Barcelona and Milan where First Class bookings are pulled for October next year, it is questionable whether SIA could command a revenue premium to justify 14.4% or 27 fewer Economy seats that easily add to hundreds of millions of US dollars in foregone revenue every year.
Worse yet, SIA is facing an acute dilemma on the medium-haul product, being boxed in at the bottom by Scoot/Tigerair which forces it to move further upmarket, but being hindered at the top by intensifying competition. A case in point is Australia, SIA's largest route group with 386.3 million weekly ASKs, or 16.84% of the total capacity supplied, using OAG data. Not only does Scoot fly to Sydney, Perth, Gold Coast and 5 times weekly to Melbourne since October 30th, Emirates also flies on the Singapore-Brisbane, Singapore-Melbourne, Kuala Lumpur-Melbourne, Bangkok-Sydney routes daily using 3-class 777-300ERs. While Scoot chief executive Campbell Wilson conceded that new destinations in Australia such as Cairns and Adelaide could not support extra capacity from the long-haul LCC, its 7 new 787-8s and 9 -9s still on order besides its current fleet comprising 1 777-200ER, 3 787-8s and 6 -9s, mean cannibalisation will eventually take place as Scoot targets the same medium-haul destinations that SIA/SilkAir already serves.
In 5th-largest market, China, where SIA supplies 6.86% of total weekly capacity with 157.4 million ASKs, now that Krisflyer miles could be earned by purchasing the PlusPerks/FlexiCombo bundles at Scoot/Tigerair, potential cannibalisation could arise on flights from Guangzhou, Hong Kong, and Shenzhen. So far cannibalisation in SIA's 2nd-largest market and 9th-largest one – Japan and South Korea, respectively, is relatively limited, as Scoot's one-stop offering via Taipei to Tokyo Narita and Seoul, and via Bangkok and Kaohsiung to Osaka is apparently inferior to Singapore Airlines' non-stop offerings. But with the July 2015 SIA/Scoot interline agreement expanding and ratcheting up in the future, and new overlapping destinations being added, the Krisflyer point accrual ability has to potential to become a factor tipping the balance and drawing away passengers from the namesake brand.
"Indian Route" And the need for a coherent competitive response
So far Singapore Airlines' response to the multiple-front threat of the rise of Middle Eastern carriers and low-cost carriers (LCCs) is piecemeal and incoherent.
For Scoot and Tigerair, their strategic role is clearly to keep the likes of the AirAsia X (OTCPK:AIABF), Thai AirAsia X, Indonesia AirAsia X "trio" and Cebu Pacific at bay, not undermining SIA's business. Therefore the Krisflyer point accrual ability should be limited to destinations not served by Singapore Airlines/SilkAir, such as Qingdao, Tianjin, Nanjing, Hangzhou, Ningbo and Xi'an in Scoot's network. This possible solution would also include Jeddah, where Scoot is using the 335-seat Boeing 787-8 Dreamliner to replace the thrice-weekly 285-seat SIA A330-300 flights from 1st May, 2016 onwards. On overlapping routes, the wealth of consumer data could still be captured using a separate marketing and customer relationship management (CRM) platform such as Tigerair Australia's "Infrequent Flyer Club" without such untenable a risk of cannibalisation.
In reinforcing Tigerair/Scoot's position, SIA's cash offer of S$0.41 per Tigerair share with the option to subscribe to newly-issued SIA shares at S$11.1043 apiece, is a move in the right direction. This attempt to acquire the remaining 44.2% Tigerair shares it does not already own, is expected to pass easily as the offer price represents a 37% and 33% premium to the 6-month and 12-month volume-weighted average price (VWAP) of Tigerair shares.
But the next natural step is merging the two carriers, not only to eliminate brand confusion, but also consolidate back-end functions such as having 1 instead of 2 Navitaire New Skies reservation systems, 2 fuel hedging programmes, network planning, and revenue management teams. Doing so would quickly lead to management efficiency, instead of negotiating internal deals that gobble up attention. For instance, the latest joint Singapore-Guangzhou daily operation, where a Scoot 787 will replace the Tigerair A320 from 16th January, 2016 onwards, with another route soon to follow, could be more easily arranged under one roof.
"This exercise to bring Tiger into the fold… is not one that is targeted at cost savings. It's one that is targeted at growth. You just look at SilkAir and SIA, it is two separate companies and what we've done over the last five years is to really work on deep integrations in both the schedule, the fleet planning, everything, and you saw the result of it. SilkAir's ability to grow at double-digit over the last many years, was precisely the result of such kind of integration, so you can see how that can be done. So we see benefits at this moment for it to be run in parallel," Singapore Airlines chief executive Goh Choon Phong argued.
This leaves countering the threat of Gulf carriers on traffic between Southeast Asia and Europe, the U.S. to be addressed.
For its 4th-largest market Germany, where 7.17% of weekly capacity is allocated with 164.5 million ASKs, Singapore Airlines has entered into a wide-ranging revenue-sharing alliance with Deutsche Lufthansa AG, under which SIA will launch thrice-weekly A350-900 flights to Düsseldorf on 21st July, 2016. Düsseldorf will also be joined by SIA and Lufthansa flights between Singapore and Munich, Frankfurt and SIA/Swiss International Air Lines' ones to Zurich. Through this deal which also includes SilkAir, Austrian Airlines and Swiss, SIA would gain more than 20 new codeshare routes in exchange for Lufthansa gaining codeshare destinations in Southeast Asia and Australia.
As for SIA's 7th-largest market, the U.S., where New York John F. Kennedy (JFK) airport is served via Tokyo Narita and Frankfurt, even the relaunch of a non-stop 19-hour 9,535 miles journey to Newark and 8,770 miles journey to Los Angeles in 18 hours onboard the 170-seat A350-900 ULR would do little to match the 24.7% hike in Gulf carriers' capacity to the US in 2008-2014 and another 36.8% in 2014-2015. The deployment all 7 A350-900 ULRs to 3 US destinations with an average stage length of 15,000km, would only amount to 459 million ASKs per month.
Remarkably, Vistara could help Singapore Airlines overcome its geographical bottleneck and plug the European and US network gap in one fell swoop.
Since Aspire Aviation first floated the "Indian Route" concept (Singapore Airlines undergoes transformation, June 4, 2014), new market intelligence has come to light to make the business case more sound, and from surprising sources, too. In the ongoing US-Gulf carriers spat, the U.S. majors' Open and Fair Skies lobby group cited MIDT data showing the biggest market not served by American carriers is India, with 3,650,545 bookings in 2014. Between 2008 and 2014, the Gulf carriers grew their share of bookings from 8% to 34.18%, with one-stop itinerary to Delhi and Mumbai currently accounting for 59.5% of all bookings, dwarfing that of non-stop U.S.-India share of 37.7%. As Emirates targets a 67% growth in the number of passengers carried on its Indian network by 2020, and Air India is mulling non-stop Washington flights after inaugurating the thrice-weekly San Francisco service on December 2nd, these underline the fact that the demand and growth potential are there.
For Vistara, the foremost obstacle is regulatory uncertainty, specifically the 5/20 rule that stipulates a local operator must gain 5 years of domestic operational experience and amass a fleet of 20 aircraft before being allowed to fly internationally. Once the 5/20 rule is abolished, Vistara's winning product coupled with strong support from SIA, such as the ability to accrue and redeem miles on both Club Vistara and Krisflyer frequent flier programmes since May this year, Vistara is promising in becoming India's leading premium airline and displacing the perennially loss-making state-owned Air India.
In a yet-to-mature market such as India plagued by late bookings and cutthroat competition, what Vistara managed to achieve is nothing short of a feat. The airline fills up its 36 Premium Economy seats faster than the 96 Economy seats on its fleet of nine 148-seat Airbus A320s, according to Aspire Aviation's sources at its parent Singapore Airlines, although it nevertheless struggled with its large 16-seat Business Class cabin. In comparison, AirAsia India trebled its 2015 third-quarter net loss to 41.3 million Malaysian ringgit from 15.7 million ringgit in the year-ago quarter, and SpiceJet is now raising 50 billion rupees to purchase 150 aircraft after last year's near-death experience. Vistara now has a 1.7% domestic market share as of October, with AirAsia India holding a 2.1% share, SpiceJet 12.8%, Air India 15.5%, Jet Airways Group 21.2% and IndiGo 36.8%.
"We had anticipated business class demand will pick up with better business sentiment. Alas, 20% growth in traffic is mainly in back end. On the contrary, business class demand actually registered year-on-year decline, both in numbers and fare levels. Therefore, we are now looking at smaller business class configuration. PEY is one of our differentiators, and PEY is our strategic undertaking to ring-fence our product from the constant cutthroat pricing in economy class," Vistara chief executive Phee Teik Yeoh was quoted as saying.
Furthermore, Vistara could count on the 3.44 million Indian-Americans and the 1.4 million British-Indians who are more familiar with an economy-plus or premium economy concept featuring better legroom, more baggage allowance, priority boarding; to diversify and achieve an optimal traffic mix. In the long-term, Vistara could even leverage on SIA's feeder traffic and operate westbound services to the US in conjunction with Singapore Airlines utilising 5th freedom traffic from the 18 designated Indian cities as a possible extension to the Asean Single Aviation Market (ASEAN-SAM), which would be much more economical than the niche non-stop A350-900 ULR operation, since 65%-70% of an ultra long-haul flight's marginal cost (MC) is fuel (Making sense of ultra long-haul flights, October 8, 2015). For the time being, though, Vistara is focused on building a solid domestic business first, which now operates 297 weekly flights, including a daily flight from New Dehli to Pune, Goa, Varanasi, Guwahati and Bagdogra; twice-daily to Lucknow, Bhubaneswar, Bengaluru; 13 times weekly to Hyderabad and Ahmedabad; and 34 times weekly between Delhi and Mumbai. From Mumbai, it offers 6 times weekly service to Ahmedabad and a daily service to Goa and Bengaluru.
All in all, this is about maximising the economic value added by each unit without stepping on each other's toes. Only without such internal cannibalisation could Singapore Airlines realise the full potential of its portfolio strategy. At the namesake SIA brand, eliminating the cannibalisation could give it more leeway to slash costs whilst providing exemplary services with its brand-new customer experience management (CEM) platform, SITA On Air GX Aviation onboard connectivity product, and the likes.
Or else SIA will be under further squeeze, boxed in between group subsidiaries and relentless external competition. It is time to revisit the half-baked strategy, before it is too late.