Domestic oil has been no match for Saudi Arabia, further exemplified by recent OPEC meeting results. According to statements from the December 4th conference, inventories have significantly increased and are well above a 5-year average. OPEC failed to establish a ceiling for production.
Iran set a target of a 1 million barrel increase per day, which would likely prompt Saudi Arabia to increase production to maintain a leading edge in market share. Lesser OPEC members as well as Western countries have been calling for a reduction. However, their interests and persuasion have proved to be inferior.
In Lieu of FINVIZ, screen Saudi Arabia holding companies
FINVIZ, "Financial Visualizations" is a popular stock screener. Aside from online tools for stock picking an investor can take a look at institutional portfolios. Many institutions share their positions on their company website and for domestic groups, their trailing activity can be tracked via NASDAQ.com or SEC.gov via the SEC Form 13F.
Many analysts, including myself have timed it wrong with the fall of MLPs and the Crude Oil WTI (NYMEX).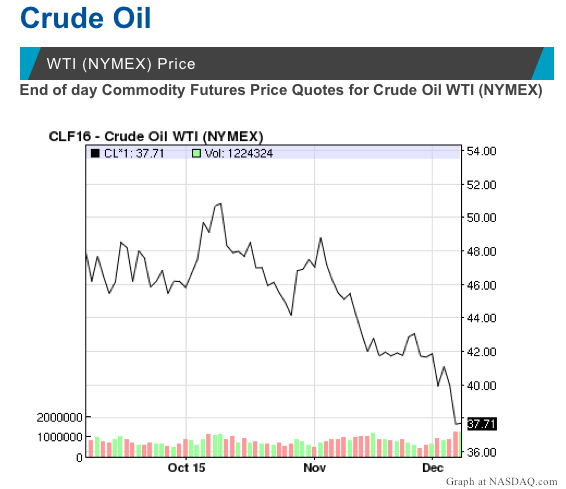 It's about time to look at what institutional holders are doing in the Kingdom of Saudi Arabia / KSA. Two of interest are: Kingdom Holding Company and Saudi International Petrochemical Company, aka, Sipchem.
How can a U.S retail investor align with Saudi Arabia?
There are several ways to invest in the Saudi stock exchange, the Tadawul. However, this method will look at NYSE and NASDAQ stocks that Saudi holding companies favor.
The Kingdom Holding Company holds Twitter, Inc. (NYSE: TWTR) and News Corp (NASDAQ: NWSA) to name a few. The Kingdom and HRH Prince Alwaleed increased acquisitions in October 2015 to jointly become the second largest shareholder of Twitter, Inc.
Twitter, Inc. has revenue growth of 57.6% Y/Y and the gross margin is high, yet operating expenses burn-up all revenue. Research and Development (R&D), a necessary expense in the industry, has a less than effective RORC. Free Cash Flow? Forget about it. The bullish story is the growth and branding. Periscope is their newer and trendy streaming video tech. It's gems like these that investors think can push Twitter, Inc. further into the social network lead.
At near 52-week lows, Twitter, Inc. is a tempting buy. The short percentage of float is 11.20%, which should give some caution to making entry. Oddly, this places the short percentage greater than the plunging Kinder Morgan, Inc. (NYSE: KMI).
Saudi Arabia's Petrochemical Industry
Both Kingdom Holding Company and Sipchem have positions in The National Industrialization Company (TASNEE), which trades on the Tadawul exchange. TASNEE is one of the petrochemical companies that benefit from the over supply of crude oil.
TASNEE was established in 1985 as the first joint-stock industrial company fully owned by the private sector, to promote or participate in a range of high value industrial arenas. In 2006, TASNEE acquired a 51% holding in petrochemical holdings specialist, National Petrochemical Industrialization Company (NPIC) which has since seen the company's focus lean more towards the petrochemical industry to capitalize on Saudi Arabia's extensive oil reserves. - per Kingdom's website
Another option then buying shares of TASNEE is acquiring a position in its U.S. partner: Huntsman Corporation (NYSE: HUN). According to the Sipchem 2014 Annual Report shown in the image below, Huntsman Corporation provides technology for the International Diol Company and jointly holds shares with Sipchem.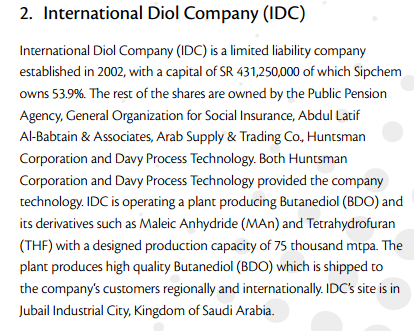 Huntsman Corporation specializes in organic chemical compounds derived from crude oil. One of which being ethyleneamine. A common use for ethyleneamines are lube-oil additives for gasoline and diesel engines. They have a ethyleneamines plant in Saudi Arabia.
Huntsman Corporation is not just diversified in Saudi Arabia. Their global presence is vast, as shown below in their latest presentation: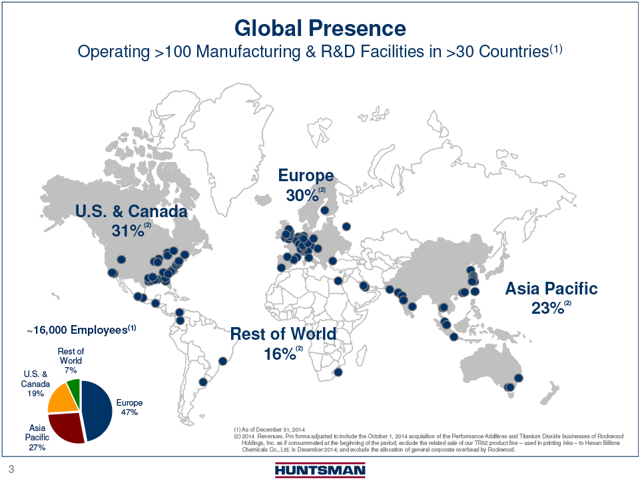 Huntsman Corporation has $10.92 billion in revenue. Price to sales is $0.24 and EV/EBITDA is 6.10. Price to earnings is high at 52.60, but this typically stays elevated. The price per share is near 52-week lows which enhances the dividend yield.
Huntsman Corporation dividend better than Kinder Morgan
With continued sell-off of Kinder Morgan, Inc. and the continued trend of the MLPs, their dividend too can be cut. While the lowered PPS of Kinder Morgan, Inc. produces a wild dividend yield of 12.43, this creates something of a value trap.
Huntsman Corporation on the other hand, has continued to beat recent quarterly expectations and has minimal loss in revenue growth. Their dividend has not been cut during the oil turmoil and now keeps a dividend yield of 4.69. Chart indication show shares to still have volatility and looking for bottom support, but nowhere near that of Kinder Morgan's relation to domestic crude oil prices.
Bottom Line
If you can't beat them, join them. Saudi Arabia portfolios show companies of interest that may weather our domestic oil problems. I consider both Twitter, Inc. and Huntsman Corporation to be stocks to watch. A buy-side pick is hard to make at this juncture. I'm waiting for more consolidation in the trading range and duration. Market volatility could still have shares trend down.
Update 12/23/2015: Upon further review of trade volatility, the bottom support for Huntsman Corporation appears to be the low 10s PPS. With support and the attractive dividend yield intact, I consider the stock to be a buy for a long-term investment position.
Disclosure: I/we have no positions in any stocks mentioned, and no plans to initiate any positions within the next 72 hours.
I wrote this article myself, and it expresses my own opinions. I am not receiving compensation for it (other than from Seeking Alpha). I have no business relationship with any company whose stock is mentioned in this article.