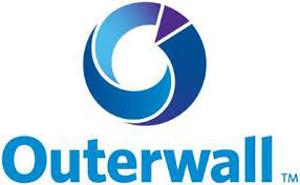 There are three major problems with investments in melting ice cubes. Outerwall (NASDAQ:OUTR) provides a great case study, but below I would like to outline why melting ice cubes make poor investments in general.
Let's start with the typical rational for the bull case in OUTR:
1: The market is pricing in a 15% per annum revenue declines over the next 5 years, and we see the decline rate more in the range of 5-8%.
In other words, a bullish investor might believe that market is pricing in a faster melting rate than you see. Everyone agrees that it is melting, but a bull may disagree about the speed of decline. The problem with this reasoning is that your upside is basically capped at the difference between the rate of declines. The market could be wrong, but the company is not a compounding machine that will be able to produce increasing cash flows in the future with corresponding re-investment opportunities.
2. A second, but more nuanced argument, against OUTR (or melting ice cubes in general) stems from the following rational. Given that OUTR is not a compounding machine, you will want to sell if the market does recognize a slower rate of decline than originally predicted. For example, look at the following chart to see where you could have disagreed with the market and bought shares at $51.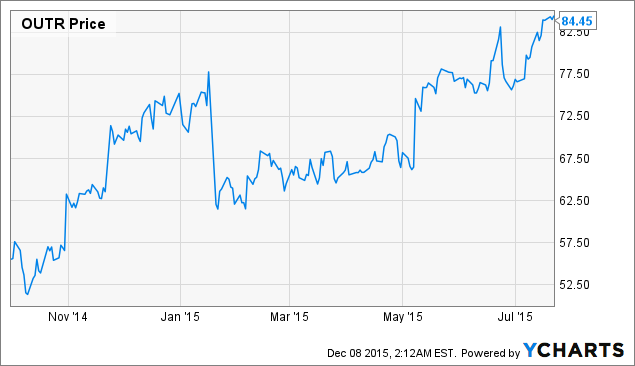 However, if you did not sell in sometime in July 2015 (and still hold the shares today), you will probably be looking at a 30-40% peak to current trading price loss when the market opens on Tuesday, December 8. If OUTR trades below $49, you will have a loss even after dividends.
Even the most bullish investors in OUTR probably don't expect to be holding their shares 10 years from now. As an owner in a melting ice cube, you are forced to sell if the market recognizes the melting rate is slower. However, getting the timing right can be difficult. And after you sell, you will be forced to make another investment decision. More frequent investment decisions only increases the odds that you will make bad decisions. Thus, investment returns in a melting ice cube are capped and you will need to find another company after you decide, thus increasing re-investment risk.
3. Capital Allocation: Frequently bulls in OUTR call for immediate cessation of all growth capex and 100% distribution of operating cash flow. Let's be frank, this is a pipe dream. I have yet to see a management acquiescence to their role as stewards of a melting ice cube. Even management at Berkshire Hathaway did not return all operating cash flow to shareholders. OUTR has made a commitment to return 75-100% of "free cash flow" to shareholders through dividends or buybacks. However, this past quarter, management illustrated how that commitment can be interpreted as management sees fit. OUTR spent $18m on its acquisition of Gazelle, despite repeated calls from shareholders to shut down ecoATM completely. The term "free" cash flow gives management a lot of wiggle room in how much cash flow they actually decide to return to shareholders.
There will be a lot of ink spilled the coming weeks debating the rate of decline at Redbox. Additionally, there will be repeated calls for an activist to step in and restrict management's futile attempts to grow the ecoATM business. However, melting ice cubes make bad investment opportunities in general and OUTR is a specific example where that general proposition holds true.
Disclosure: I/we have no positions in any stocks mentioned, and no plans to initiate any positions within the next 72 hours.
I wrote this article myself, and it expresses my own opinions. I am not receiving compensation for it (other than from Seeking Alpha). I have no business relationship with any company whose stock is mentioned in this article.