Part 1 in a Series
A Central Bank induced rally has gripped the stock market and driven the averages up in an almost straight line since mid December. The announcement of joint CB intervention on November 30th set the stage for this rather formidable rally. I'm loath to get in the way of this currency creation freight train of asset price appreciation. However, I'd be remiss if as a fund manager I drank the CB Kool-Aid and stopped analyzing market behavior.
To that end, over the past couple of weeks a disturbing number of bearish issues have begun to pile up and silence is no longer an option. I could begin the list of troubling issues with an extensive review of an ever growing pool of negative momentum readings. Issues such as the consistent negative divergence between the S&P500 and the % of stocks trading above their 10-day moving average are a good place to start. This divergence has grown in strength ever since January began and has reached a fever pitch recently. See chart below courtesy of Elliot Wave International: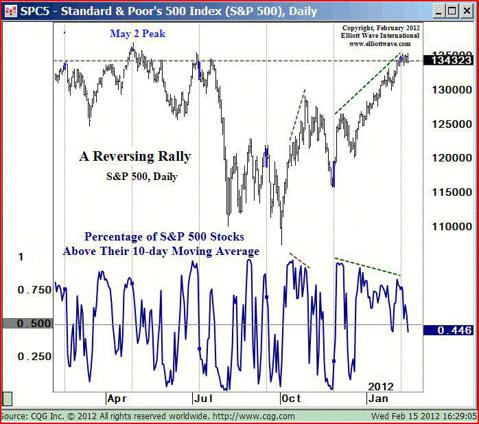 However, in my experience, momentum readings - while helpful with color commentary - are not real accurate with timing. For instance, markets can remain overbought for long periods and a short seller can be fleeced if using momentum figures alone to determine entry points. Anecdotes such as 'high levels of optimism' as evidenced today by the put/call ratio or volatility (VIX) - while true and troublesome - are not reasons alone to bet against a steam rolling bull market.
Even the ridiculous Barron's headline this weekend calling for DOW 15,000 (the story hypes all the way to 17,000) should not drive an investor to get bearish. Barron's uncanny and notorious ability to call the tops of markets in this manner, while tempting, cannot be used as a entry point for shorts. Other data must be compiled if a bearish approach is to be implemented and so the 'Stalking of the Bear' will commence. Below are a series of charts depicting a deleterious decay in the belly of the current bull.
Let us begin with the troubling loss of a leader. The price chart below of Apple Inc. (NASDAQ:AAPL) illustrates a clear, in fact, pristine example of a key bearish reversal. Rarely does one have the opportunity to witness such a perfect example of euphoria, exhaustion and reversal. AAPL powered above $500/share much to the delight of the talking heads on CNBC and the like.
A reference cloud of the number of times someone said on Financial TV AAPL was trading above $500 would have looked like a thunderhead. This type of ridiculous cheerleading about an innocuous number is typical of euphoria and exhaustion tops. Next, we see a technical analyst's dream of a reversal. A much applauded high of the day $526.29 turns into a low of the day close at $496.89. This close is accompanied by the highest volume of trading seen since the market rally started in December, classic action for a top reversal.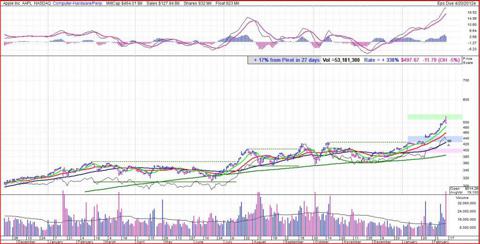 When an army loses its most important general the battle is often lost. AAPL accounts for 9% of the NASDAQ's movement, more than that of Microsoft (MSFT 4.9%) and Google (GOOG 3.8%) combined.
Next, I'd like to review the Transportation index. Transports are notorious for leading the markets up and down. The chart below says it all. We have a rising wedge going back to October and Wednesday marked the breakdown day. You may also note the three rather prominent red down day volume spikes during the month of February. Clearly distribution of the transports is underway.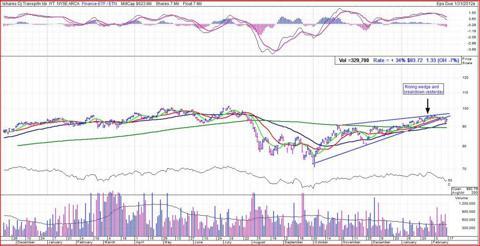 Moving on, let's examine the predictive powers of the industrial metal Copper. The price action of this metal can be used to confirm an equity market move or in many cases lead. We can see in the chart below the clear signal generated at the beginning of August 2011 when copper broke below the 200 day moving average (Green Line). Now, at the far right of the chart we see Copper gapped below the 200 day M.A. six trading days ago and has lost ground every day since. At the very least this is another dangerous sign for an extended equity market.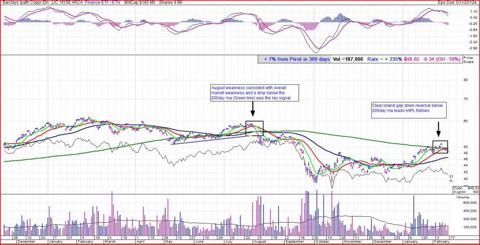 While the markets continue to charge ahead on any positive news emanating from Europe, I will continue 'Stalking the Bear' in the pages of my blog. Bull markets are very much like the animal. They can be mortally wounded and yet still gore the bull fighter. So, for now, caution is warranted but outright bearish aggression not advised. Stay tuned.
Disclosure: I am long MSFT.