During times of stronger economic growth and rising interest rates, small-capitalization stocks have outperformed their large-cap counterparts. Add to the mix an approaching strong seasonal pattern, and you have the recipe for small-cap outperformance. The small-cap sector of the market will likely post a year-end rally and outperform large-caps over the next six months, if history is any guide.
Small-caps have actually trounced large-caps by about 7% this year through their peak on June 23rd. Since then, large-caps have "turned the tables", with the S&P 500 ahead by approximately 4% year-to-date. However, it's time to overweight small-caps in your portfolio as history clearly favors stocks of small companies at this juncture in time.
Much has been written over the years confirming the seasonal tendency for small-caps to outperform from January to June. Let's take a look at a chart, which illustrates the seasonal pattern: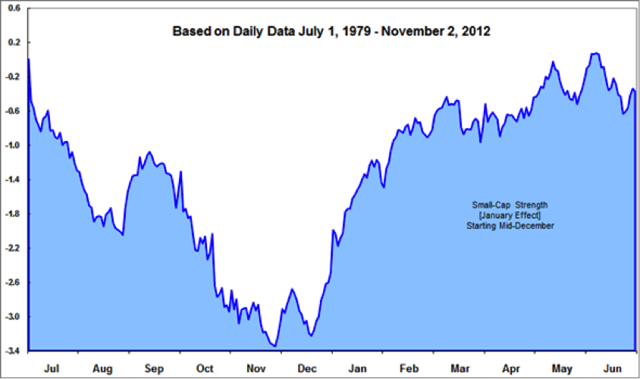 Source: Jeffrey A. Hirsch, Stock Trader's Almanac
When the line on the chart is descending, large-caps are outperforming small-caps; when the line on the chart is rising, small-caps are moving up faster than large-caps.
Based on this strong historical seasonal pattern, it may be prudent to trim your exposure to large-cap stocks and overweight small-caps for the next six months or so. Smaller companies tend to do most of their business within the U.S. and should benefit particularly from the modestly improving U.S. economy. With all the tax-loss harvesting going on this month, mid-December would be an appropriate time to begin buying the sector.
There are a few ways to potentially capture the small-cap seasonal phenomenon. The Vanguard Small-Cap ETF (NYSEARCA:VB) is a solid choice with the lowest expense ratio in the space, at just 0.09%.
The SPDR S&P 600 Small Cap ETF (NYSEARCA:SLY) is limited to just 600 or so small company stocks. The selection universe for this fund includes all U.S. common equities listed on the NYSE, NASDAQ Global Select Market, NASDAQ Select Market and NASDAQ Capital Market with market capitalizations between $250 million and $1.2 billion.
The iShares Core S&P SmallCap 600 ETF (NYSEARCA:IJR) is an ETF which offers inexpensive, superior performance. Its expense ratio is just 0.12%.
If you're looking for a more widely diversified fund spread across sectors and the growth-value spectrum, the iShares Russell 2000 ETF (NYSEARCA:IWM) fits the bill. It's the largest ETF in the small-cap sector and carries an expense ratio of 0.20%.
Lastly, the PowerShares DWA SmallCap Momentum ETF (NYSEARCA:DWAS) is an interesting choice. Dorsey Wright & Associates, an internationally recognized firm for its work in tactical asset allocation and technical analysis, selects securities pursuant to its proprietary selection methodology, which is designed to identify securities that demonstrate powerful relative strength characteristics. DWA has an excellent track record and a wide following. Its expense ratio is the highest of the group, coming in at 0.60%.
Year-to-date, IJR, DWAS and SLY have performed similarly and all three are outperforming VB by approximately +1.97% and IWM by +2.33%.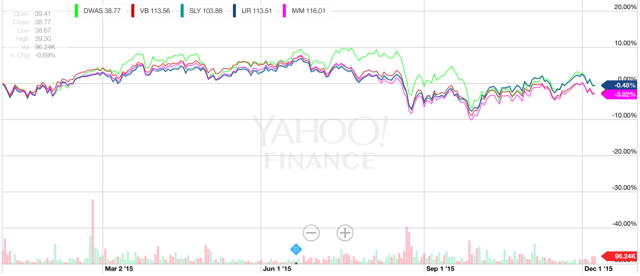 Here is a longer-term chart going back to June of 2012: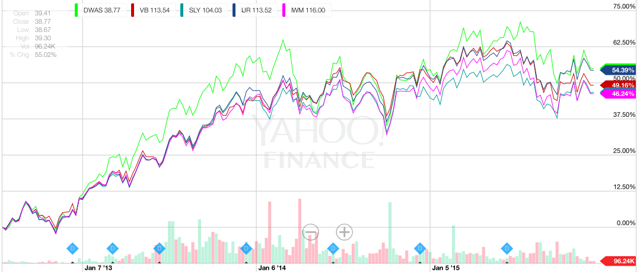 IJR and DWAS, again, have performed similarly and have outperformed VB by +5.86%, SLY by +8.27% and IWM by +8.78%, respectively.
IJR has edged out most of the other ETFs over various time periods and combined with its very low expense ratio, makes it a very attractive choice in the small-cap space.
Conclusion
The outlook for small-cap stocks looks favorable right now.
One of the most important factors powering the performance of small-cap stocks is economic growth. Studies involving past rates of return have shown that during times of improving economic conditions and rising interest rates, small-cap stocks tend to outperform large-caps.
We would use the weakness we're seeing in early December to accumulate small-caps via low-cost ETFs through year-end.
Disclosure: I/we have no positions in any stocks mentioned, but may initiate a long position in VB, IJR, DWAS over the next 72 hours.
I wrote this article myself, and it expresses my own opinions. I am not receiving compensation for it. I have no business relationship with any company whose stock is mentioned in this article.
Additional disclosure: Additional disclosure: George Kiraly Jr., CFP®, MBA is the president of LodeStar Advisory Group, LLC, an independent Registered Investment Adviser located in Short Hills, New Jersey. George Kiraly, LodeStar Advisory Group, and/or its clients may hold positions in the ETFs, mutual funds and/or any investment asset mentioned above. The opinions offered herein are not personalized recommendations to buy, sell or hold securities.