Major Drilling (OTCPK:MJDLF) is a Canada-based drilling company. Contrary to Energold Drilling (OTCPK:EGDFF), a diversified mineral and energy drilling company with some manufacturing operations (for details, refer to my two articles (here and here) on Energold), this company is basically totally focused on mineral drilling. Therefore, the main Major Drilling's clients are senior and intermediate metals producers, operating in the gold and copper sectors. What is interesting, currently the company's shares are valued much higher than its peers. For example, as of December 4, 2015, its shares were trading at a multiple of "enterprise value to sales," standing at 1.13, while its peers were trading at multiples below 0.75. Simply put, despite a harsh downturn in the mineral drilling sector, Mr. Market is valuing Major Drilling's shares very kindly, at least against its peers. On the other hand, similar to other drilling companies, since the beginning of 2012, the company's shares have been steadily going down. Please look at the following chart: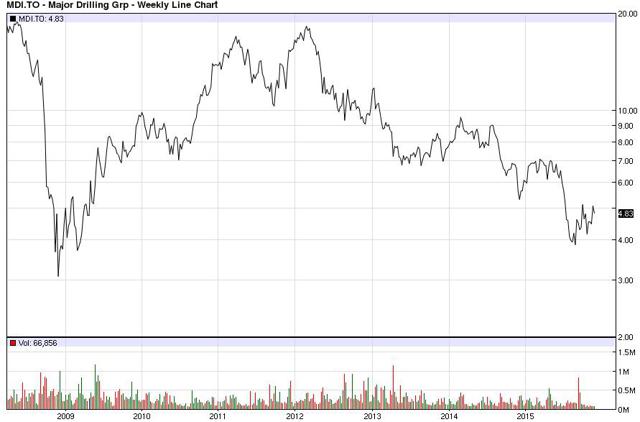 Source: barchart.com
In this article, I would like to give a short description of Major Drilling and its main strengths. Apart from that, I would like to focus on some positive changes in the company's performance. As in the case of Energold, in the first two quarters of the fiscal-year 2016, margins, reported by Major Drilling, were slightly higher than in the same period of 2015. In my opinion, these higher margins may be a sign of an incoming change in the mineral drilling sector.
Business Description
The company's motto is (Presentation, slide 5):
"Our business premise is that the new deposits over the next twenty years will be in areas with difficult access and that specialized drilling will be a larger part of the market."
Well, this motto is similar to Energold's. It seems that as far as mineral drilling is concerned, both companies see their chances in the value-added services offered to mining companies operating in remote areas. On the other hand, these two companies are totally different as far as their growth strategies are concerned.
Energold grows its business through acquisitions of leading companies specialized in certain methods of drilling. For example, in 2011, Energold acquired Bertram Drilling, a company servicing the energy sector. This way, Energold entered the energy drilling sector, but to grow this business, the company expands Bertram's operations organically with no further acquisitions.
Contrary to Energold's strategy, Major Drilling grows its business mainly through acquisitions. Each time the company wants to enter a regional market or it wants to add a new method of drilling, it acquires a company operating at this specific market or offering this new method of drilling.
Now, let me show where Major Drilling is getting its contracts from. The chart below presents revenue by the type of projects: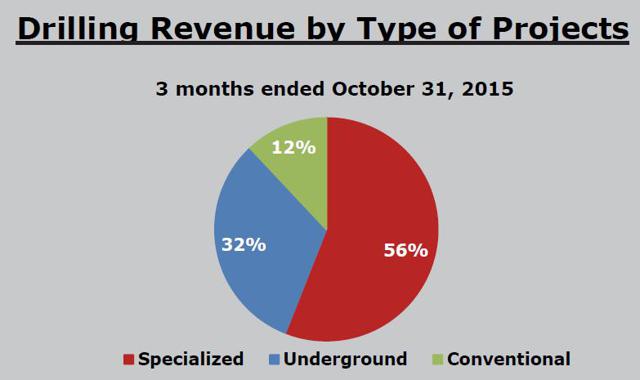 Source: Major Drilling presentation, slide 13
As the chart shows, the specialized drilling was the main sector, where the company was operating. What is a definition of specialized drilling? According to the company:
"Specialized drilling can be defined as any drilling project that, by virtue of its scope, technical complexity or location, creates significant barriers to entry for smaller drilling companies. This would include, for example, deep‐hole drilling, directional drilling, and mobilizations to remote locations or high altitudes."
Most frequently, the specialized drilling accommodates the following drilling methods: deep-hole drilling, directional drilling, projects requiring portable drill rigs etc. Currently, the company owns 699 rigs, of which 343 are classified as "specialized" rigs, 189 are "conventional" rigs, and 167 are "underground" rigs. One has to note that the rigs included in one of the above categories may be, depending on circumstances, quite easily reclassified into another category. Therefore, the best way to understand this classification is to read it in the following way:
"In 3Q 2015, 343 rigs were employed at specialized drilling projects, 189 rigs were employed at conventional drilling projects, etc."
Another point, although as many as 343 rigs were drilling on behalf of specialized projects, these rigs were utilizing only 28% of their capacity. Putting it differently, although the specialized rig fleet consisted of 343 rigs, only 96 were working at their full capacity (28% x 343). In my opinion, such a low utilization rate confirms the fact that the drilling industry is still in a bad condition. What is more, in 3Q 2015, revenue earned in specialized drilling accounted for 56% of the total revenue while in good times, for example in 2012, the company earned as much as 70% of total revenue in this kind of drilling. Therefore, Major Drilling is probably right saying that in the coming future the big money is going to be made in the technically complex methods of drilling. However, due to the current downturn, drilling companies have to focus on different services in order to survive. In the case of Major Drilling, this "different service" is underground drilling. The company defines "underground drilling" in the following way:
"Underground drilling takes on greater importance in the latter stages of the mining cycle as clients develop underground mines."
This type of drilling delivers lower margins than, for example, specialized drilling, but it is that type of drilling which is now sought by big and intermediate mining companies (mainly focused on developing their operating mines). Hence, the last year's acquisition of Taurus, a company having an expertise in percussive/long hole underground drilling.
In the short term, this acquisition seems to be the right move. In 3Q 2015, Major Drilling earned 32% of total revenue in underground drilling. It means that, during hard times, this method of drilling attracts more interest from mining companies (in good times, for example in 2012, only 8% of revenue was attributable to the underground drilling). Looking at the rig count, in 3Q 2015, 167 rigs were employed in underground drilling, but their utilization rate of 47% was much higher than that related to specialized drilling. Such a rate of utilization means that 78 rigs were utilized at 100% of their capacity, a little bit below 96 rigs fully employed in specialized drilling.
Finally, conventional drilling (called also "conventional surface drilling") accounted for 12% of total revenue. The company had 189 rigs employed in conventional drilling, with a utilization rate of 11% (20 rigs working at their full capacity).
Financial Results
The table below presents the company's results as of October 31, 2015:
Table 1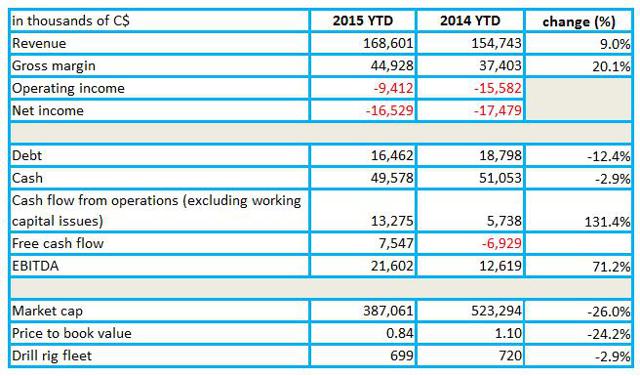 Source: Simple Digressions and the company's results
As the chart shows, despite a cyclical downturn in the precious and base metals sectors, year to date, Major Drilling delivered quite decent results. In my opinion, one of the most important performance measures in the drilling industry is gross margin. In hard times, gross margins delivered by drilling companies are much lower than those delivered in good times. Major Drilling is no exception. The chart below documents the company's gross margins, starting from 2007: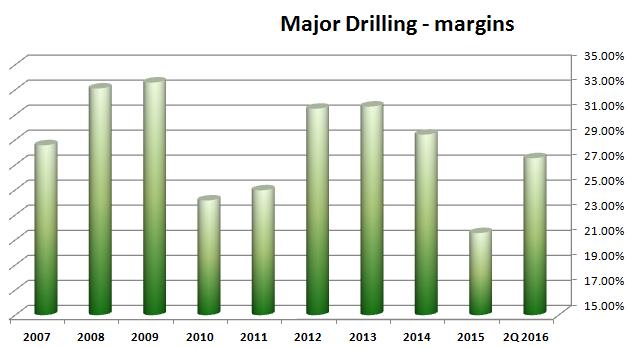 Source: Simple Digressions and the company's reports
Note: The company's fiscal year ends on April 30. 2Q 2016 relates to a three-month period starting from August 1, 2016.
As the chart shows, when times are good, the company reports gross margins above 30% (2008-2009 and 2012-2013). On the other hand, in bad times, gross margins go significantly lower. For example, between 2010 and 2011, when the bull market in precious and base metals was accelerating, gross margins were standing at 23-25%. In 2015, during a strong cyclical downturn, the company printed a very low gross margin of 21.6%.
However, in 1Q and 2Q of fiscal year 2016, Major Drilling reported higher margins of 25.8% and 27.5%, respectively. Is it a sign of a cyclical bottom? I will answer this question as usually - "I do not know" - but I guess it could be the first sign of an incoming change.
Going back to the chart, this fiscal year's increase in margins looks like a similar occurrence in 2010 when precious and base metals markets were accelerating.
Another business feature, in hard times, Major Drilling operates mainly in stable markets like Canada and the U.S. In the second quarter of fiscal-year 2016, as much as 66% of the company's revenue was attributable to these markets. On the other hand, in good times, the biggest revenue is attributed to emerging markets like Central and South America, Asia or Africa (in 2013, these regions were responsible for 54% of total revenue). Currently, as I have noted above, 66% of total revenue was earned in the U.S. and Canada. What is more, only in these two countries the company reported operating profits (C$3,511 thousand in fiscal 2Q 2016 while in other regions the company lost C$3,581 thousand).
As the table 1 presents, apart from decent revenue and earnings, the company has a strong balance sheet. At the end of October 2015, Major Drilling was holding cash of C$49.6 million and debt of C$16.5 million. Nevertheless, despite this strong balance sheet, I realize that some investors may feel uncomfortable with the fact that, in the beginning of 2015, the company cut its semi-annual dividend from C$0.10 to C$0.02 per share. Well, I think it was a proper behavior. In fiscal-year 2015, the company generated negative free cash flow of C$2.3 million. Paying around C$14 million in annual dividends while reporting cash flow deficiency could be too risky. On the other hand, in the first and the second fiscal quarters of 2016, the company generated free cash flow of C$7.5 million. In this way, the current annual dividend of C$3.2 million run rate is well supported by its free cash flow; what is more, I believe that Major Drilling should quickly return to its former dividend rate if it performs in such a good way it performed year to date.
Valuation
Below, I am presenting two relative valuation charts (as of December 4, 2015). The first one shows a multiple of price to book value (P/BV) and the second one a multiple of enterprise value to sales (EV/Sales):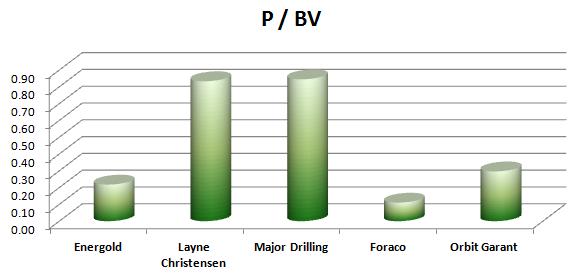 Source: Simple Digressions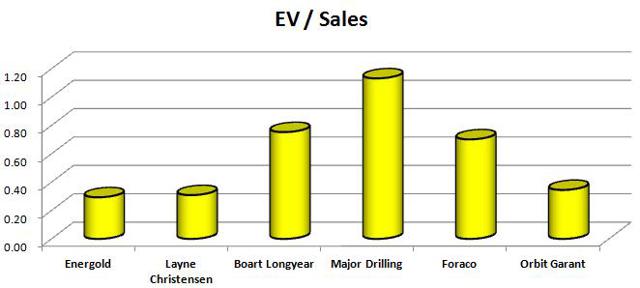 Source: Simple Digressions
Both charts indicate that Major Drilling's shares are valued much higher than their peers. In my opinion, the company is prized for its strong balance sheet and relatively stable earnings. That is why I think the company's shares are an interesting investment opportunity for investors interested in putting their money in one of the largest and most stable mineral drilling companies.
Major Drilling's Long-Term Performance
I believe that one of the best ways to prove the long-term financial stability of the company is to calculate its book value per share.
The following chart shows this ratio, starting from 2007: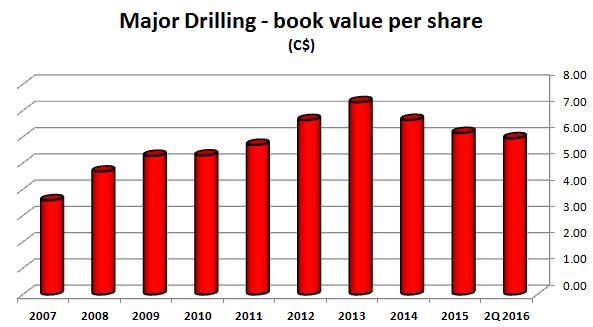 As the chart shows, even during the last cyclical downturn (2008-2009), the company was able to increase its book value per share. The current downturn is much stronger than the first one, so Major Drilling's book value per share went down from C$7.32 in fiscal-year 2013 to C$4.83 at the end of the fiscal second quarter of 2016. Nevertheless, in my opinion, this decrease in book value per share has been relatively small. Simply put, the company is sailing through the current downturn in a safe way.
Change In Management
On June 16, 2015, the company announced the retirement of Francis McGuire as President and CEO of the company. Mr. McGuire was leading the company for 15 years, so his retirement should be treated as a milestone event in Major Drilling's history. Fortunately, his successor, Denis Larocque, joined the company in 1994, so he definitely knows the drilling business very well. I believe that this smooth management change should not have a negative impact on the company's operations.
Summary
Major Drilling is one of the largest drilling services providers operating in a number of regions around the world. The company is focused on mineral drilling, offering its services to the precious and base metals mining companies. Despite the ongoing cyclical downturn in the precious and base metals industries, year to date, the company was able to deliver very decent financial results; in my opinion, one of the best in the industry. What is more, in the first and the second fiscal quarters of 2016, Major Drilling reported higher margins than in the same periods of fiscal-year 2015. Although it is too early to announce the end of the current cyclical downturn, this increase, confirmed by another drilling company, Energold, is encouraging. That is why, in my opinion, Major Drilling's shares may be of some interest to investors looking for an indirect exposure to the precious and base metals markets. Although the company's shares are presently overvalued against its peers, they offer financial stability and an established reputation as an experienced mineral drilling company.
Disclosure: I/we have no positions in any stocks mentioned, and no plans to initiate any positions within the next 72 hours.
I wrote this article myself, and it expresses my own opinions. I am not receiving compensation for it (other than from Seeking Alpha). I have no business relationship with any company whose stock is mentioned in this article.
Editor's Note: This article covers one or more stocks trading at less than $1 per share and/or with less than a $100 million market cap. Please be aware of the risks associated with these stocks.