Despite posting a better-than-expected bottom line performance at the beginning of November, Crescent Point Energy (NYSE:CPG) shares have lost over 16% of value in the past month. Now, considering the recent weakness in crude oil pricing with the commodity trading near seven-year lows, this drop isn't surprising.
However, in my opinion, Crescent Point is one of the better-placed companies in the oil industry as it is capable of performing well even in a weak oil pricing environment due to aggressive cost-reduction measures. Let's take a look at the reasons why investors can consider Crescent Point on the drop.
Recovery optimization will lead to a lower break-even level
Crescent Point is increasing the efficiency of its recovery operations by deploying step-out and infill drilling, along with waterflood optimization, to enhance its production at lower costs in a depressed oil price environment. For instance, it has eliminated fresh water usage in its new wells in both the Viewfield Bakken and the Shaunavon plays by over 50% of late. As a result of this move, the company's operating expenses have dropped along with a reduction in its decline rate, while resulting in improved recoveries at the same time.
More importantly, Crescent Point plans to reduce the usage of fresh water in all of its Viewfield and Shaunavon plays during well completion by the end of 2016. This should enhance its recovery rate and improve production at a reduced cost. The following chart clearly shows the drop in fresh water usage at Crescent Point's assets, along with a decline in the company's drilling times.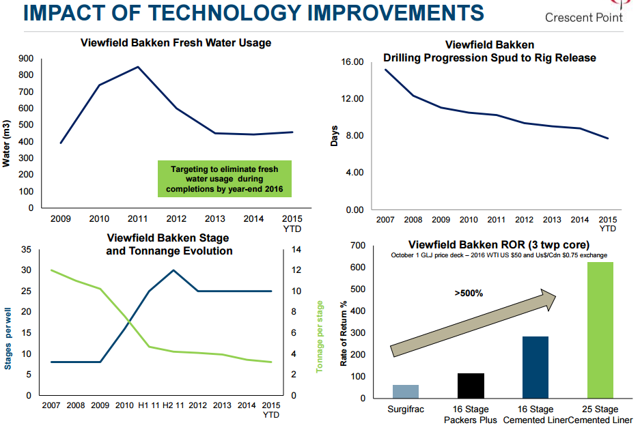 Source: Crescent Point presentation
As seen above, Crescent Point is implementing more frac stages, which has helped the company reduce costs by controlling the amount of waste tonnage. Additionally, higher stages have led to a drop in its drilling days, while increasing production at the same time. In fact, in quantifiable terms, Crescent Point has achieved a remarkable reduction in costs.
For instance, the company has reduced its drilling and completion costs at the Viewfield Bakken play by over 30% so far this year as against 2014 levels. These operational cost savings should enable the company to manage its drilling programs more effectively going into 2016 and achieve a break-even point at lower levels of oil pricing.
In addition, Crescent has reduced its development capital expenditure by over 42% and 14% for the third quarter and for the first nine months of 2015, respectively. These operating as well as capital cost savings should provide the company with greater flexibility in managing its business in the coming years. In fact, Crescent Point plans to further reduce its spending next year if prices stay low, a move that will release further cash and enable the company to operate within its cash flows.
More importantly, this will help the company tap smaller size tuck-in type opportunities through its acquisition strategy that it plans to fund internally with its cash flows.
Crescent's hedge position and balance sheet strengths are some more positives
Crescent Point has a strong hedge position that will allow it to cushion the drop in oil pricing to a certain extent. The company has approximately 53% of its oil production hedged for the remainder of 2015 and 33% hedged in 2016 at attractive prices, as seen in the chart below.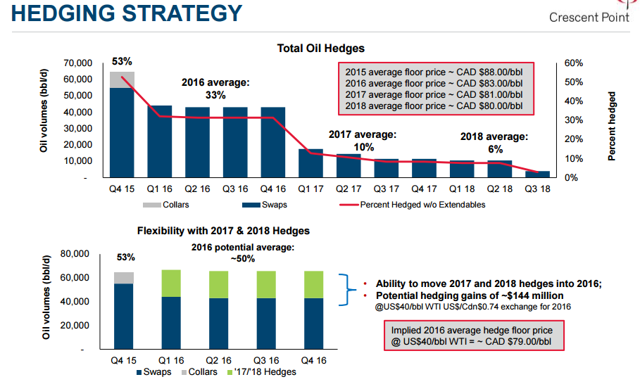 Source: Investor presentation
More importantly, Crescent Point has additional hedges extended to 2017 and 2018 that it plans to bring it forward in order to boost its cash flow and protect its balance sheet. Moreover, the company has a relatively robust balance sheet with approximately $1.4 billion of unutilized credit facility. Also, the company doesn't have much in terms of near-term debt maturities, with the majority of its maturities expected to take place over a 3-5 year period, as shown below.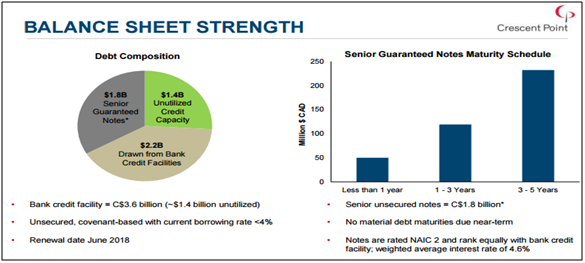 Source: Investor presentation
In fact, Crescent Point has a pretty decent debt-equity ratio of 0.37, which is the lowest among its Canadian peers as shown in the chart given below: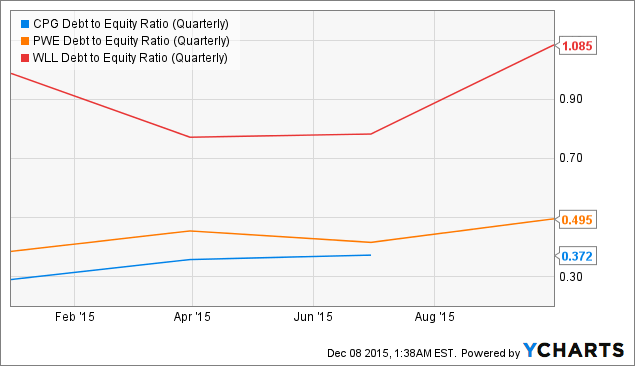 CPG Debt to Equity Ratio (Quarterly) data by YCharts
Additionally, the fact that Crescent Point has generated almost $1.6 billion in operating cash flow over the past year indicates that the company is well positioned from a fundamental perspective to service its debt.
Conclusion
Thus, there are a number of positives regarding Crescent Point Energy that investors should not ignore. The company had outperformed earnings expectations by a wide margin last quarter as its cost-cutting efforts started bearing fruit. Looking ahead, Crescent Point should be able to reduce costs further as it is implementing technology improvements such as more stages and using less water to improve the efficiency of its wells.
Additionally, it has a decent debt and cash flow position. So, the recent drop in Crescent Point's stock price looks like an opportunity for investors to buy the stock as it is well positioned to do well in a weak oil pricing environment.
Disclosure: I/we have no positions in any stocks mentioned, and no plans to initiate any positions within the next 72 hours.
I wrote this article myself, and it expresses my own opinions. I am not receiving compensation for it (other than from Seeking Alpha). I have no business relationship with any company whose stock is mentioned in this article.