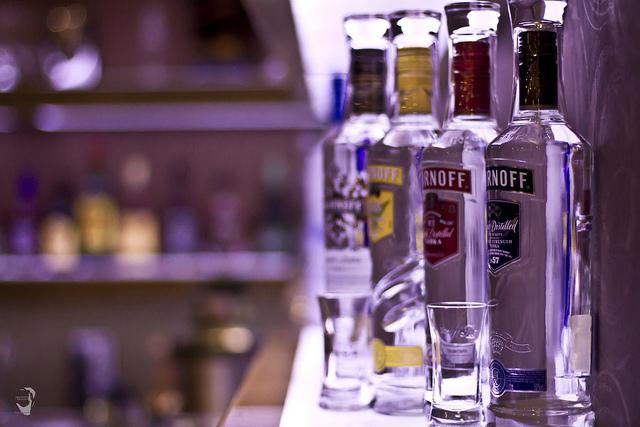 I have written previously about the attractions of investing in Jack Daniels maker Brown-Forman (NYSE:BF.A) (NYSE:BF.B) in which I reviewed its fellow international peers Pernod Ricard (OTCPK:PDRDY), Remy Cointreau (OTCPK:REMYY), Davide Campari (OTCPK:DVDCY) and -- the largest of them all -- Diageo (NYSE:DEO). This article will return specifically to look at this last one: Diageo.
Diageo's performance was also so impressive I felt it needed an article for itself to ascertain its fair value and whether it is worth buying today.
Diageo is the largest spirits maker in the world with global brands such as Smirnoff vodka, Johnnie Walker whisky, Tanqueray gin, Baileys liqueur, Captain Morgan rum and -- a left-over from its arrival as a merger between Guinness and Grand Metropolitan -- Guinness stout. It is a massive company with massive brand appeal.
In this article, I will compare Diageo's figures to those of Pernod Ricard and Brown-Forman, as between them they represent the top three largest listed spirits makers. Doing so gives us an added benefit, as while Brown-Forman is displaying a financial performance and strength at present well ahead of its peers, Pernod Ricard is performing much more in line with the sector average.
Pressured Earnings Growth
Diageo has been struggling the last couple of years to put together further earnings growth. They have managed to produce growth in three of the last five years. In contrast, its rivals have managed growth in:
Brown-Forman: 4/5 years
Pernod Ricard: 4/5 years
Diageo has seen its EPS shrink in the last two years. In contrast, both Pernod Ricard and Brown-Forman have managed to put together some growth.
That being said, growth is expected to return going forward. According to analysts' estimates, EPS should grow over the next two years by about 4.2% a year. However, that is slower than the c.7% per year growth predicted for Brown-Forman and Pernod Ricard.
Nonetheless, Diageo has been undergoing a fairly substantial restructuring over the last few years. The result of this effort will hopefully materialize in the next few years. As such, revisions seem likely to be upwards going forward.
What is more, the current 4.2% growth prediction reflects what is expected to be flat earnings in 2016, followed by a c.8% growth the year after. As such, Diageo looks on the cusp of being in line with its rivals growth.
Impressive Dividend Record
Diageo also has a very impressive dividend history. Indeed, since it was formed in 1998 it has grown its dividend every year. However, as an ADR holder (incidentally, worth 4 ordinary shares) you may have missed this fact.
Diageo -- being a UK-based company -- declares earnings and dividends in GBP, which are then being converted to USD for payment to ADR holders.
The result is that whereas the GBP dividend shows an attractive and progressive growth, the USD dividend (faced by the fickle foreign exchange rate) is a lot more "lumpy":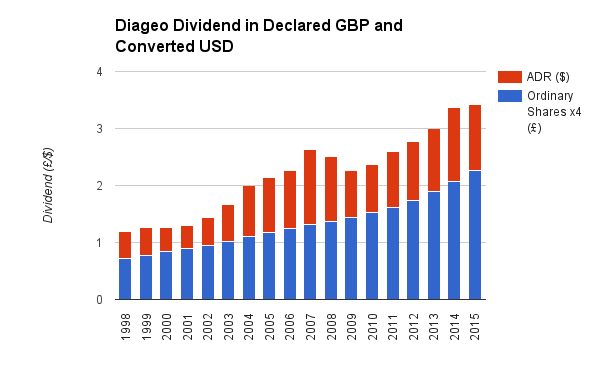 Even with currency fluctuations, ADR holders have seen real USD dividend growth in all of the last five years. This is matched by Pernod Ricard and Brown-Forman. Indeed, while Diageo can claim a dividend growth history stretching back 17 years, Brown-Forman can top it after becoming a Dividend Aristocrat in 2010. Very impressive indeed.
Highest Sector Yields
Diageo also has the highest dividend yield by far in the sector: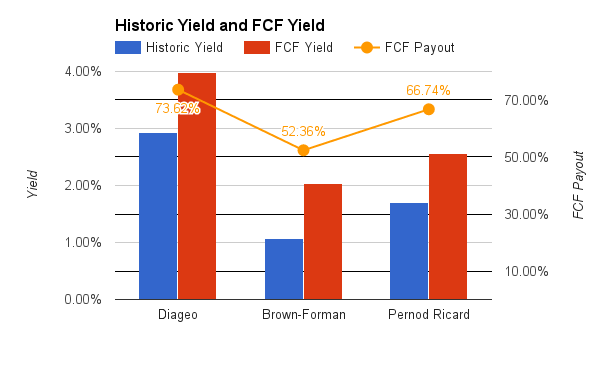 The historic yield at present is touching the 3% level (nearly twice that of Pernod Ricard and three time Brown-Forman's dividend). What is more, the FCF yield is sitting is edging close to 4% compared to the 2% to 2.5% FCF yield of the other two.
Of course, Diageo is also paying out more of its FCF as a dividend than its rivals with nearly three-quarters heading out as cash dividends. Yet we should see this improve in the next few years due to capital expenditure savings.
Free Cash Flow Strong with a Potential Boost
Indeed, Diageo has continued to produce prodigious amounts of cash despite a generally declining FCF. Since 2011, capital expenditure has increased by an annualized rate of about 8.7%, while operating cash flow (OCF) has only increased at an annualized rate of 3.1%, with the total rising from £419 million in 2011 to £638 million in 2015.
This has left Diageo with a FCF to OCF sitting around the average of its peers: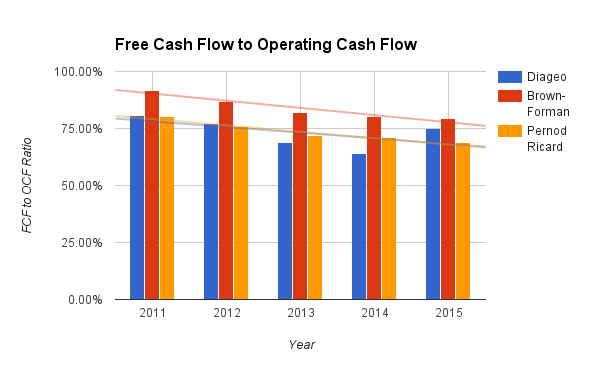 Brown-Forman is, as mentioned in my previous article, easily the strongest performer in the spirits sector in this regard. But Diageo's heavy restructuring over the last few years has really dented its equally impressive historic record. Consequently, its five-year average FCF to OCF conversion rate sits snugly among its peer average at about 73%: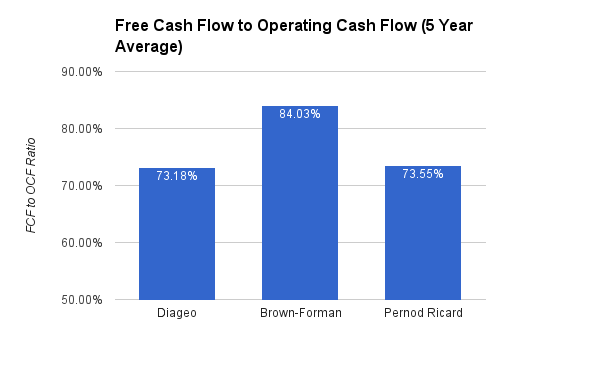 This should return to a higher level in the next few years. Between 2014 and 2015, Diageo managed to stabilize CapEx at around £640 million. For 2016, the company expected at preliminary results time that CapEx would drop to £590 million. Hopefully, this should continue to drop to around £500 million over the next few years.
The company's cash flow situation is also still looking superb. The Cash Flow Return on Equity over the last five years has been above all of its peers (including star performer, Brown-Forman):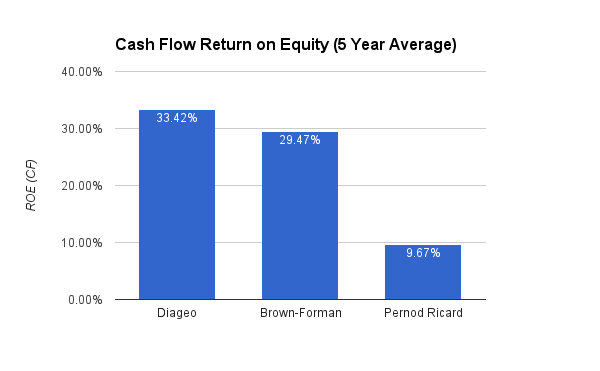 In other words, over the last five years Diageo has managed to turn each $1 invested into $0.33 in cash flow. Impressive as this may be, Diageo did start in 2011 with a Cash Flow ROE sitting at an even more impressive 41%. Since then, they have seen a fairly steep decline:
Yet 2015 saw them turn the corner with an improvement in Cash Flow ROE, which should continue going forward, keeping up with or perhaps better than sector outperformer Brown-Forman. This looks very good indeed.
Strong Operating Margins
The strength of these spirit companies' brands has always underpinned very strong operating profit margins. Diageo has been no exception. Despite the somewhat lackluster few years, their margins have held up well: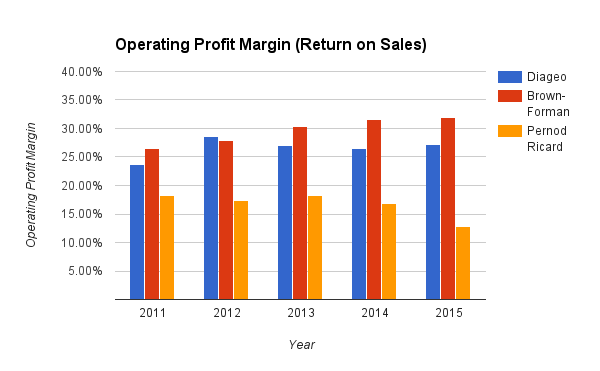 This has resulted in a five-year average margin, which compares favorably to the super-performing Brown-Forman (although BF.B has managed to produce consistent margin growth over the last 5 years):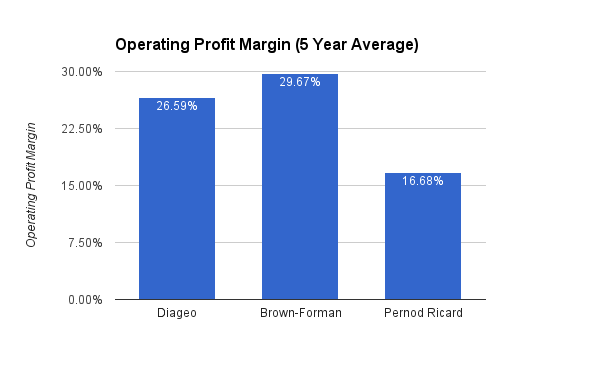 Overall, Diageo has proven more than capable at maintaining its operating margins despite the challenging markets, which looks very good indeed. It will be interesting to see whether they can retain these into 2016 and beyond. Looking at their history, I see no reason why not.
Heavy but Manageable Leveraging
Diageo's debt looks less favorable than its international peers', however. Diageo carries a lot more debt on its books: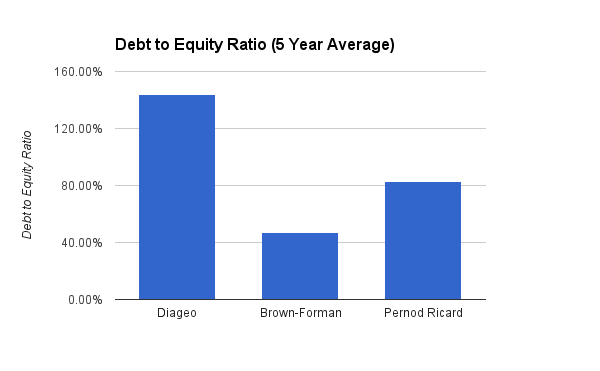 This, of course, is something to keep an eye on. The debt level is not crippling for a company like Diageo with such reliable earnings power. But it does seem unnecessarily high. That being said, they have been addressing this of late: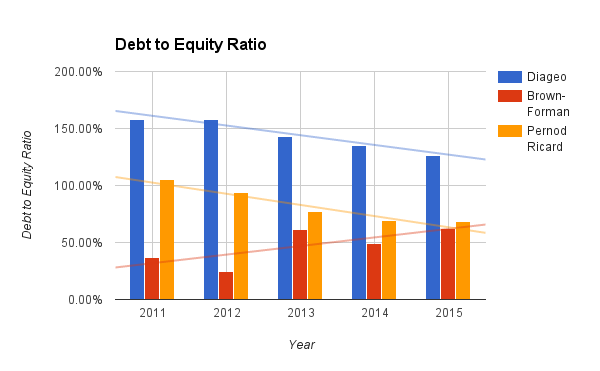 Despite this, the strength of the company's financials has meant that it saw its effective interest rate on this debt drop from 3.8% to 3.5% in 2015. What is more, its credit ratings remain robust:
 
Diageo
Brown-Forman
Pernod Ricard
 
Rating
Outlook
Rating
Outlook
Rating
Outlook
Fitch
A-
Stable
A+
Stable
BBB-
Stable
Moody's
A3
Stable
A1
Stable
Baa3
Positive
Standard & Poor
A-
Stable
A-
Stable
BBB-
Stable
This is perhaps little surprise as despite its very hefty debt load, it continues to have an impressive debt coverage by FCF: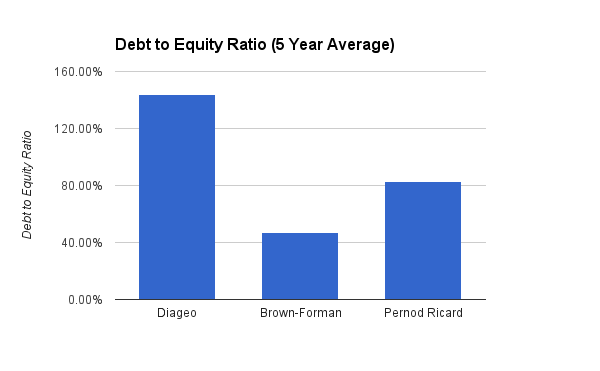 This means that in just under 6 years, Diageo would be able to repay its debt from FCF if it decided to. Obviously, Brown-Forman again outperforms peers in this regard. But Diageo's results show a robust company in good health. What is more, in 2015 we saw the FCF to Debt ratio improve by about 7% after 2013 and 2014 saw historically low coverage: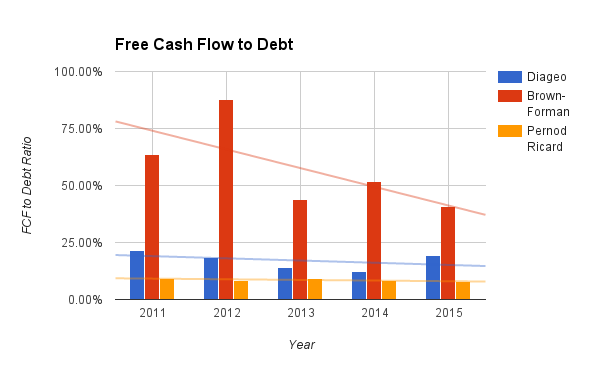 In light of the recent changes and future potential progress regarding cash flow and paying down debt, I expect to see this improve at a comfortable pace going forward.
Good Relative Value to Peers
As we can see, Diageo has performed well compared to peers. While Brown-Forman has continued to streak ahead with impressive metrics, Diageo has managed to pull out consistently solid and often equally (if more modestly) impressive results.
However, where Diageo really shines is with regard to valuation. Brown-Forman is trading very high, but Diageo is trading more in-line with less stellar performing peers such as Pernod Ricard: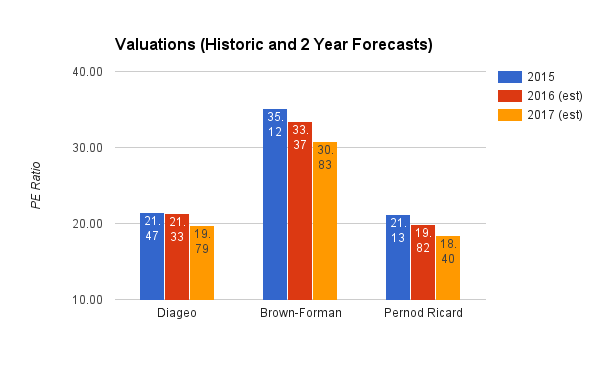 For me, Diageo looks the most attractive at its current value and future potential. But what is its fair value?
Fair Value
Diageo is still trading ahead of its five-year average. At a P/E of nearly 21.5, it is running well ahead of the 18.5 it has averaged over the last half-decade.
I work out my fair value for companies by averaging the consensus EPS predictions for the next two years and multiplying this by the five-year average P/E above.
This would produce a fair value price for the Diageo ADR of $103.76.
I then adjust this for the cash the company has on its books. This would produce an adjusted fair value price of $104.72.
However, I would argue that the financial strength of the company and its brands, as well as its potential for reversing a handful of disappointing years means it should have a slight premium to its five-year average closer to its c.20 P/E for the last two years. I would argue that a P/E around 19.5 would not be unreasonable for such a high-quality, globally diversified spirits maker. This would produce fair value prices of:
Basic: $109.12, or 4.9% below the current price.
Cash adjusted: $110, or 4.1% below the current price.
All in all, I think Diageo is still a little overpriced. However, if it was to drop below $110, I would consider topping up. And, if it went closer to $104 to $105, I would find it hard to not seriously consider topping up further.
Notes
NB: Unless otherwise stated, all graphs and the calculations contained within them were created by the author. Creative Commons image reproduced from Flickr user mustafakhayat.
Disclosure: I am/we are long DEO.
I wrote this article myself, and it expresses my own opinions. I am not receiving compensation for it (other than from Seeking Alpha). I have no business relationship with any company whose stock is mentioned in this article.
Editor's Note: This article discusses one or more securities that do not trade on a major U.S. exchange. Please be aware of the risks associated with these stocks.