An alternative opportunity
A frequently overlooked and unknown asset class, merger arbitrage provides both sophisticated and ordinary investors an opportunity apart from traditional investment vehicles to further diversify their portfolios. The ongoing merger boom, an imminent rise in interest rates, and an equity market with limited upside all make the prospect of merger arbitrage investment attractive at this time. To take advantage of this opportunity, consider investment in a number of funds such as The Merger Fund® (MUTF:MERFX) that engage in merger arbitrage strategies.
Merger arbitrage ("merger arb") employs several tactics but in general involves investment in pending mergers or acquisitions. Once a deal becomes public information, the price of the target firm typically trades below that of the announced deal price. This spread can be primarily attributed to the time value of money, in addition to the chance that the deal will not close. This could be due to a variety of factors such as anti-trust legislation or the acquirer's inability to meet financing requirements. A fund manager could invest in the target company if they thought there was a high likelihood of deal completion, booking a quick profit once the price differential disappears upon deal close. Alternatively, a manager could short the same company's stock if they believe the deal will fall through. By simultaneously purchasing and shorting the stock of the merging companies, an arbitrager can pick up a tidy profit.
Merger arbitrage performance
Although merger arbitrage is typically best left for specialized investors with years of relevant experience in fields such as M&A or corporate law, merger arb funds provide individual investors with the opportunity to gain exposure to an asset class with significant benefits. Merger arb performance is not closely correlated with the broader market, exhibits a low beta and standard deviation, and provides solid year-over-year returns.
The Merger Fund is a merger arbitrage fund that has a proven track record of over two decades. The fund typically invests in the stock of the target company in a pending merger, hoping to profit on the spread between target stock and deal price. MERFX is a solid proxy for typical merger arb performance given its large size, consistent investment strategy, and large portion of assets dedicated solely to merger arb. The graphics below illustrate The Merger Fund's low beta and volatility, in addition to its consistent returns.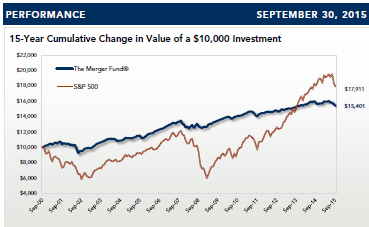 Source: Westchester Capital

An ideal environment for merger arb
Several factors make investment in merger arbitrage an ideal opportunity at this time. A historic rally in equity markets following the Great Recession has come to an end and stocks have lost much of their steam. This is not to say that there are not opportunities in equities, but consistent double-digit returns are unlikely to continue. Moving forward, it may very well prove beneficial to shift a portion of ones portfolio from stocks to merger arb.
The continuing merger boom also makes this class a more attractive investment alternative. Managers may be able to obtain higher returns as their universe of investment opportunities increases, selecting those that are especially profitable.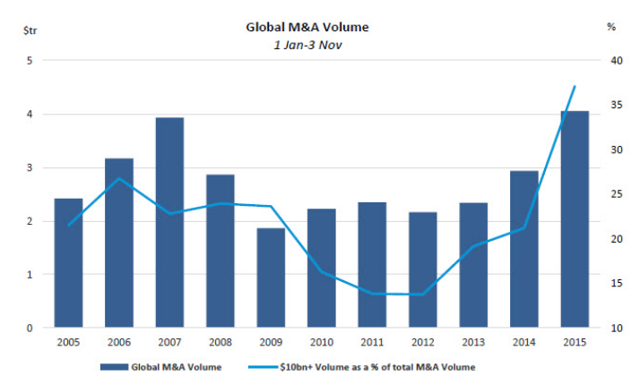 Source: Dealogic
This past Thursday, Federal Reserve chairwoman Janet Yellen told Congress that economic conditions were strong enough to warrant a hike in the Fed's benchmark rate. Higher rates provide yet another avenue to stronger merger arb returns. Spreads between target company stock and deal price widen to compensate for these higher rates and associated time value of money, leaving merger arbitragers in a better position to profit from their typical strategies. While bond investors may suffer losses due to rising rates, merger arb investments typically perform better in higher rate environments. The past 5 years have been characterized by historically low interest rates, and their upward trend going forward will no doubt benefit this asset class.
"When interest rates rise, bond investors have the wind in their faces, but we have the wind at our backs" - John Orrico, President of The Arbitrage Fund (MUTF:ARBFX)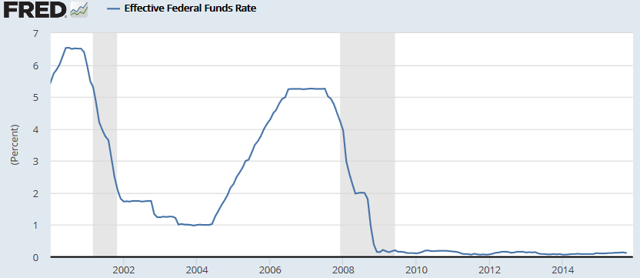 Source: Federal Reserve Economic Data
Capitalize upon this opportunity
To add exposure to your portfolio, consider a number of funds that employ merger arb strategies. If you are looking for a more aggressive firm, consider Mario Gabelli's ABC Fund (MUTF:GABCX). Mr. Gabelli has a proven track record of generating relatively high returns with low levels of risk, and has largely outperformed other merger arbitrage funds. Since its inception in 1993, GABCX has produced annualized returns of 5.94% with a Beta of just 0.13. The fund invests in a larger variety of event-driven events in addition to mergers and acquisitions, including corporate spin-offs, split-offs, split-ups, liquidations and reorganizations. Below are the fund's latest reported top holdings in addition to its historical returns.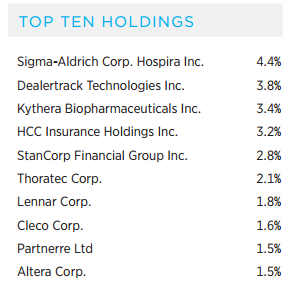 Source: Gabelli
While GABCX ($1.4B in assets) holds a considerable number of positions in smaller companies, some of its positions in larger firms have performed beautifully. Three of the fund's largest positions as of September 30th were in relatively large deals which recently closed. The Sigma-Aldrich (NASDAQ:SIAL)/Merck (NYSE:MRK) deal closed on November 18th ($17B), on October 29th HCC Insurance (NYSE:HCC) was acquired ($7.5B), and on October 1st Allergan (NYSE:AGN) completed its acquisition of Kythera Biopharm (NASDAQ:KYTH) ($2.1B). Going forward, GABCX hopes to capitalize on pending deals like the one between StanCorp (NYSE:SFG) and Meiji Yusada (OTCPK:MEJHY).
Previously mentioned MERFX is the largest merger arbitrage fund available to the public, investing in firms with relatively large market capitalizations due to its size. The fund has $5B in capital under management and is run by Roy Behren and Michael Shannon. Below you can see the fund's most recent fact sheet.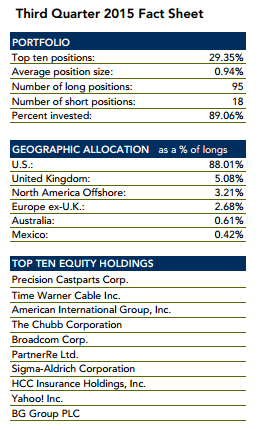 Consumer discretionary, financials, and information technology represent the majority of MERFX's assets. Note that its equity positions are primarily target company stock, and that it has invested in some of the largest mergers of the year. Like GABCX, MERFX has benefited from its holdings in Sigma - Aldrich and HCC Insurance. By analyzing some of the fund's other positions, one can also gauge the level of risk inherent in differing strategies. While the Precision Castparts (NYSE:PCP) stake is regarded by analysts as relatively safe (downside of just 1.6%), MERFX's Time Warner (NYSE:TWX) position (downside of over 10%) is considerably riskier due to potential anti-trust issues. However, a completed Time Warner acquisition would generate a significantly higher return than one of Precision Castparts. Most of the fund's positions err on the side of caution, fitting merger arb's tendency to be low - risk, low - return. MERFX also holds a number of short positions (typically in acquiring companies), however these stakes are significantly less than the value of its long positions.
Since its inception in 1989, MERFX has performed quite well. The fund has been able to provide solid returns and low volatility, with performance largely uncorrelated with the market. MEFRX is down about 1% year-over-year, however a single year should not be used to gauge the fund's overall performance. Since 2000, MEFRX has provided average annualized returns and a standard deviation of 3.5% and 3.3%, respectively, compared to the S&P's 4.6% and 15.2%.
John Oricco's Arbitrage Fund is a smaller firm ($2B) that allows for more discretion in its investment selection. Mr. Oricco has been known to invest in firms with market capitalizations as low as $5mm. Nevertheless, ARBFX has performed quite well for a substantial period of time.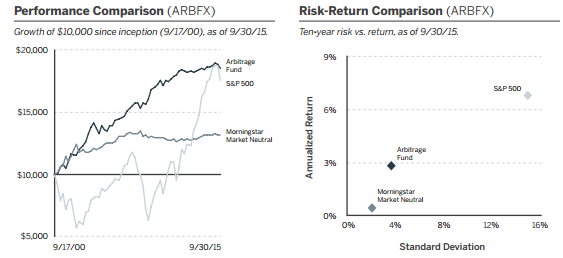 Source: The Arbitrage Funds
ARBFX once again demonstrates merger arbitrage's ability to deliver consistent returns with minimal volatility. Mr. Orrico's strategy overlaps both that of MERFX and GABCX, as can be seen below in its holdings.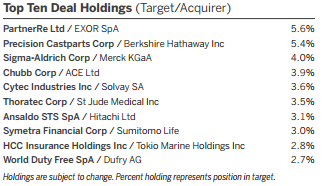 A continued string of mergers allows for a wide array of opportunities for these funds to profit going forward. Canadian Pacific's (NYSE:CP) attempt to purchase Norfolk Southern (NYSE:NSC) continues to drag on, with Norfolk rebuffing the deal price as too low. AB InBev's (NYSE:BUD) bid for SABMiller (OTCPK:SBMRY) still faces opposition and a plethora of issues, a merged entity would no doubt have to sell off a large portion of its assets due to anti-trust concerns. Earlier this week, the Federal Trade Commission sued to block the Staples/Office Depot (NASDAQ:ODP) merger. This sent both stocks down over 10%, with Staples' falling to a 13-year low. Deals such as these leave merger arbitragers in a position to profit, for these managers and their funds turmoil equals opportunity.
With equities losing steam, the midst of a merger frenzy, and an anticipated rise in interest rates, consider rebalancing your portfolio to gain exposure to merger arbitrage. This asset class represents a unique opportunity to further diversify your holdings with an investment not closely tied to the broader market, while still producing a steady stream of income. With a number of catalysts driving its performance going forward, merger arbitrage is an underutilized asset class that every investor should consider adding to his or her portfolio.
Disclosure: I/we have no positions in any stocks mentioned, and no plans to initiate any positions within the next 72 hours. I wrote this article myself, and it expresses my own opinions. I am not receiving compensation for it (other than from Seeking Alpha). I have no business relationship with any company whose stock is mentioned in this article.