The US coal industry is in increasingly dire straits. Given the enormous obstacles facing the industry, investors should be extremely wary of coal stocks. Not surprisingly, major US coal stocks like Peabody Energy (NYSE:BTU), and Alliance Resource Partners (NASDAQ:ARLP) continue to collapse in spectacular fashion. While coal has long been viewed as a dying industry, the severity and magnitude of its current downturn is stunning. A combination of increasing social pressures, deteriorating economics, and unfavorable government policies are doing an incredible amount of damage to the industry.
Increasing Societal Pressures
With the Paris Climate Summit taking place, the coal industry will likely undergo even more pressure. As coal is the dirtiest fossil fuel, it will likely be one of the first energy sources to be negatively impacted by increased GHG emission limits. Given the higher-than-expected motivations of industrial powerhouses (e.g. China, and India) to reduce pollution, the Paris Climate Summit should only put more downward pressure on the US coal industry. As China and India will no longer represent major roadblocks to a global environmental agreement, US coal companies are in an increasingly bad position.
The surprisingly strong recent commitment to the environment by developing powerhouses like China and India is increasingly being driven by societal pressures. China, in particular, is facing an enormous backlash from its citizens as a result of the country's dangerously high and unprecedented levels of pollution. In fact, Beijing recently experienced pollution levels that were 25 times over the safe limit. This will undoubtedly spur the Chinese government to action during the Paris Climate Summit.
The increased commitment to climate on the international stage will have a huge negative impact on companies like Peabody Energy or Arch Coal (NYSE:ACI). The rising global commitment to the environment should lead to more ambitious international climate treaties, which has already played out to some degree over the past year. What's more, the fossil fuel divestment movement has now exceeded $3.4 trillion in terms of divestment commitments. This figure is significant as it increased approximately 30% just from September of this year.
As a growing number of institutions start to divest their money from coal holdings, US coal companies will likely experience a "permanent compression in the trading multiples" due to a material increase in "the uncertainty surrounding the future cash flows" of these companies. As society continues to push back against fossil fuels, coal will be one of the primary targets given its reputation as one of the more polluting forms of fossil fuels.
The Paris Climate Summit will likely deal more blows to the are ready struggling coal industry. Here is a picture of President Obama and Chinese President Xi Jinping shaking hands at the summit.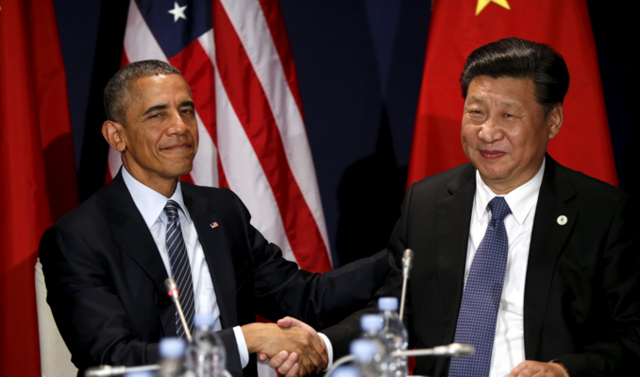 Source: Japan Times
Deteriorating Economics
While coal is still a relatively cheap form of energy, it is becoming less economical by the day. As the US government is implementing increasingly strict GHG emission limits in order to factor in the externalities of coal, US coal companies are paying a steep price. While companies like Arch Coal have experimented with clean coal technologies in order to reduce GHG emissions, such technologies are far from developed. By the time technologies like clean coal mature, alternative energies like shale gas will likely already have replaced coal.
The current dominant trends in the energy industry are highly unfavorable for coal. While coal will only become more expensive, cleaner forms of fossil fuels and renewables are getting cheaper. Renewables, in particular, represent the biggest long-term threat to coal. With solar technologies currently experiencing a precipitous downward cost curve, US coal companies will be at a growing disadvantage moving forward.
The aforementioned major US coal companies have continued to plummet in terms of valuations. Even Alliance Resource Partners, which is viewed as one of the healthiest coal companies in the US, is starting to fold under the pressure. Since reaching a high of $50 per share a little over a year ago, the company's stock has since fallen to its current $16 per share. Companies like Peabody Energy are performing far worse, with Peabody Energy specifically losing approximately 99% of its value over the last few years. Given the deteriorating economics caused by both market and societal headwinds, US coal stocks will likely only continue their downward spiral.
Conclusion
The US coal industry is clearly on its last legs. With bankruptcy talk surrounding Arch Coal, there seems to be no reprieve for major US coal companies. Unfortunately for companies like Arch Coal, Alliance Resource Partners, etc., the industry will almost certainly continue to experience major headwinds. While the market recognizes this to some degree, evident in the fact that these companies have P/E ratios in the low single digits, they still have far more room to fall.
Disclosure: I/we have no positions in any stocks mentioned, and no plans to initiate any positions within the next 72 hours.
I wrote this article myself, and it expresses my own opinions. I am not receiving compensation for it (other than from Seeking Alpha). I have no business relationship with any company whose stock is mentioned in this article.
Editor's Note: This article covers one or more stocks trading at less than $1 per share and/or with less than a $100 million market cap. Please be aware of the risks associated with these stocks.