Denison Mines (NYSEMKT:DNN) has been down in the dumps this year, but the likelihood of a turnaround in its financial performance over the long run cannot be ruled out. This is because the dynamics of the uranium market will support miners such as Denison Mines going forward, and the company will be able to capitalize on the opportunity that comes up in the uranium market due to its strong asset base.
Favorable developments in the uranium market
The uranium market went into withdrawal mode after the Fukushima disaster in Japan in 2011. This led to a closure of nuclear plants in Japan and raised doubts over the safety of nuclear power as an energy resource. But, of late, positives have started emerging in the nuclear energy patch as nations look to increase their generation of clean power.
The global demand for nuclear energy is growing continuously with China, Russia, and India in a race to fulfill the ever-expanding energy demand. As a result, these countries are increasingly adding nuclear reactors to their fleet. In addition, other countries are also following this trend by adding nuclear reactors to the global fleet. By numbers, reactors under development, proposed, or planned are comparable to the 2011 reactor count and approximately double the level during 2007. The following charts give a snapshot of nuclear reactors: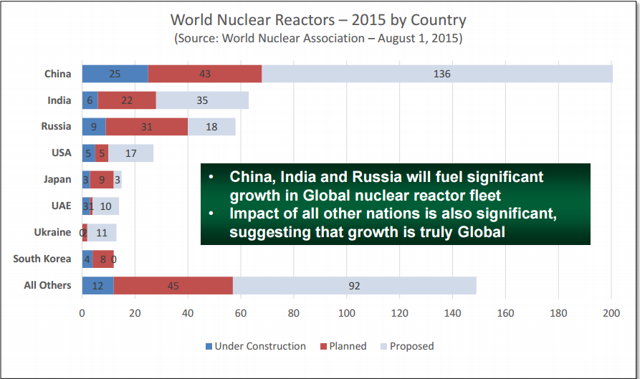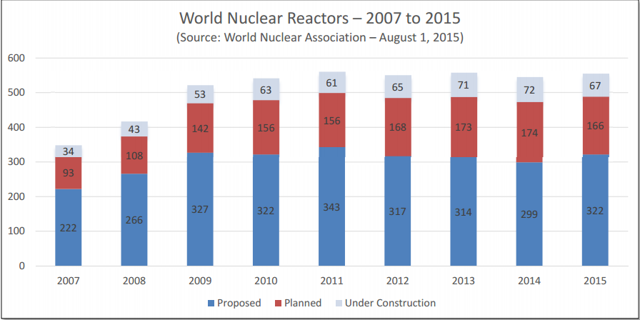 Source: Denison Mines
Now, Denison is strategically growing its uranium production in line with the expanding global demand for nuclear energy. As a result of its strong asset base, which is discussed later in the article, Denison will be able to improve its financial performance. This is because countries such as China and India are increasingly expanding their nuclear reactor count in order to execute on their commitment to improve air quality by greater use of nuclear power. Therefore, international nuclear power generating capacity is forecasted to increase considerably with the planned addition of fresh reactors in Oceania and Asia.
This is shown below: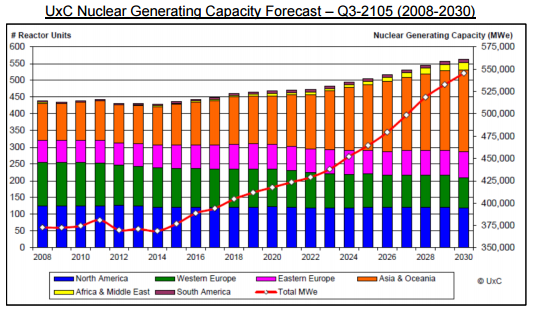 Source: Denison Mines
Thus, the demand for uranium is set to increase at an impressive pace going forward, which will ultimately lead to an increase in demand for uranium. This will open up a big addressable market in front of Denison Mines, and the more important part is that Denison is ready to capitalize on this opportunity.
Denison's assets will help it tap growing uranium demand
Denison has a substantial resource base at the Wheeler River Property in the form of the Maiden Gryphon resource, making Wheeler the largest deposit in the Athabasca basin. The Wheeler River Property has achieved substantial scale with the addition of the Gryphon deposit. Moreover, the uranium resource addition of 43 million pounds from the Maiden resource in the Gryphon zone has exceeded expectations.
The following chart shows Denison's position in this area after the addition of the Gryphon resource: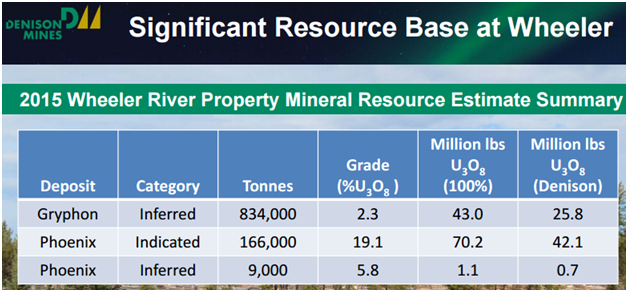 Source: Denison Mines
The discovery of this new resource makes Wheeler River the top development project in the Athabasca Basin. But, the good thing about Denison is that it is not dependent on just Wheeler River for its uranium. The company also has interests in other properties that will play a key role in enhancing its production profile and allow it to capitalize on the uranium opportunity. This is shown below: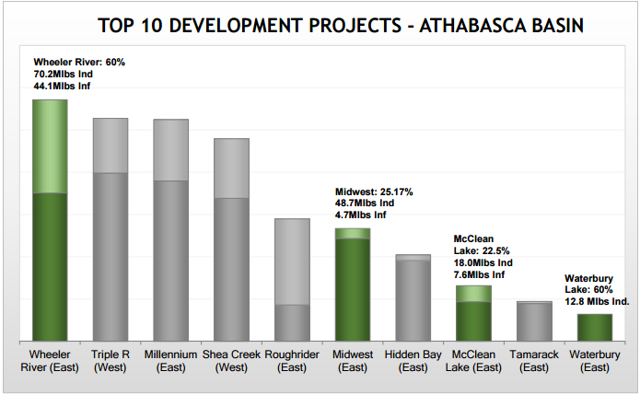 Source: Denison Mines
Fundamentals and conclusion
Thus, as seen above, Denison is on track to get better as a result of an anticipated improvement in the uranium market's dynamics. Additionally, the company also has a relatively strong balance sheet with just $14,000 in debt as against a cash position of $14.6 million. This indicates that Denison has a lot of room to tap the debt market in order to develop its projects.
Additionally, the company has been able to record improvements in its gross margin and cash flow of late, even though both metrics are in negative territory. This is shown below: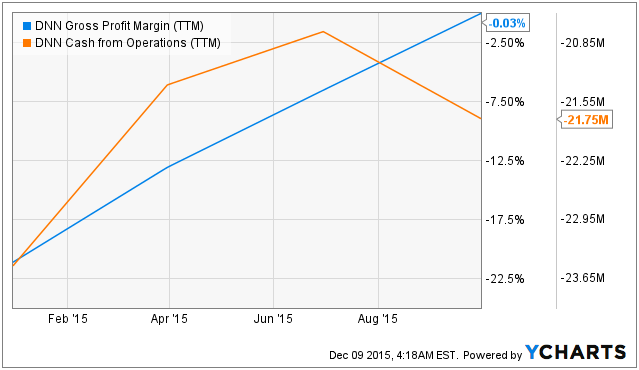 Going forward, as uranium demand picks up pace and pricing improves, Denison will be able to improve its margin and cash flow profile further. Hence, I think that investors can expect a turnaround at Denison Mines going forward, which is why it looks like a buying opportunity after losing a lot of value on the market this year.
Disclosure: I/we have no positions in any stocks mentioned, and no plans to initiate any positions within the next 72 hours.
I wrote this article myself, and it expresses my own opinions. I am not receiving compensation for it (other than from Seeking Alpha). I have no business relationship with any company whose stock is mentioned in this article.
Editor's Note: This article covers one or more stocks trading at less than $1 per share and/or with less than a $100 million market cap. Please be aware of the risks associated with these stocks.