Chipotle Mexican Grill's (CMG) shares have fallen around 28% from their recent highs. That shouldn't be surprising for a company that's seen its shares rise over 1,000% over the past decade. But it's the reasons behind the drop that are so interesting, and it shows why McDonald's (NYSE:MCD) is such an impressive, if slow moving, company.
What's the fuss
Chipotle has been hard hit by food safety issues. Essentially, the company known for fresh made food with wholesome ingredients often procured from local sources has been getting its customers sick. Clearly there's no intent to hurt loyal patrons, but food borne illnesses like e.coli are hitching a ride on the company's wares.
It boils down to a supply chain issue. There's no nefarious operator trying to take Chipotle down, it's just that these things happen. You have to work hard to make sure they don't happen and to contain such problems when they do arise. To the company's credit, Chipotle has taken swift action. That includes removing a commitment to buy local from its website.
Spokesman Chris Arnold recently told Bloomberg, "We have elevated requirements for all of our produce suppliers (chiefly in the area of testing of ingredients) and we are not sure that all of the current local suppliers will be able to meet those elevated protocols." That statement isn't surprising at all if Chipotle has been dealing with smaller, mom and pop produce suppliers.
The company replaced the buying local commitment with one about long-term supplier relationships.
How many eggs?
Now, step back and look at McDonald's. The company recently made a commitment to use eggs from cage free chickens. But it's going to take a decade to make the move. Why not just do it and get it done with? The answer is in the details.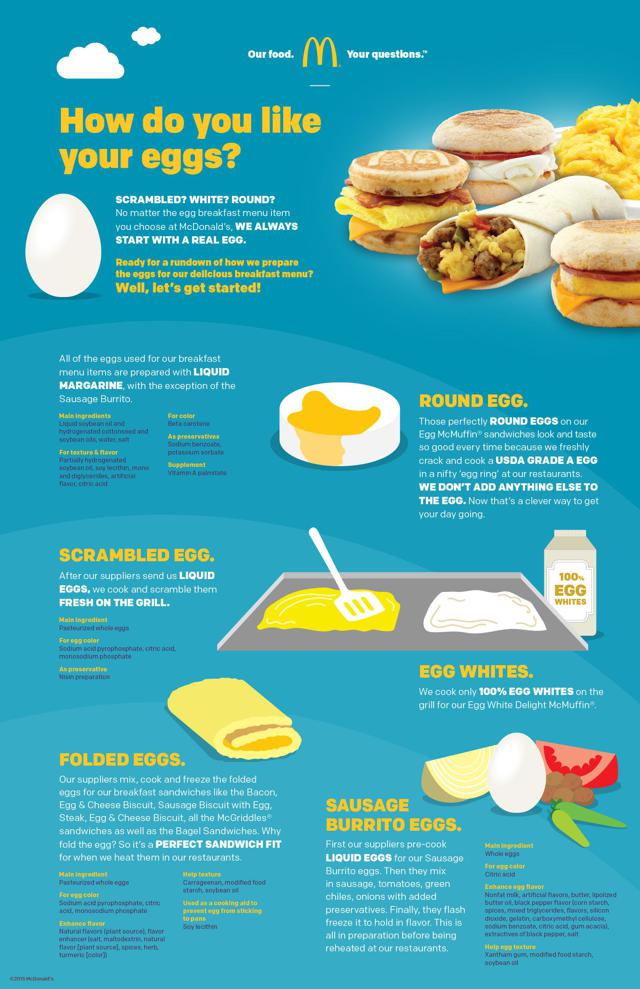 For you or I to switch to cage free eggs it's just a matter of picking a different carton from the grocery store every week or two. It's vastly different for a company with over 14,000 restaurants to supply in every single state of the union (and in Canada, since our northern neighbor is set to get cage free eggs, too). But how big is this, really?
McDonald's currently uses around 13 million cage free eggs annually in the United States. That's a huge number of eggs. However, it's just a drop in the bucket compared to the around 2 billion eggs it uses each year (less than 1% are cage free).
I'm not a farmer, but from a quick web search it looks like a really productive chicken can lay around an egg a day (the numbers vary by breed and age). Using 350 eggs a year per chicken (because the math is easier that way), McDonald's would be using the egg-laying services of around six million chickens. I'm certain that I'm way low on that number, but it gives you an idea of the scale of the company's egg buying.
And this is just one ingredient, McDonald's is a huge buyer of everything from beef to bread. In fact, Corporate Accountability International has a page dedicated to McDonald's and the impact it has on the agriculture market. (As you might expect, Corporate Accountability International thinks the impact is negative). Why? Because the fast food chain is one of the largest buyers of food stuffs in the world.
So what?
Why should you care about this? Because change is hard to achieve when you operate on a larger scale. Accountability is harder and harder to determine the bigger and bigger you get. This is one of the problems that Chipotle is dealing with now. Ensuring food quality wasn't a big deal when it had 100 restaurants, but now that it has around 1,500 restaurants the old systems just don't work as well anymore.
And so it is with any change at McDonald's. Bringing in cage free eggs to a handful of stores as a test isn't a big deal. Supplying only cage free eggs throughout the company is a very big deal. But there's more to it than that. Changing a cooking routine is hard. Introducing new products is hard. Culling the menu is hard.
Which is why I'm more than a little concerned about the nearly 20% advance the stock has seen over the last three months or so. Although McDonald's management has been pleased with the initial success of breakfast all day and other turn around efforts look to be taking hold, the company's resurgence is far from a sure thing at this point.
And there's plenty more to be done to align McDonald's with current tastes and trends. That includes the cage free eggs along with a host of other little shifts, like toasting buns longer. And bigger (and costly) ones like raising wages. Every change, no matter how small, is magnified by 14,000 (and that's just the U.S. market).
At this point McDonald's isn't cheap relative to its historical five year average price to earnings, price to book, price to sales, or price to cash flow. And it's dividend yield is just slightly below its five year average. Don't get me wrong, McDonald's is a great company in many ways, but it appears that investors are banking too much on a quick turnaround at a company that has very little choice but to move slowly. And the supply chain problems facing Chipotle as it starts to gain greater scale prove how hard it is to get things right when dealing with big numbers.