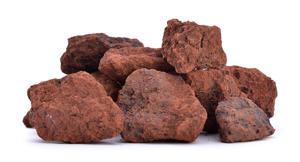 Iron ore's collapse to its lowest prices since 2009, reduced global risk appetite, sunken Chinese imports in November and strong US labor market data should have already pushed AUD/USD down to the 0.7 mark, but the bulls are stubbornly resisting the surrender of their conquered positions. Mistrust towards the greenback is growing and, if the Fed emphasizes its commitment to raise rates gradually at its December meeting, the renewed stock market uptrend will return investors' attentions to yielding assets.
Foreign investors are continuing to build up the volume of Australian bonds within their portfolios, which is a bullish factor for the aussie. In the third quarter, they were responsible for the net purchase of AU$12 billion ($8.8 billion) in debt obligations - the most since 2013. However, issuance is growing at an accelerated pace due to the fall in revenue amid bearish raw commodity market conditions. Weak demand in China and the largest producers' attempts to hang on to their market share by increasing production output led to a 46% fall in iron ore prices in 2015. On top of that, Capital Economics estimates that the break-even point for the largest producers is $28-39 per metric ton, which suggests that we are nearing the floor. Furthermore, during its last meeting, the RBA failed to mention that the aussie is overvalued as a consequence of the current raw commodity market dynamics.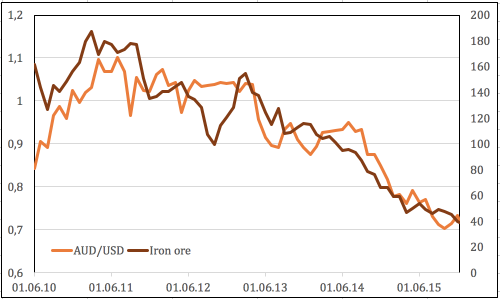 Source: CME Group
The presence of equal bullish and bearish drivers has led Bloomberg experts to bet on medium-term extremes in terms of AUD/USD prospects. Their median forecast for end Q1 2016 is 0.69, with predictions ranging from 64 to 76 cents. It should be noted, however, that specialists from popular news outlets have found the fate of the AUD and JPY the most difficult to predict over the last 10 years - their forecasts have been off the mark by an average of 12%.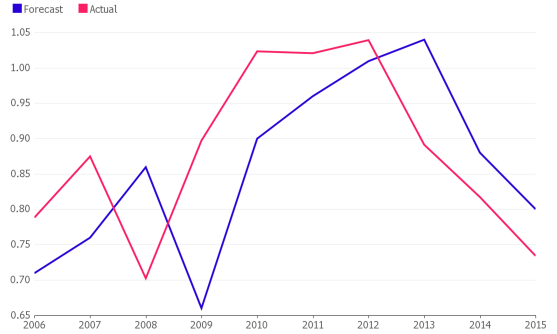 Source: Bloomberg.
In my opinion, the most likely outcome for AUD/USD is a consolidation in the 0.69-0.74 range. Iron ore prices could even fall below the break-even point worked out by Capital Economics as a result of AUD and BRL devaluation, which would reduce production costs. The Chinese GDP slowdown will probably continue in 2016, while the fact that it is more closely tied to external trade (42%) than the US GDP (23%) means that it feels a much greater impact from the effect of revaluation on exports. At the same time, growth in global risk appetite, Australia's economic diversification into the service sector, high foreign demand for its bonds, improving labor market conditions and the RBA's reluctance to change its monetary policy will form a basis to purchase FXA at the lower end of the $69-74 bracket.
Disclosure: I/we have no positions in any stocks mentioned, and no plans to initiate any positions within the next 72 hours.
I wrote this article myself, and it expresses my own opinions. I am not receiving compensation for it (other than from Seeking Alpha). I have no business relationship with any company whose stock is mentioned in this article.