Ever since October when ECB President Mario Draghi vowed to do whatever necessary to boost the EU economy and the Fed hinted that a December rate hike was likely, shorting the euro (NYSEARCA:FXE) against the US dollar (NYSEARCA:UUP) looked to be a no brainer. Indeed most traders were positioned that way in the euro (NYSEARCA:EUO).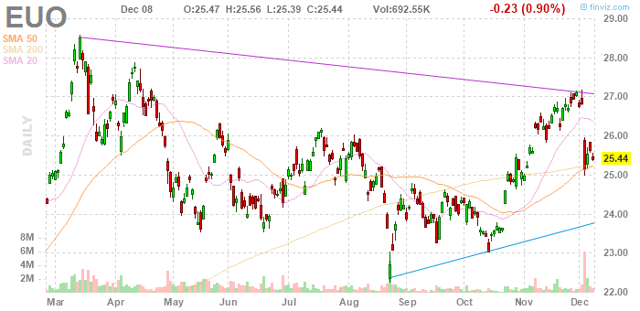 However, those positions were unwound last week when Mario Draghi caught the market off guard and did not deliver as much as traders and investors were expecting. The ECB cut the deposit rate to -0.3% from -0.2% and extended QE by just six months. Now the euro has a triple bottom at 1.05 that will act as very strong support. The dramatic 400 pip move sent traders rushing to cover their shorts.

As a student of the markets, I know that when we get this kind of move it makes investors leery of being aggressive again because they remember what happened last time. Any weakness in the euro back towards 1.05 will see investors buying euros rather than selling euros to push the currency lower.
One of the street's biggest bears on the euro currency is Goldman Sachs. They now see euro/dollar parity by the end of 2016. However, I disagree with Goldman Sachs. The best chance I saw for euro/dollar parity was either this month or early 2016 on the back of more stimulus measures from the ECB and a Fed rate hike. The argument for late next year looks weak to me. The reason being is that while I do expect the Fed to hike this month, there's a lot more uncertainty next year regarding the US economy.
I do not expect the Fed to hike aggressively next year. I also expect the Fed's language to be rather dovish instead of hawkish. There are several reasons for this. For one, core inflation has been below the Fed's 2% target rate since 2008. Second, there is no sign of inflation rising quickly as oil (NYSEARCA:USO) prices are now below $40 and the strong US dollar is also keeping inflation in check. Third, the Fed runs the risk of pushing the US economy back into recession if it hikes too aggressively.
Regarding the euro and the euro zone, I laid out several reasons back in August on why I believe the euro will not go as low as many believe. The main reason for this is that the euro has become the new funding currency or carry trade. Companies have borrowed in euros to take advantage of Europe's low rates. These companies will need euros to repay these debts and this is helping to keep a floor on the euro. When the euro drops, buyers emerge because they need euros to repay debts.
Bottom line
I said back in August that the low of 1.0463 would most likely hold. It did so again and I believe it will continue to hold. We've been hearing for far too long that euro/dollar parity would be happening and it just hasn't occurred. There were plenty of reasons for it to happen this year with Greece, the ECB printing money and the Fed on the verge of hiking. In order for parity to happen next year, the Fed would have to hike aggressively and Europe go back into recession. I see both as unlikely and why euro/dollar parity looks less likely to me now.
Disclosure: I/we have no positions in any stocks mentioned, and no plans to initiate any positions within the next 72 hours.
I wrote this article myself, and it expresses my own opinions. I am not receiving compensation for it (other than from Seeking Alpha). I have no business relationship with any company whose stock is mentioned in this article.
Additional disclosure: I can and will enter and exit the forex markets at anytime.