Pattern Energy Group, Inc. (PEGI) is a leading operator of wind farms in the US, Canada, and Chile. The recent decline in stock price, largely due to unrelated peers, has made the stock particularly attractive. Its utility-scale renewable energy projects pay a safe dividend. The company has a good track record of growth and a pipeline of projects available to continue expanding the production of green energy.
Excellent Dividend
PEGI currently pays an annualized dividend of $1.49. At a trading price of $18.50, this is an 8% dividend. This is a rising dividend. The past quarter, the dividend was raised 2.5%, and the company has increased dividends 19% since the start of 2014. Here is the dividend payment record:
| | |
| --- | --- |
| 2015 Q4 | $0.372 |
| 2105 Q3 | $0.363 |
| 2015 Q2 | $0.352 |
| 2015 Q1 | $0.342 |
| 2014 Q4 | $0.335 |
| 2014 Q3 | $0.328 |
| 2014 Q2 | $0.322 |
| 2014 Q1 | $0.3125 |
Beyond the 8% dividend that is being paid out now, PEGI has forecast a 12-15% CAGR on its dividends from 2013-2017. So far, it has been delivering on the forecast and has reaffirmed this guidance recently.
A Safe Investment
For such a respectable dividend, PEGI is a very safe investment. Wind has no commodity risk. Wind turbines are expensive, but the wind is free. The wind fluctuates all of the time, but over a period of a few years, it is surprisingly constant. New wind turbines from the likes of GE (NYSE:GE), Siemens (OTC:SMQFY), and Vestas (OTCPK:VWDRY) are extremely reliable and can be insured for production (which Pattern does). Uptime with GE and Siemens turbines for Pattern is over 98% during the past year, which is spread over close to a thousand wind turbines. This represents one side of the equation - the production of electricity. The other side of the equation is also very stable. Pattern sells 89% of the electricity generated from its projects under power sale agreements which have a weighted average remaining contract life of 15 years. The parties under contract are typically big utilities or progressive companies that want to buy renewable energy like Wal-Mart (NYSE:WMT). Collectively, the parties to these contracts have an average weighted A rating. There is a case to be made that this is a safer investment than most bonds. With no commodity risk, a reliable and insured means of production, creditworthy parties, and long-term contracts, these projects are well covered. And unlike a bond, if we find out that one of the creditworthy parties is not that creditworthy, the electricity could be sold to someone else. The runoff rate, or what the company would do if it added no new projects, suggests that the 8% dividend could be paid for the next 15-20 years.
Why The Stock Is Such A Good Deal Now
There are no exact peer comparisons to PEGI, and there aren't many that are remotely close. The crash in the US natural gas prices over the past three months (from over $3/mcf to $2.07/mcf) has been substantial and has severely impacted many energy companies that some classify as peers of PEGI. MLPs and pipeline companies that were thought of as a steady stream of income no matter the price of natural gas have seen a large price decline. PEGI has much longer contract lengths (approx. 15 years) and no supply side price variation (the wind blows different on different days, but its price is always zero). It appears that the decline of many of these "peers" has made PEGI a good deal, as the stock price has declined from over $30 in June to hovering around $18 now.
Good, Long-Term Growth Potential
PEGI is set up as a yieldco. It owns the wind farms and the contracts to sell the power. This allows the company to produce a long-term steady yield. In theory, its stock price should be relatively constant, and per its business model, the stock price should grow slowly as PEGI adds new projects which should be accretive and add to its cash available for distribution - CAFD. This will cause dividends to rise over time, consistent with the dividends it has paid out to date. Unlike some of the MLPs and pipeline companies, PEGI does not face lowering the dividend or eroding its credit rating. Its parent or associated development company, Pattern Development, is a private company that does the riskier work of developing projects until the point that it is up and running and paying a steady return to investors. PEGI gets a preferred purchase price for Pattern Development's projects. To date, most of PEGI's projects totaling over 2,000 MW have come from Pattern Development, and the CAFD is growing. So the business plan is working. The stock price drop makes for an excellent buying opportunity.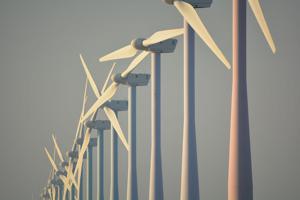 Pattern Development has another 5,000 MW of projects in various stages of development. It is expected that PEGI will continue to acquire these assets once they are up and running. There has been talk in the yieldco space that if the stock price goes too low, the yieldcos will not be able to raise capital to continue to grow. There is some truth to this, but I believe in the case of PEGI, this is not a barrier to growth, but could slow it a little. Since the IPO in September 2013 at $22/share, it has completed additional capital raises at $27.75/share (May 2014), $29.25/share (February 2015) and $23/share (July 2015). All of these capital raises were good with the exception of the July 2015 which it appears from its stock chart that it caught about a month late. It is notable that the last time Pattern Development sold shares in an offering was back at $29.25/share and it did not sell shares at $23/share. I believe that something around $29.25 represents mid-term high end for the stock. PEGI has stated that it does not need to raise any new capital to meet 2016 goals - which is good for the short term.
This is a safe dividend that should grow.
Full disclosure: Long PEGI
Disclosure: I am/we are long PEGI. I wrote this article myself, and it expresses my own opinions. I am not receiving compensation for it (other than from Seeking Alpha). I have no business relationship with any company whose stock is mentioned in this article.