Energy investors should take interest in President Obama's proposed budget for fiscal year 2013. Love him or hate him, the President has again showcased his strong-felt vision of energy policy in the U.S. - namely a shift away from big oil and toward alternative energy sources. He's putting his money (that is, your money) where his mouth is, as a careful read of the budget shows.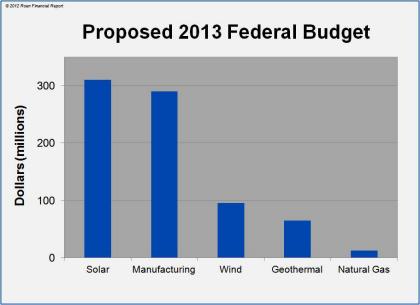 The above chart shows selected energy related areas within the President's budget plan. As in previous budgets, solar is the big winner, with $310 million to go toward the U.S. Department of Energy's SunShot program. One important SunShot initiative is to streamline rooftop solar installations, which would benefit not only solar panel makers but installers as well. Our recent post shows how companies like Ameresco Inc.(NYSE:AMRC) could be a good play on this investment story.
A new initiative, which aims to increase efficiency in manufacturing, is slated to receive $290 million. This is touted as a way to both save energy and create good jobs by "speeding ideas from the drawing board to the manufacturing floor." Companies like Autodesk (NASDAQ:ADSK), which specializes in computer aided design to streamline manufacturing processes, should benefit from this new focus from the feds. Though a bit pricey at its current trading range in the high $30s, this high-quality company has steadily increased sales and earnings per share since 2010.
The inclusion of natural gas in the budget is of key importance to this domestic fuel industry. Although the $12 million allocation is comparatively small, the budget addresses environmental issues related to hydraulic fracturing, or fracking, head on. This is a must-solve issue if this abundant domestic fossil fuel source is to be successfully developed. The environmental, economic and geopolitical benefits of U.S. natural gas are too numerous to ignore, and the Executive Office is signaling that it is serious about growing this fuel source.
How will all these programs get paid for? One of the main sources is reducing or eliminating subsidies for U.S. oil companies. Though it doesn't mention specific programs, the budget proposes to appeal over $4 billion in annual financial support to fossil fuel producers. Contrast this to the expenditures outlined in the chart above, which total $772 million (less than a billion dollars). This adds up to less than one fifth of the fossil fuel subsidy referred to in the budget. Considering that in the past 12 months the top 10 U.S. oil and gas companies alone made a net profit of over $111 billion, this seems like a very reasonable adjustment.
Why does this matter if, as Republicans are quick to point out, the proposed budget is dead on arrival? Recent history shows that even through the crippling budget negotiations of 2010 and 2011, Obama's main renewable energy initiatives survived. For the most part clean energy is a white hat issue that, in the end, most politicians can get behind.
It remains to be seen how this will all play out in the circus that is our U.S. Congress, but I will be following developments closely for my readers.
Disclosure: I have no positions in any stocks mentioned, and no plans to initiate any positions within the next 72 hours.