On December 10th, the Australian Bureau of Statistics (ABS) reported Australia's jobs data for November, 2015. The results were in-line with existing trends:
"The trend unemployment rate remained at 6.1 per cent from March 2015 to September 2015 before decreasing to its current level of 6.0 per cent from October 2015. Over this same period, the trend employment to population ratio, which expresses the number of employed persons as a percentage of the civilian population aged 15 years and over, increased steadily from 60.8 per cent to 61.3 per cent."
Adjusted for seasonality, the unemployment rate decreased from 5.9% to 5.8%. The participation rate ticked up 0.3 participation points, but total number of hours decreased slightly by 0.8%.
The reaction in the currency market was surprisingly strong. The Australian dollar (NYSEARCA:FXA) jumped up sharply.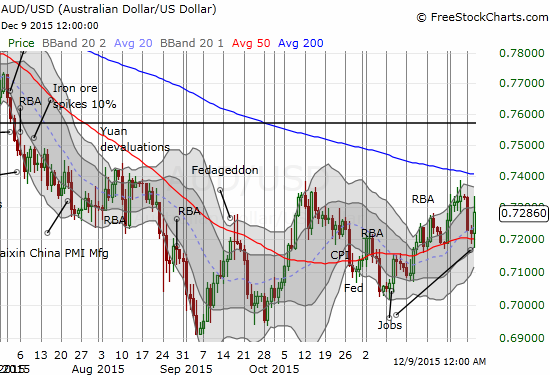 The Australian dollar has steadily lifted from November lows but has yet to break through October highs.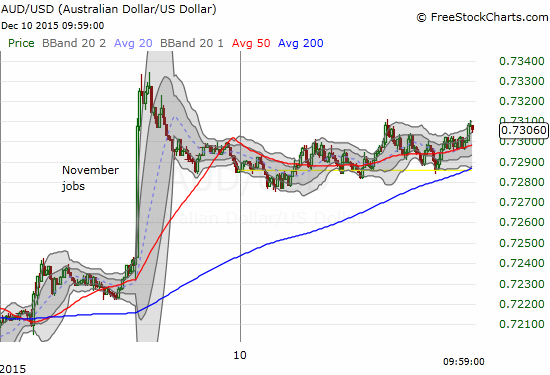 The positive reaction to the jobs data lasted less than 15 minutes.
Source: FreeStockCharts.com
This kind of move demonstrates the market's underlying jitters and current tendency to fire off quick trigger reactions. This particular move looks like shorts getting out the way. The scale and scope of the news did not suggest a new, strong catalyst for the currency. Granted, market participants should find encouragement in the on-going ability of the Australian economy to stabilize employment trends despite the collapse in the critical mining sector. The brevity of the move and the sharp pullback after the currency stopped going up is more tell-tale evidence that the first reaction was likely from shorts rushing to cover: once the quick-trigger momentum ends, there are no buyers left who actually think the news is worth following.
In recent weeks, the net short interest of speculators has trended downward. So, it makes sense that only a very bad report could generate more selling of the Australian dollar. Going forward, the Australian dollar likely has more upside than downside risk for the very short-term.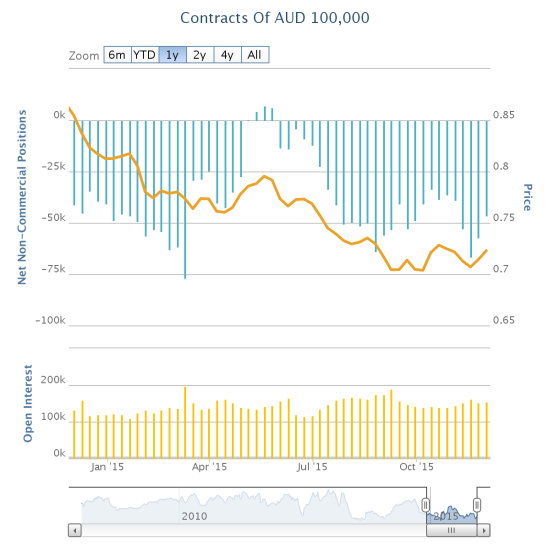 Speculators have beaten a hasty retreat on net short positions in recent weeks.
Source: Oanda's CFTC's Commitments of Traders
The steady dribble of bad news about declining iron ore prices has not triggered a fresh bout of selling. Traders are likely numb or ignoring it with an eye on the U.S. Federal Reserve's coming meeting. Indeed, an analyst from Goldman Sachs Asset Management recently made a case for playing the Australian dollar long versus the U.S. dollar to 0.75 before turning around and shorting it again. In other words, the short-term technicals favor more short-covering and a continued drift higher. However, over some horizon perhaps starting in January, the fundamentals, including an increasingly dovish Reserve Bank of Australia (NYSE:RBA) should start to weigh again. The current odds for a January rate cut are 22%, up from 6% on November 27th.
Be careful out there!
Disclosure: I/we have no positions in any stocks mentioned, and no plans to initiate any positions within the next 72 hours.
I wrote this article myself, and it expresses my own opinions. I am not receiving compensation for it (other than from Seeking Alpha). I have no business relationship with any company whose stock is mentioned in this article.
Additional disclosure: In forex, I am net short the Australian dollar