Universal Display Corp.'s (NASDAQ:PANL) stock is once again priced in the low $40s with a market cap in excess of $2 billion. Trailing 12-month revenue is believed to be just under $60 million, with the forward 12 months forecasted to generate ~$110 million. Hype has come in and out of this stock, yet we believe reality has yet to set in, despite numerous warnings from industry analysts.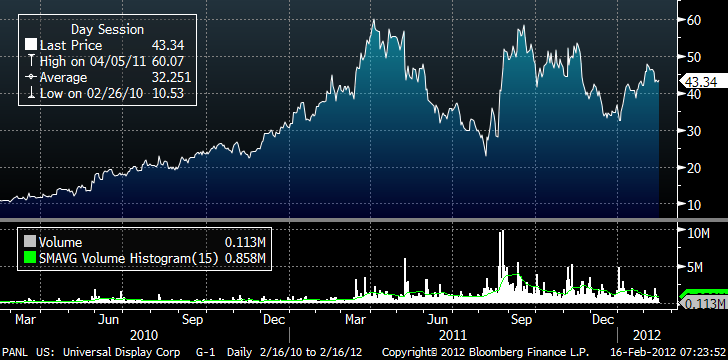 There are a number of data points out there on PANL that we don't believe the broader market is aware of, or giving enough credit to.
Samsung is no longer using Universal Display Corporation's green PHOLEDs in its displays as it is damaging the other materials. On February 14, Jed Dorsheimer of Cannacord told investors that Samsung was experiencing technical issues with UDC's green phosphor and that the issue isn't expected to be resolved until the end of 2012 at the earliest. Our contacts confirmed the same information weeks ago.
LG is not using UDC's materials or IP to make its 55" OLED TV that was on display at CES in January. Our contacts also learned that LG is creating its white OLED backlight by stacking a blue florescent OLED (we believe from Idemitsu) and an orange/yellow phosphorescent OLED similar to a study written up in numerous journals by a group of Korean scientists in 2008 and 2009.
DisplaySearch's announcement in early January was actually a massive reduction from prior forecasts. An October 13, presentation by DisplaySearch the forecast for OLED displays in 2011 was $4.5 billion. By January 5th, that forecast had been reduced to just $3.4 billion. By all appearances, this announcement was the primary cause for the stock's recovery in early 2012.
Samsung will not be paying PANL a license fee in the March quarter. Although management talked around the issue at length on its last conference call, the transcript clearly shows that the terms of the Samsung agreement called for 2 equal payments in the September and December quarters of 2011, to be followed by annually growing but equal payments in Q2 and Q4 of each year. Street forecasts for the March 2012 quarter don't appear to be factoring in this $3.2 million air pocket.
UDC's core patents start to expire in 2017, with the 'key' phosphorescent patents running out in 2019. While widely disclosed by the company, this reality hasn't made its way into any of the Sell-Side valuations that are based on DCF calculations…otherwise the terminal valuations that they calculate couldn't possibly be so large, given the accelerating decline in patent protection starting just 2 years from now.
UDC's patents are still being litigated in Japan, Korea, Europe and the US. Another inconvenient truth disclosed in the company's filings.
We could go on and on explaining why we don't think the Samsung deal is anywhere near as lucrative as was originally speculated. And we could go into why it makes more sense for AUO to continue working with LG and pursuing its strategy (note the agreement inked between Idemitsu and AUO) using white OLEDs and color filters for large area displays. Similarly, we could breakdown the industry forecasts to explain why OLEDs will not achieve the market penetration rates predicted by DisplaySearch and others. We could even explain why Panasonic (PC) and Sony (NYSE:SNE) are not likely going to adopt UDCs approach. But at the end of the day, it really doesn't matter.
Either you believe that Universal Display is going to run the table and single-handedly revolutionize the display industry, or you don't. If you believe the hype, then any valuation is likely justified. However, if you think that there is more than one way and/or one supplier to make OLED displays, then you can't possibly justify a $2 Billion market cap on this company.
Bottom line, PANL's management has been hiding the truth (the details of the Samsung agreement) and the Street has rewarded them with a valuation with no underlying fundamental support. The largest customer and the only company producing OLED panels in real volume has recently determined that the UDC's green phosphors damage other materials in their displays and the only other major display manufacturer even considering production volumes this year is going with a completely different approach.
We've said it before and we continue to believe it today. PANL should be trading at $10, not $40.
Disclosure: I am short PANL.