While the world knows about the sensational investing record of Warren Buffett over his legendary career, how are the changes at Berkshire Hathaway (NYSE:BRK.A) performing since being implemented? The succession plan at Berkshire is among the most high-profile in modern American corporate history. Mr. Buffett, who turned 80 in August, has said he will likely split his job in two, separate CEO and investing functions. His first step was hiring Todd Combs, manager of a small hedge fund from Connecticut, to oversee a portion of Berkshire's roughly $100 billion investment portfolio in October 2010. It is time to see the impact of Combs' stock picks and David Sokol's high-profile exit to the portfolio holdings. So how are Berkshires stock purchases from 2011 doing?
The recent Berkshire Hathaway portfolio report ending 4th quarter 2011 shows several additions to stock holdings previously purchased in 2011 and earlier periods. The Berkshire portfolio owns 34 stocks in total. Eight of these holdings were added to in the 4th and previous quarters of 2011 (excluding the new positions established in Q4 2011 - Davita and Liberty Media). To determine how these stock picks have performed, I have compared these stocks against the S&P 500 over the last six months.
The S&P 500 as measured by the SPY index is up 15.77% over the six months ending February 14, 2011. Six of the 8 stocks with added purchases beat the SPY return with 3 of these stocks doubling the SPY return (see table below). The best performing of these Berkshire stocks was Visa (NYSE:V) which is up 38% over this time period beating the SPY by 22%. Visa is a wide moat stock with high profit margins due to their fees received for their credit card business. The two other stocks with 30%+ returns were Intel (NASDAQ:INTC) and CVS Caremark (NYSE:CVS). INTC had a return of 31.88% while CVS returned 31.43%. Of these three stocks, INTC is the cheapest trading at $26.58 with an EV to EBITDA ratio of 5.47.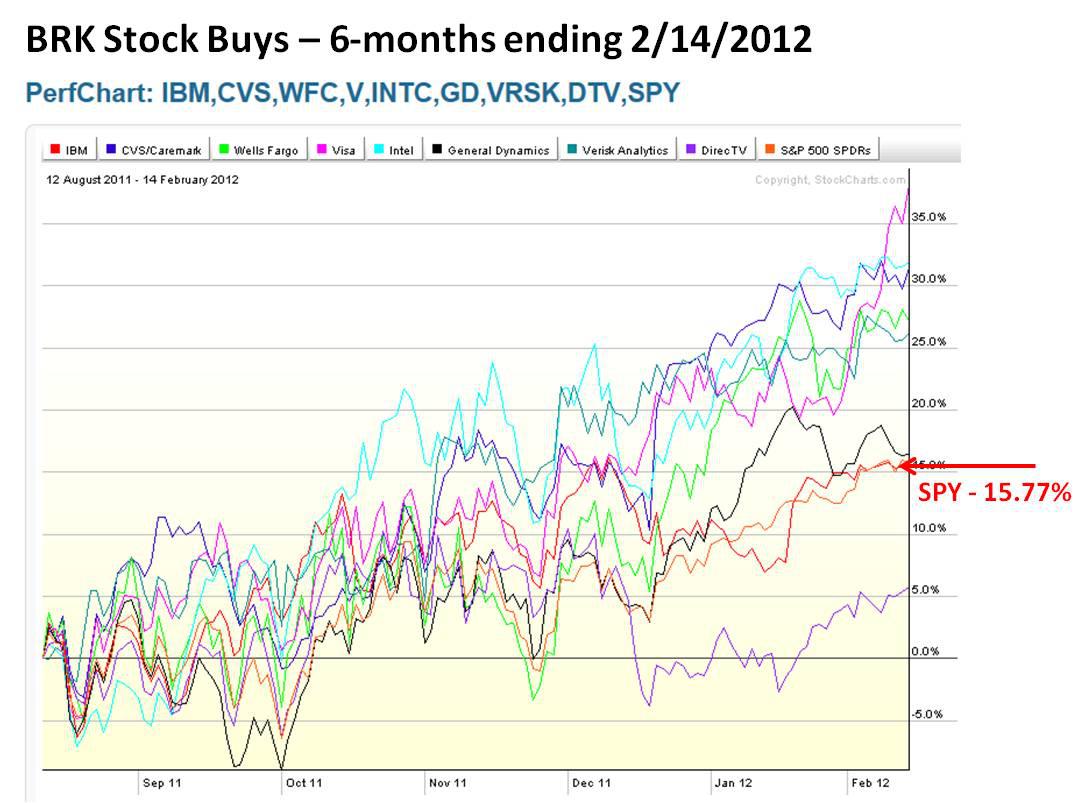 The three other stocks outperforming the SPY were old Berkshire standout Well Fargo (NYSE:WFC), Verisk Analytics (NASDAQ:VRSK) and General Dynamics (NYSE:GD). WFC returned 27.21% and VRSK returned 26.16%. GD just outpaced the SPY with a 16.4% return during this period. For those unfamiliar to VRSK, it provides risk management services to companies through its own analytic methods. VRSK is not cheap as it is now trading at its 52-week high with a price to earnings ratio of 27. It is a projected high growth company with a projected five year PEG of 1.73.
The two stocks lagging the SPY are International Business Machines (NYSE:IBM) and DirecTV (NYSE:DTV). IBM has traded sideways since last October and has a six-month return of 15.19%. S&P research has a strong buy on IBM with a projected 2% increase in revenues in 2012. DTV has also traded sideways since the market pullback in August 2011. DTV's PE ratio of 14.43 is below the Broadcasting & Cable TV industry average and its EV to EBITDA ratio is only 6.5. The projected 5-year PEG ratio of 0.59 is too low as DTV has an alternative to costly cable services that will appeal to more viewers than anticipated. The market hasn't priced this into the stock yet. DTVs next earnings announcement is expected on 02/16/2012.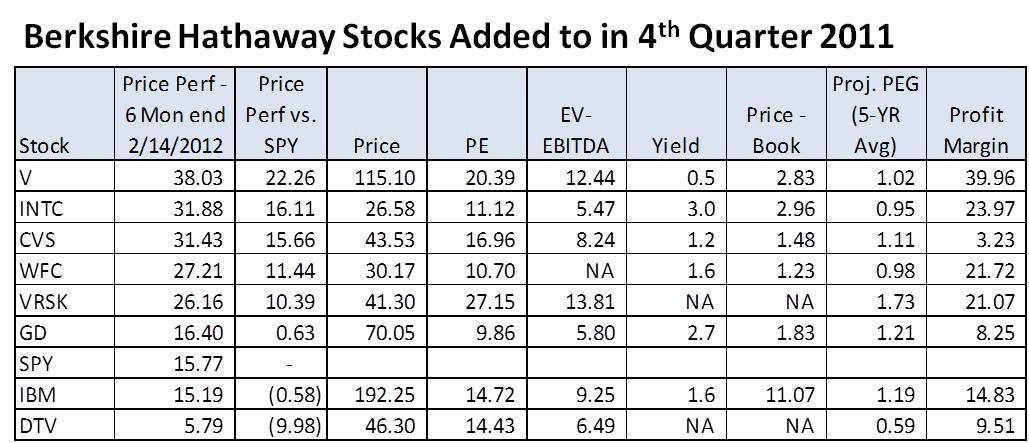 Disclosure: I have no positions in any stocks mentioned, and no plans to initiate any positions within the next 72 hours.