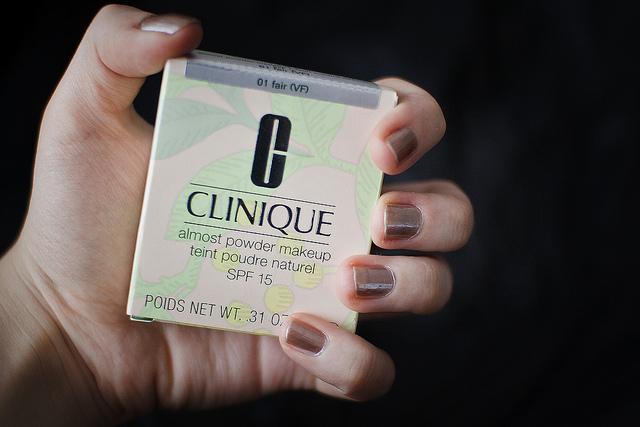 I have to admit to not being a super user of Estée Lauder's (NYSE:EL) products. Looking at a list of their beauty and fragrance brands I struggle to find many which I use at all let alone frequently. Indeed, the only I can root out is Aramis cologne, which is my go-to. Nonetheless, looking at their brands, I do see many familiar names: Clinique, Aveda, MAC, Michael Kors, Origins, the eponymous Estée Lauder brand, and many more.
The beauty and make-up business is very attractive (pardon the pun) with what looks like excellent growth going forward. Estée Lauder has been rapidly consolidating its position in this space. Founded in the 1940s, it has since grown rapidly, and looks set to continue to do so in the near future courtesy of its strong brand base.
So should you invest in Estée Lauder today? I will take a look at the company, comparing it to the largest beauty and make-up company in the world, L'Oréal (OTCPK:LRLCY).
Sales (Still) Growing
Since 2011, Estée Lauder has seen it sales increase by a CAGR of 4.12%. This has also been fairly progressive growth with four out of the last five years seeing sales growth.
This compares well to L'Oréal, which has seen a sales CAGR of 2.94% over the last five years with, again, 4 of the last 5 years showing growth.
In that time, Estée Lauder has also seen net income before taxes grow at a CAGR of 8.7% compared to L'Oréal's 4.3%.
Strengthening Margins
Naturally, the faster net income growth noted above is reflected in growing operating profit margins at Estée Lauder: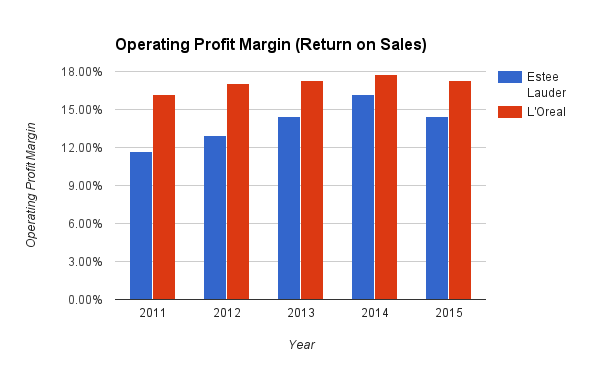 Despite this margins growth, Estée Lauder continues to lag L'Oréal somewhat over the last five years: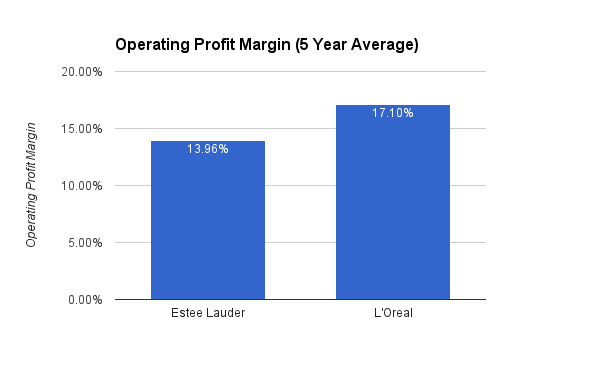 Nonetheless, these are pretty respectable figures, and compare well to other companies in this sector: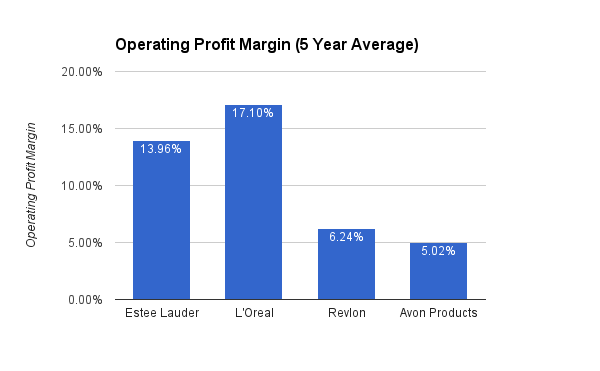 In fact, Estée Lauder and L'Oréal together are leading the pack with regard margins. With the strength of their brands and the pricing power that comes with that, I suspect they will manage to retain or grow their margins in the future.
Strong Cash Flows
Estée Lauder and L'Oréal also outperform their peers with regard to cash flow. The average Free Cash Flow to Sales ratio of industry peers over the last five years sits around 6%. In contrast, Estée Lauder and L'Oréal both comfortably surpassed this: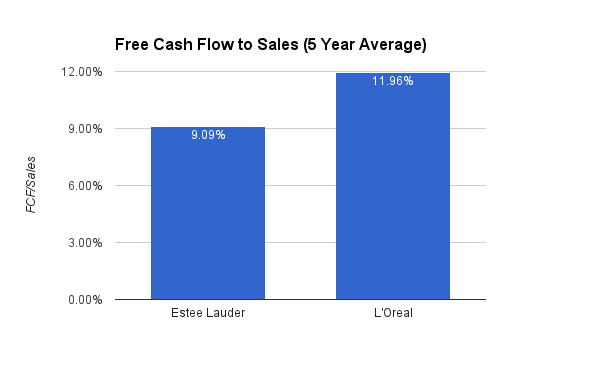 Again, L'Oréal leads Estée Lauder from this perspective. However, Estée Lauder has seen its FCF to Sales increase significantly over the last five years:
In fact, Estée Lauder has pulled its FCF to Sales ratio up from the peer average to ahead of the sector leader L'Oréal: Quite an impressive and encouraging feat, especially when we think to the future.
The ability to convert over 10% of their sales into FCF is a wonderful thing to see as an investor, and something I suspect -- judging from their progress to date -- they can continue to build on in the future.
The Craic in the CROIC
What about the efficiency of that cash generation? To work this out, we will look at the Cash Return on Invested Capital, or CROIC. CROIC is calculated as FCF/(Total Equity + Total Debt and is a very useful tool for testing the cash generation of the underlying business.
In essence, a company with a CROIC of 15% generates $0.15 in FCF for every $1 of capital invested in the business. Anything above 10% I consider a pretty high-performing company.
For Estée Lauder and L'Oréal, over the last five years, the averages have been: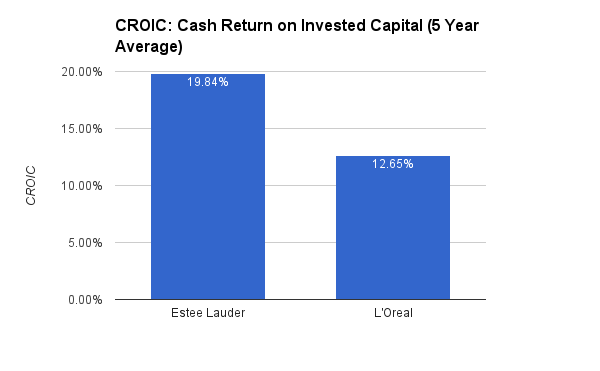 Needless to say, Estée Lauder has managed to put together an impressive CROIC rate over the last five years.
What this means is that for every $1 of capital invested, Estée Lauder produced nearly $0.20 in free cash flow. In contrast, L'Oréal produced a more modest (but still impressive) $0.13.
Estée Lauder's CROIC record is even more striking when looked at on a year on year basis: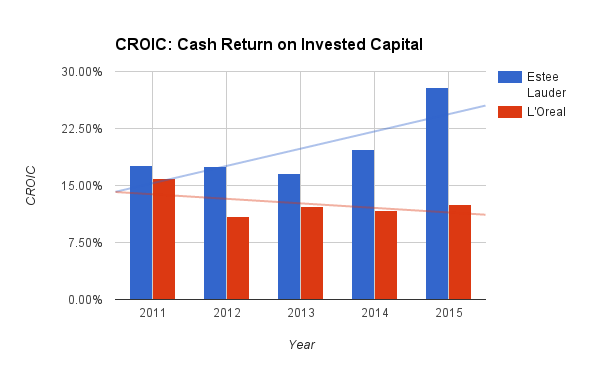 Whilst L'Oréal has managed to produce fairly consistent CROIC over this time, Estée Lauder has managed to put together consistently higher and progressively growing CROIC. This is very impressive indeed, and a trend I hope to see continuing in FY2016 and beyond.
Modest Debt Load
Estée Lauder also has a comparatively modest debt load. However, when compared to L'Oréal, over a five-year average, it looks rather heavy: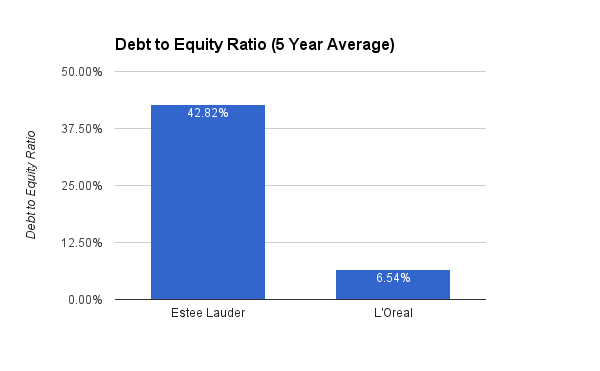 This was heavily affected by the low debt levels held by L'Oréal for most of this period. If we take the data from only the last reporting year, though, the debt-to-equity ratio looks more like this: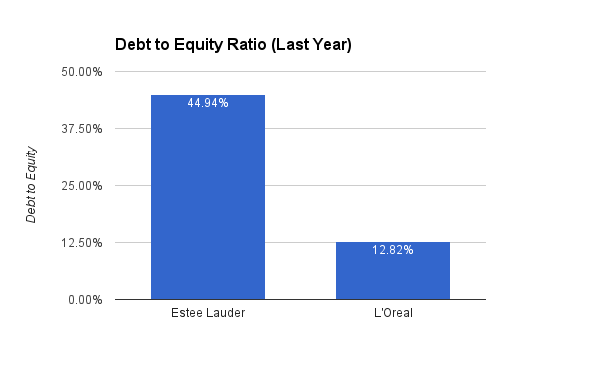 L'Oréal's debt load still remains very low. As a result, it is still over 100% covered by free cash flow last year: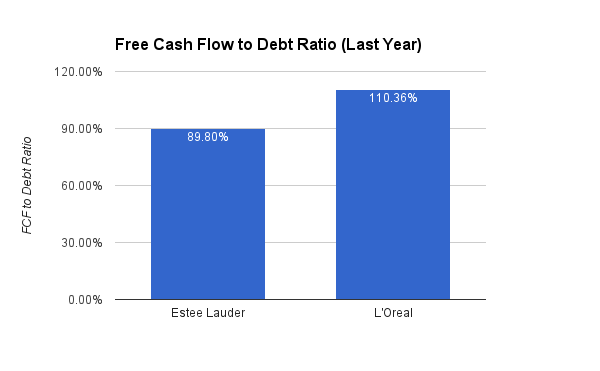 Despite Estée Lauder's higher debt-to-equity ratio, its remarkable FCF performance means that it still finds itself with nearly 90% of its debt covered by its FCF. Debt is therefore little danger for Estée Lauder with is clearly still having plenty of scope to leverage up for growth if necessary.
Historic and FCF Yield
Another effect of the strong FCF performance by Estée Lauder is that its FCF yield is very impressive: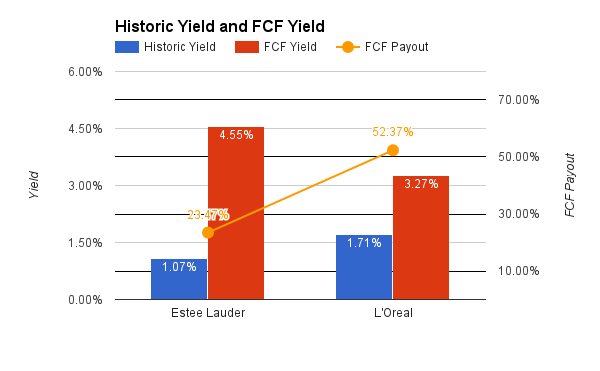 Certainly the current yield sits below that of L'Oréal. However, Estée Lauder's current yield also only represents a FCF payout ratio of less than a quarter. In contrast, L'Oréal is paying out nearly half its FCF as a dividend.
In fact, if Estée Lauder was to pay out all of its FCF as a dividend it would yield 4.55%. If L'Oréal was to do the same it would amount to a still respectable, but much lower 3.27%.
What this tells us is that Estée Lauder still has a huge amount of scope for growing its dividend. Indeed, it is perfectly likely that the 19+% dividend CAGR over the last five years will be continued at a similar pace this year and next.
A High But Fair Valuation?
You may not be surprised to hear that Estée Lauder is therefore trading at a high PE multiple. And it certainly is, alongside L'Oréal: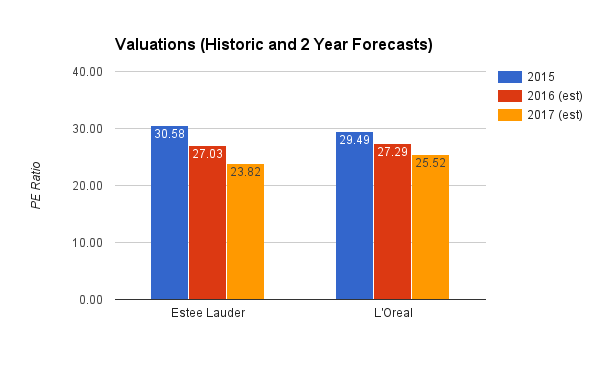 Certainly, a PE around 30 hardly seems a bargain for either Estée Lauder or L'Oréal, but their predicted growth rates remain impressive and Estée Lauder looks likely to be more fairly valued in the future if growth projections are correct.
But is Estée Lauder currently trading at fair value or not?
Fair Value
So how do I get to my fair value estimate? First I take the consensus EPS predictions for the next two years and average them. Second I multiply this by the average PE ratio over the last five years.
The average PE for Estée Lauder over the last five years has been 27.24. This hardly seems excessive for a company of the quality highlighted above. A company which has seen five year CAGR of 10.14% for EPS and 16.81% for FCF (well ahead even of its already high-performing peer, L'Oréal).
Using 27.24 as my fair value PE, and using the fair valuation method outlined above I get a basic Fair Value of $92.75. However, I then adjust this for the cash held on Estée Lauder's books. This produces a new Cash-adjusted Fair Value of $95.47. This is currently over 10% above the current share price. As such, I find Estée Lauder--despite its premium PE multiple--a pretty compelling buy nonetheless.
Beauty and make-up is a competitive market, but Estée Lauder has proven itself and its brands as more than capable of pulling off increasing sales and improving earnings efficiency over a prolonged period. I see little reason why they should not be able to continue this in the medium term and beyond.
Notes
Unless otherwise stated, all graphs and the calculations contained within them were created by the author. Creative commons image reproduced from Flickr user idhren.
L'Oréal has not yet released its 2015 annual results. As such, five-year comparisons are made with Estée Lauder's 2011-2015 period versus the 2010-2014 period for L'Oréal.
Disclosure: I/we have no positions in any stocks mentioned, and no plans to initiate any positions within the next 72 hours.
I wrote this article myself, and it expresses my own opinions. I am not receiving compensation for it (other than from Seeking Alpha). I have no business relationship with any company whose stock is mentioned in this article.
Editor's Note: This article discusses one or more securities that do not trade on a major U.S. exchange. Please be aware of the risks associated with these stocks.